Dual-sim unlocked phones - do you need one?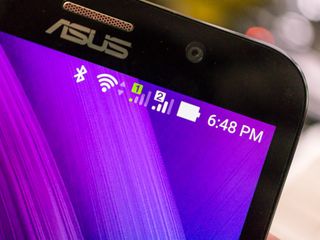 Honestly? You probably don't need a dual-SIM phone. Don't get me wrong, I know plenty of people out there do have a real need for more than one number being able to send and receive calls and messages from one phone, and it's great that the option is available. But some of us think of dual-SIM phones as some sort of magic, because double the mobile network connection means double the awesome.
That's not really how it works. Let's take a look at one of the recent "popular" dual-SIM phones, the ASUS ZenFone 2, and just what you can — and can't — do with two SIM cards.
Let's start by saying not every dual-SIM phone works the same way. Take our example — the ZenFone 2 — and you'll find that SIM one acts like a normal 4G LTE network connection, complete with the ability to make calls, send text and picture messages, and use your carriers mobile data network when you're not using Wifi. Meanwhile, SIM two is just chilling, and can only use the old (and soon to be repurposed) 2G connection from your carrier for any data needs.
Both SIM cards are active, and incoming calls or messages can be sent to either when someone uses the corresponding number. You can also make calls and send messages using either SIM card, including picture messages (remember that 2G network connection on SIM 2), as long as the application you're using for SMS supports a dual-SIM configuration. The stock messaging app on the ZenFone 2 does a fine job here, but some apps — looking at you, Google Messenger — do not.
What you can't do, and this is where some folks get a bit confused, is use two simultaneous mobile data network connections for double-fast speeds or as a way to "network multitask" and use a different network for different things.
In fact, many dual-SIM phones (like the ZenFone2) don't even have an active high-speed data connection on the second SIM slot. It's best to think of SIM 2 as your second line, for things like business calls.
And that's where dual-SIM phones shine. You can use one device, set up as you please with all your personal data and games and other entertainment software installed, and still be able to separate business from pleasure. Want to send a text to your friends asking where the party is at? Use SIM one. Want to leave a client a number they can use to reach you over the weekend? Use SIM two. You can mix and match networks as you please, provided the phone supports the needed network bands of the SIMs you're using.
You can even use your Google Voice number with a dual-SIM configuration. In my ZenFone 2, I have my T-Mobile SIM card, with a number and an account I have had for years, in the SIM one slot. I get unlimited calls, texts and data, and because it is in the "main" slot it's what gets used for an Internet connection for all my apps. I have a pre-paid T-Mobile SIM card in slot two, with a minimal amount of data and a few hundred minutes worth of calls per month.
Google Voice incoming calls are through the number on SIM card one, because that's the SIM I've always used for Google Voice. Google Voice does nothing with the number on SIM card two, and doesn't even know it is there. Outgoing calls are the same way — in fact, I have to look in the settings to see what the phone number assigned to SIM one is because I always use Google Voice for calls with every phone I have up and running. I could even choose not to use Google Voice for all outgoing calls, and have three numbers working on one phone.
A dual-SIM card phone isn't a magic ticket to double the Internet connection, and on some phones you won't even have a second Internet connection. But it is a great way to manage two different phone numbers on just one phone, and plenty of us know how great that can be.
Android Central Newsletter
Get instant access to breaking news, the hottest reviews, great deals and helpful tips
Senior Editor — Google Ecosystem
Jerry is an amateur woodworker and struggling shade tree mechanic. There's nothing he can't take apart, but many things he can't reassemble. You'll find him writing and speaking his loud opinion on Android Central and occasionally on Twitter.
Nope Posted via Android Central App

So in a way, Jerry, doesn't one SIM with a google number act as a dual SIM phone. Being able to have two numbers come to one device, but for less of a monthly payment?

I'll go out on a limb and say Google Voice would work just fine for most people who need a second number. In my case, I already use Google Voice as my "personal" number, so If I wanted a secondary line for business use, I would need a second SIM.

That's the way I use it. I was given a work phone with unlimited data. I ported my personal number to GV and set it up on my work phone so I don't have to carry two phones around. At the time I thought about a dual sim phone but they were (and still are for the most part) few and far between. The Google voice way actually saves me money. The only downside is stupid hangouts doesn't handle group messaging well. So when I get texts on my Google voice line they come as individual texts. I wish there was a way to fix this. Posted via the Android Central App

Jerry - how you like the Zenfone 2? I jumped ship from a Note 4 and am loving it.

I like it a lot. Great value, too.

Jerry, can sim 2 send and receive MMS? Most of what I read says it's unable to do so, stating that sim 2 can't even facilitate 2g or 1x data. I believe I saw Phil (or maybe it was you) say that was incorrect -- that sim 2 can indeed send/receive text. Can you off clarification?

The Motorola XT626 was one of my favorite dual sim phones because it could do iDEN in one slot and GSM/2G/3G on the other, it was a big hit on regional carrier SouthernLINC as they still use iDEN for the moment, but Motorola quit making it when they were bought by Lenovo lol it ran 2.3 Gingerbread out of the box and they released a ICS update recently lol I know this because I work for a SouthernLINC dealer and had one myself for a while lol Posted via my Moto G 2nd gen on Cricket

SIM 1 is T-Mo and SIM 2 is a AT&T MVNO for times when I don't have a T-Mo signal.

Exactly. My carrier's signal is excellent where I live but very poor where I work. It would be good to have a second sim on a different network for the times I have no signal. Posted via the Android Central App

Does your setup still work? I just purchased a ZenFone 2 Laser and the AT&T sim did not work at all , it goes off line if I I select it as a secondary data. If I make AT&T the primary data, then both work just fine. Problem is T-Mo is my personal and has unlimited data. AT&T is my work line and I only want to receive calls on it.

Jerry - Not sure I understand why SIM1 with unlimited data, calls and messaging and then SIM2 with pre-paid, both using TMo. Now I can see SIM's on different networks due to connectivity issues in some areas, but why would you have need to use pre-paid when you have unlimited everything already available on TMo?

You're not using the second SIM for a second data connection. Even if you have a phone with data on both SIM slots, you're only using one at a time. The second SIM is so you have more than one number for incoming and outgoing calls and SMS messages.

Jerry has an affair I say :)

Don't need a dual sim phone. I have my regular t-mobile number and my Vonage extension set up for my device. It is able to sort through business and personal calls. Posted via the Samsung Galaxy Note 4 running Lollipop 5.0.1 on the T-Mobile Network.

why pay 40 dollar to Vonage when Google voice can do the same and some more for free ?

Have you ever tried using GV outside the US?

I pay $9.99 a month to Vonage for unlimited calls in the US and Canada. Posted via the Samsung Galaxy Note 4 running Lollipop 5.0.1 on the T-Mobile Network.

What about messaging and data?

This is really necessary in Africa, where having multiple sim cards is almost a must. But in here, nah not really Posted via the One M9

Africa? seriously? Dual-sim phones biggest market is in Asia where I live. That's why all dual-sims are released in Asia (mainly China) first before going to US or Europe. We all have (at least) 2 numbers here. One for public and the other for private calls. Also, we have many promotions and discounts from various carriers that we want to utilize to our needs.

Of course it will be released there.... Have u ever seen a phone released in Africa? Come on dude! What I'm saying is, it's very necessary in Africa because the prepaid plans are ro be used with credits. And calling a phone that had a network different than the one you use of very expensive, which is why ppl usually buy sim cards from different networks to be able to join ppl spending less money. I come from there that's why I know. I'm guessing it's like this where u from too? Posted via the One M9

From what you said, Africa will be a big market for dual-sims. But right now, the biggest dual-sim market is Asia. Almost all smartphones released in China are dual-sim, or at least they have dual-sim version. I live in South East Asia and all people that i know have at least 2 numbers. Some have dual-sim phones, some like me, carry 2 phones. So dual-sim is nothing new to us. We've been having dual-sim phones since more than 10 years ago.

Yes I know that. Even there we've been having dual sim for quite time now. But most of this time we've been having extremely bad quality dual sim phones, especially from Chinese companies that have no brand or some really not convincing brand (lmao) and I believe are not even popular in China. We recently got some good quality phones like from Samsung and Nokia mostly, but we need more. Unfortunately, as I said before, no phones are released for the African market. Posted via the One M9

Would love to only carry one phone.....but work apps are ios. Damn.

It doesn't make calls or message with out the iphone

would love to get a prepaid data plan to cut down some of my family shared data. Nothing out there looks worth it though.

Tmo $30 plan gives you 5gb. How is that not worth it? You can't find a cheaper plan anywhere in the US

I thought you had to buy the phone from T-Mobile for that plan? Do they sell any dual-sim phones?

Nope, go buy a BYOP SIM from Walmart and you can get the deal, no new phone required. Also as far as I know no US carrier sells dual SIM phones. Posted via the Android Central App

Thanks Jerry for the article. The problem I have with the Zenfone 2 is that where live the two carriers I use don't have any GSM /2g.The Moto G is a better option in that it does 3g on both SIMs but not at the same time. May still look at the Zenfone 2 though. Posted via my Motorola Startac

For developing countries like India, a phone that is capable of having 2 SIM cards is extremely appealing. For the rest of us who live in developed countries like the States, however, we're fine with single-SIM phones, unless you have a specific reason for a dual-SIM device. Posted from my "Jack Of All Trades" LG G4

I used to. It really all depends on the corporation I'm working for at the time and their enterprise policies. If they allow me, I usually take out the SIM from the corporate and pop it into my personal.
Some use iOS or BB10. Which I miss both using.

Are there any dual SIM phones out there that have full 4G LTE data speeds for both SIMs? Posted via the Android Central App

Yes there is, my LG G4 H818P is dual sim with lte capabilities on both sims Posted via the Android Central App

Need? Nope...but just one more feature of the ZF2 that impresses. It really is a great device and the value makes it even better! Posted via my ZenFone 2!

This would have been great at my old job. I was on-call every 8th week, and would have to carry around 2 phones. I tried call forwarding, and Google Voice as alternatives, but each had drawbacks. It would have been great to have been able to take the work sim, and throw it in the second slot on my personal phone. Unfortunately I didn't have a dual sim phone. Posted via the Android Central App

LG should bring their dual sim G4 on other country i guess because not every people know that both of the sims are lte capable, although not everybody need it but having one extra sim is never going to hurt anybody and it is a good choice for people who do needs it Posted via the Android Central App

I definitely need it. I have 7 years old number from carrier A, and I need cheaper data plan from carrier B. Switching to carrier B means I have to change my number. Carrying 2 phones is also not a solution. Dual-sim phone like Zenfone 2 is a perfect solution.

Can't you take your number with you when you switch to carrier B? Here in the UK, carriers are regulated heavily to ensure they allow you to take your number with you, if you move. Posted via the Android Central App

You definitely can port your number, I've done it dozens of times Posted via the Android Central App

I'm not sure all countries allow that though.

Unfortunately it's not possible in Indonesia.

For me it's a requirement. I have a personal number and a work number, and I need to be able to do incoming, outgoing and SMS from either one at a given time. I never understood this idea of the "developed" world not needing a second SIM. It's very shortsighted for manufacturers to not make all their phones dual-SIM and let the user decide on the spot. How many people in the US or Europe are in my same situation? TONS! If your company provides a number, you won't want to carry two phones. My biggest beef is I can't get any flagship phone because none have a dual-SIM version around. Please, manufacturers, stop this "dual-SIM is only for poor people" nonsense and make it universal. Posted via the Android Central App

Amen. Posted via the Android Central App

Actually, Sony does have it's Z3 on Dual Sim available in the States. I bought mine online from this website (http://www.gsmnation.com/catalogsearch/result/?q=xperia+z3+dual) and had it shipped to my country. But back in my own country which is un-developed, it's not available officially either. So, one will have to find it via grey importers...

Greg2k, know what you mean! Currently I'm using a Sony Xperia (D6633) , it's a dual sim. I have US Mobile(T-Mobile MVNO) on slot 1 and regular T-Mobile on slot 2. Although I am not much of a data user but whenever I do - it displays "LTE". You can surely try it out. It is premium for sure!

People really do need to check carefully when buying dual SIM phones though to see exactly what both slot can and cannot do. Most phone uses dual standby which mean only one slot can support high speed connection at any given time. For example, a gripe I have with the ZenFone 2, is how 1 slot is 4G capable while the other is 2G only. Other devices like the dual SIM moto g support 3G on both slots (one at a time), and the Xiaomi Mi 4i support LTE on both slots (one at a time), which makes it more versatile. I live in Singapore where travelling to Malaysia takes almost no time at all. And while I'm there, I don't want to incur data roaming charges, so i have a Malaysian prepaid SIM that I leave inside most of the time. But if I wanted to use data while I'm there, I would have to switch the positions of the malaysia SIM into the 4G slot. Then if i'm back in Singapore I would have to switch it again to use data from my singapore SIM. However, if I have a Moto G dual sim, or a Xiaomi Mi 4i, where both slots supports high speed data access, all I have to do is switch a toggle to select which to use for data. Of course if all you use is one data sim with cheaper data connectivity, and the other sim just for phone calls and SMS, the ZenFone 2's dual configuration will suit your needs just fine. So it's important to check carefully before buying a dual-sim smartphone if you need one.

Very true.
I have a zenfone 2 and I share your gripe. For the most part it works for me fine , I have a work at&t sim that I only really use for calls, though it has data and SMS on the plan and I have a personal T-Mobile account. That I use for unlimited data, SMS and voice. But it would be really nice to be able to just touch a button and make the work sim that data sim in the case I've got no signal on T-Mobile. That happens from time to time. But I love only having one phone after carrying around two for so long. Not going to be something I can give up lightly. Posted via the Android Central App

Here in India, dual sim is a must for me. I have Airtel as my main career, and idea as secondary. At many places airtel has no signal, and I've forwarded calls when "not reachable" to Idea (second sim career) . So I normally don't miss any calls. Having a dual sim is no more a luxury with so many 'dead' spots here.
Plus, while abroad and travelling to various different countries, I use a matrix multi country data card in data network, and reliance voice only international sim in sim 2. Saves me lot of money. :D Posted via the Android Central App

I have 3 Tmo sims...one for the $30 plan, one for the $80 unlimited plan, and one for the grandfathered $70 plan. I switch them monthly, depending on my budget for that month. The $70 one doesn't tether my ps3 or I wouldn't even bother with the $80 plan Any triple sim devices out there for a guy like me? :D

http://gadgets.ndtv.com/mobiles/news/acer-liquid-x2-with-4000mah-battery...

My personal line is a t-mobile line on a note 4. For work I am on a verizon iPhone 6. Is there a dual sim phone that will support tmobile GSM and verizon cdma? I am tired of having to carry 2 phones Posted via the Android Central App

Any luck yet? I'm looking for a dual-SIM full-dual active that can run Verizon CDMA voice and data on one SIM and FDD Band 7 2600MHz LTE on the other.

Do you physically have to switch Sims for the data connection to switch. For example SIM one I have T-Mobile and SIM 2 I have AT&T. I am in an area with poor T-Mobile service and want to switch the data connection to AT&T. I am assuming then you would have to physically switch the SIMs, if so I don't see any benefit over a single SIM device in that scenario. That's the use case I would want, coverage. Posted via the Android Central App

I am from India. MNP (Mobile number portability) is introduced few (3 or 4) years back only. Ten years back I was using a number in one network. Once the network became horrible that I was forced to take a new (second) number in another network. Now the second number has became primary number and I can't dump first number as still I rarely get calls from that decade old number. So Now even after arrival of mnp, I am using both numbers in dual sim smart phone. The second sim without 3G or 4G is not at all an issue for me. Thanks to lenovo for bringing high end DualSIM smart phone. Posted via the Android Central App

I use two different numbers for business and private. Bring two phones is a hassle for me so i always use dual sim phones. Thankfully, LG G4 came in dual sim option in my country and so far it's the best dual sim phone i've ever have.

how to re lock the device usim card?? Posted via the Android Central App

I understand what sim does what but in your example what is your purpose for using both? Or maybe a better question is why do you have sim 2 with minimal data and minutes? I am not questioning why you are doing this I am trying to figure out what i will do with both sims when i buy this

It is perhaps a little late for your answer but here goes anyway. I just received my new dual sim phone and haven't set it up yet but I will tell you that I bought it because I have two businesses and need to answer the phone differently for each. So that means 2 different phone numbers, one for each sim card. OK?

To better answer your question, I will have one sim with data and the second line will be a 2G line for minutes (talk and text only) purchased from T-Mobile.

Perhaps a stupid question, but if one has one of these phones and only puts one sim in it, it works fine, yes? Both sims aren't required? Asking because the dual sim 64gb Note 5 imported costs the same as the Canadian 32gb single sim Note 5.

Jerry,
My question is this: can a single phone support 2 SIMS of different protocols? I have an AT&T account (GSM) and a Verizon (CDSM). Both companies offer, for example the Samsung S6 dual SIM. So, simply, is it even possible to find a phone, either unlocked or from one of the carriers, that will support a GSM SIM and a CDSM SIM, on board the same device?

I just purchased a dual sim phone in US. from Amazon Prime. Here is the description: Lenovo S8. 5.3. Android 4.2. TD-CDMA/GSM. Dual Sim / WiFi, GPS, Octa Core. 2GB. & 16GB. Gorilla Glass.

Can you confirm the phone actually works with a Verizon SIM and a GSM sim. I keep reading that Verizon won't SIM's won't work on Dual Sim devices.

Most dual sim phones are unlocked but only support GSM - verizon uses CDMA - if the phone doesn't support CDMA (and the right band)... Verizon will not work - this has nothing to do with it being "dual sim" of not, inherently, just most of them are made to support GSM bands only - apple Ipad Pro (not a phone I get it) has both an internal apple SIM that supports both and a port that does also - point not being this is a phone, but rather clearly there are devices that support both.

Hi there! I have the Xiaomi Mi 4c and I have a problem with the DUAL SIM. Sometimes one of them (it could be either) seems to be off, meaning that they call me and it appears closed and I try to call and it doesn't. Do you know what might be wrong?

Hi,
I currently have a Mote E (wish it was a HTC) and hate it, plus it only takes one sim card, so I'm going to trade it in to get a Moto G that takes 2 sim cards. (warnings and suggestions appreciated). My reason is that I have 2 businesses. I do find the messaging on the Moto E confusing and I miss calls which costs me money. Perhaps because I don't pay constant attention to it like some do. What I really want to know is,... can I put different ring tones on the two numbers so I know how to answer them? Other wise I have to rethink this.

Hey guys..can anyone please answer this for me regarding a dual sim mobile...someone told me they are using only 1 sim...but when they call me from Same mobile..sometime it shows their number which I already have stored and sometimes says ' unknown ' ...when they call from ' unknown ' ..it's better cxn ..they say they are always calling from.same number same sim..I know they have a dual sim phone..so is this possible to happen ?..that sometimes number displays and sometimes shows up as unknown ? ...thank you if you reply to me..I'm confused to say the least

Jerry, You never actually said if you're getting 4G or 4G-LTE on T-Mobile on SIM 1 on this ASUS Zenfone 2. Are you getting 4G or 4G-LTE?

OK, let's say I split time in USA and Poland (or Poland and Spain)... I want dual sim so I don't have to jerk around with switching out the SIM cards when I am in a different country (nor do I want to pay roaming charges), and adjust my plans accordingly so I pay for where I am using my phone. How do I know if I'm getting a crappy 2nd SIM port or one that will actually work well given the reason I want a 2-sim phone??

my lava x46 has locked slot 1 unable to use sim1 pl unlock

my lava x46 has locked slot 1 unable to use sim1 pl unlock slot1 of my dual sim phone
Android Central Newsletter
Get instant access to breaking news, the hottest reviews, great deals and helpful tips
Thank you for signing up to Android Central. You will receive a verification email shortly.
There was a problem. Please refresh the page and try again.