Dropbox's Carousel now helps you recover space on your device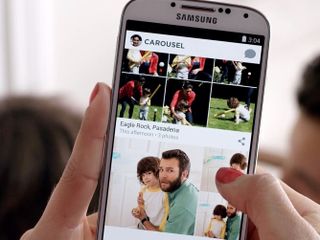 Dropbox's Carousel app now helps you reclaim space on your device. The app will also make it easier to browse through your older photos with the upcoming Flashback feature.
Carousel will allow you to free space on your device when it's running low by removing photos and videos from your device that are already stored in Dropbox. Tap the app's notification that warns you about low space, and you'll be taken to a page that shows you how much space can be regained by deleting photos and videos. Finally, tap the button to free up space. This feature is also available through the app's settings, and is available on Android with today's update.
Flashback is a new way to surface older photos. Go to Settings in Carousel and select Flashback in order to use it. Select a time period, such as one or two years ago, and scroll through your photos from that time. Flashback isn't ready for release just yet, but should be making its way to Android soon.
You can free up space with Carousel for Android with today's update, rolling out now on the Google Play Store (opens in new tab).
Source: Carousel
Android Central Newsletter
Get the best of Android Central in in your inbox, every day!
Thank you for signing up to Android Central. You will receive a verification email shortly.
There was a problem. Please refresh the page and try again.