Dropbox referral bonuses doubled for free and paying users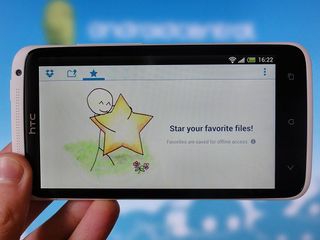 Cloud storage provider Dropbox has just doubled the referral bonus it gives users for referring friends to the service. Previously Dropbox referrals resulted in a bonus of 250MB for both the referrer and the new sign-up, but from today that's been increased to a more substantial 500MB. Similarly, the maximum amount of storage users can earn through referrals has been upped from 8GB to 16GB. If you're a paying user, that's doubled again to 1GB per referral, up to 32GB total.
There's also good news for anyone who's already referred a bunch of people -- your bonuses from those referrals will also be doubled, so you'll likely see your Dropbox allowance increase a little.
Dropbox continues to offer generous amounts of storage for users willing to plug its services to friends, or help with the testing of new features. Recently launched an automatic camera upload feature, and credited testers with 500MB for their first upload, as well as 500MB more for each 500MB of automatic uploads. The company's also partnered with some leading smartphone manufacturers, including Samsung and HTC. The HTC One X and One S launche tomorrow with Dropbox built-in, with an extra 23GB of storage for HTC One users.
Alex was with Android Central for over a decade, producing written and video content for the site, and served as global Executive Editor from 2016 to 2022.
Guess I need to get back rolling with Drop Box..... Oh and that's such a Gorgeous designed phone in that pic... Isn't that the Phone Sprint Butchered?

Dropbox already had 500MB/referral for anyone that could link a .edu email to their account. Any idea if that's going to double as well? Haven't seen any increases on my account yet.

Nope, just checked my account with the .edu attached to it and my referrals are the same.

Thanks to HTC I've already been up'ed to 26GB (for the next 2 years) ... with enough referrals can I now get an additional 16GB? Sweet!

I have an account, but since I can't access it via my computer at work, I really don't use it. I have no idea what others are doing with their phones, but I haven't seen a need to store that much stuff or access it with my phone. I'm still clueless as to what people use these types of services for.

http://www.maximumpc.com/article/features/15_hacks_every_dropbox_user_sh...

Thanks, much appreciated. I like learning new things, and this opened my eyes to some new ways to start using Dropbox.

It's not just for mobile. I have 3 main computers - two I use simultaneously at work (one personal, which I take home as well). To get a file from one to the other is not always easy. Dropbox lets me do that without more than 1 or 2 clicks - much simpler than taking a flash drive out and moving between the two. Very similar to (and just as useful as) how Google Chrome now lets you open tabs (complete with history) from other devices.

Alternative to a company or personal FTP site.
For instance, I take a lot of photographs of different McDonald's stores. I put the final photos in dropbox and the Construction Manager's have them on their mobile phones or laptops for presentations wherever they may be.

I barely use the 32GB SD card in my Bolt, so I have no use for cloud storage, nor would I trust it with anything sensitive (adjusting tinfoil hat :P).

Look into SpiderOak to set your tinfoil at rest. They never know your decryption key, so they can't get access to your data.

sadly they did not increase the referral bonus for us had been doing it under edu bonus. We were already at the double point. I was really hoping they did that as well to increase it some more.

love Dropbox, use it almost everyday! That's awesome that they are upgrading old referrals too!

i had a feeling this was coming. Dropbox no doubt is feeling pressure from the imminent release of Google Drive which could put them out of business - quickly. Dropbox as a company had a $5 BILLION valuation recently. i wonder what it will be post Google Drive launch.

Agreed, Google Drive is going to take a huge bite, especially if it is well integrated with Android. Over at ArsTechnica they are running a Comparison of various cloud storage systems. All of these will be hurt by Google, excepting perhaps SpiderOak which has something Google probably won't implement: Client Side encryption.
That means even with a subpoena, they can't share your data with anyone else.

Well...if anyone is interested in getting started with Dropbox, might as well help out a fellow Android Central mate by clicking the link to get me the extra space. Thanks in advance. http://db.tt/o4jsgcD

i just did it. they gave me only 250mb.

Would be awesome if the double the .edu dropbox stuff as well. Not that I need it. I'm only at 4Gb used or so out of ... a lot.

This guy will help you to upgrade dropbox accounts for only 5$
dp@gtalk.tk
I only pay 5$ (paypal) ,it worked for me.finished within 24hours.
Excellent service, quick and effective. I recommend this to everyone.
Perhaps I will buy again.

Thanks for the infor ,I need this.
Android Central Newsletter
Thank you for signing up to Android Central. You will receive a verification email shortly.
There was a problem. Please refresh the page and try again.