Dropbox is adding several new and improved productivity tools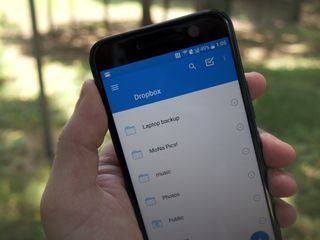 The cloud file storage service Dropbox announced a large number of new and upcoming productivity features, including creating Microsoft Office documents on mobile devices, a document scanner and more.
The company offered up some details on these new features in a blog post:
Scan documents in Dropbox: With document scanning, you can now use the Dropbox mobile app to capture and organize scans from whiteboards, receipts, and sketches, so your ideas are right at your fingertips. Dropbox Business users can even search inside the scans.
Create Microsoft Office docs on mobile: If your idea is better suited to an Office doc than a napkin, you can click the new plus button to create Microsoft Word, PowerPoint, and Excel files instantly from your mobile device. They'll be saved to your Dropbox automatically. "The new plus button in the Dropbox iOS app adds a convenient way to create and save Office documents on the go, helping people work better together, wherever they are," said Rob Howard, Director of Office Marketing at Microsoft.
Manage photos from your computer: For Dropbox Basic users who are using their phones to capture memories alongside ideas, we're also changing the way camera uploads works. You'll need to connect a computer to your Dropbox account so you can better access, organize, or remove your photos and avoid running out of space.
Share files and folders from the desktop: We're cutting steps from sharing and saving you time with our desktop sharing experience. Now when you right-click on a file or folder in your Mac Finder or Windows Explorer, you can share right from the desktop, without redirecting to the web, or copying a link to email.
Add comments to a specific part of a file: It can be hard to make sense of all the feedback you get within emails, chat, and text. So we're introducing a feature that's usually only found in design software: adding comments to a specific part of a file. Give precise feedback by highlighting a piece of text or an image anywhere within a file preview.
Preview earlier versions: Version history is an easy way to recover old files if accidents happen, or if you just want to revisit an idea. Now you can also preview prior file versions before you restore them, so you know you've got the right version.
Share with more control: Sometimes you just need to work with a select group of collaborators. Our simple, yet powerful new sharing features give you more control. Now you can share a single file with specific people, who will need to log in to see it. And with view-only access for shared folders, now available for all users, you can also let people follow along.
Dropbox adds that this is just the first step in improving its productivity features and "there's lots more to come" in this area.
Why is it that Dropbox can't be bothered to update the What's New info in the Play Store with details about what's actually changing? Instead for multiple releases now, including the most recent, it shows a generic statement that they regularly release bug fixes and new features. Would be great if they actually told us directly in the Play Store. Posted via the Android Central App

dropbox has ****** storage payment options.......its like an all or nothing deal with them....thank goodness onedrive and drive exist

I would really like Dropbox to have native password /security features where users can lock specific folders like you would boxcryptor. Posted via the Android Central App

The new Dropbox scanning function can be enhanced with the addition of a ScanJig scanning stand for mobile devices. The scan stand holds your smart tablet or phone in the correct position for fast, aligned scans of documents, receipts, books and business cards. The accessory works with the Dropbox app and improves productivity. Read more at scanjig.com

I'm not sure the Manage photos from your computer is new. Couldn't you always do that?
Android Central Newsletter
Get the best of Android Central in in your inbox, every day!
Thank you for signing up to Android Central. You will receive a verification email shortly.
There was a problem. Please refresh the page and try again.