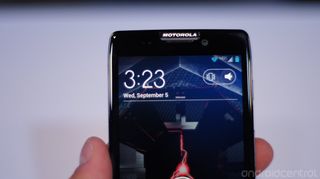 After weeks of speculation, Motorola finally introduced its latest flagship device today, the Droid RAZR HD, a worthy successor to the phone that has kept the company competitive in the increasingly dense Android market. The RAZR HD is a worthy step-up from its predecessor, boasting a 4.7-inch Super AMOLED display with 720p resolution that gives just about every phone on the market a run for its money. It's big, it's beautiful, and it will simply blow you away if you're stepping up from a regular ole RAZR. It's just about as good as it gets.
The new RAZR line is incredibly powerful, with a Snapdragon S4 underneath the hood pushing along Ice Cream Sandwich and just the slightest hint of Motorola tweaking. About that ICS-- Motorola had a mixture of demo units today with both ICS and Jelly Bean, and told reporters that Jelly Bean will be available for the entire line by the end of the year. Something tells me that they're rushing to get it onboard before the RAZR HD and RAZR HD Maxx launch, but don't hold your breath. Regardless, even with ICS, this thing flies, and earns its spot in the upper-tier of premium Android superphones.
Compared to the original RAZR, there are certainly noticeable differences but there are also many similarities. You've got Kevlar back for another round, though this time it wraps around the device, instead of being limited to the back panel only. It's got a 2,530 mAH battery that doesn't match the MAXX's 3,300 mAH but will almost surely match Samsung, LG and HTC's competitors. The new RAZR also has a metallic perimeter, ala the iPhone 4S, that adds a certain sense of luxury to the device. It also adds a solid feel, something that's sorely missing from its major competitor, the plastic GS3. Motorola has always focused on quality hardware, but this iteration of the RAZR takes the company to a whole new level. The RAZR line just may be the most premium-feeling smartphones on the market today.
Motorola was tight-lipped on release date and pricing, though we can expect the RAZR HD sometime before holidays in both a black model and an all-white model as seen below in comparisons with the M. Until then, some hands-on photos of the RAZR HD-- along with comparisons with the Maxx and M-- are below.
Image 1 of 15