DoubleTwist updated, includes integrated podcast catalogue, for a price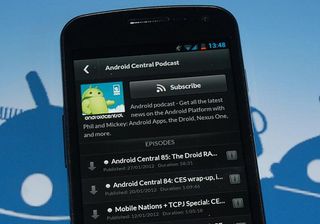 DoubleTwist has long been a favourite for those who like to sync their music and podcasts between iTunes and Android. Todays update among other things brings an integrated podcast catalogue. The catch, this particular part of the app is a 'premium feature' with a premium price.
In UK money, unlocking the podcast feature in doubleTwist costs £4.99 (about $7.85). It does, however, feature the worlds greatest Android podcast in its listings by default -- Google Listen we're still looking at you.
Aside from podcasts, the update brings improved performance and reliability, fixes to AirPlay and AirTwist playback issues, an expandable and collapsable now playing screen with easier access to your queue, and design and interface updates many of which are designed for Ice Cream Sandwich.
It's a welcome update to an already very good application. Hit the break for the download links.
Wow, that's the price of one of the more expensive stand alone podcast apps. No thanks. I'd recommend Pocketcasts or Doggcatcher instead.

Or even Tune-In , which doubles as an Internet Radio & a Podcast app

I prefer BeyondPod for podcasts.

You do know that the app does more then podcasts, right?

Double twist as quickly become a nickel and diming piece of software. I can understand charging for airplay add on but then they keep charging for crap things and expect us to keep paying for little things that honestly should be included with say Airplay syncing add on. Heck the Pod cast part should be built in but then again I use Dog catcher for my pod cast.

I couldn't agree more. I bought it back in the day for 4 or 5 bucks. Most developers add more features to their app without charging extra. They want to improve their app and make it better. DT just wants to rape their customers.

I ditched DoubleTwist about a year ago when they weren't offering a podcast catalog. Back then just finding out anything about podcast services was like pulling teeth. I also found their Mac software to be a tad bit behind their windows platform offerings. Today I use TuneSync if I'm synching between Mac and EVO or on-the-fly I BeyondPod to stream or download and play podcasts.

I would just like DoubleTwist to not randomly start when I haven't touched the icon for days. If I want to play music or sync something then I will tell it to start. It's STILL the biggest #fail on Android is every app thinking it has to either start on boot or register itself as a service AND BE unkillable. It's no wonder each phone I've bought since Nov. 09 (OGD) has had to have more and more RAM ... bloaty mcbloat and Facebook is the worst offender. If I hadn't paid for DT + Airsync (because the Gnex has no mountable SDcard) .. I would dump it in a heartbeat.

randomly takes over the OS then crashes the device. Hands down the very worst application to come off the Market

I'm also tired of the nickel and diming from DT. I also have air sync, but recently ditched DT in favor of iSyncr + iSyncr wifi and using the stock music player, which includes an equalizer. This setup (iSyncr) works with Poweramp as well. I use doggcatcher for podcasts and wouldn't use anything else.

I actually like the DT player quite a bit, probably helps I got the sync package for $0.10 during the holidays. I really like the UI of this player, all I would like is the ability to login to either Amazon or Google and it would be perfect for me. I do think DT should just have a pro version of their player for like 5 bucks that unlocks everything instead of the the update options they have now.

DoubleTwist is extremely limited i just tried. In music you can't adjust the equalizer (got to pay for it), in videos there is no support for subtitles or ability to adjust screen brightness and in podcast you have to pay to use it. I'd rather use 3 separate apps which are the stock music player for music, MoboPlayer for videos and KiesCast for podcasts.

Doubletwist for Windows sucks so bad. What software does not bring smart playlist for Windows client when it has been available for OSX for over a year. There are other better programs out there.
I dont care much for equalizer since sound is subjective. But damn, no smart playlist for the largest OS environment? Thats enough for me not to install it.

worst app ever. Can't stand the way it crashes everything on the phone. A perfect example of crappy marketing execs & their greedy corporate trash under paying valuable programmers. Too cheap to pay for quality too stupid to care. Trash this app immediately.

DT for Windows is horribly slow. People, including me, complain about iTunes but DT is worse. The phone version was cool but like listed above, it would just start playing out of nowhere so I got rid of it. The best money I ever spent on an app was Doggcatcher. That includes non-podcast apps. The dev always updates and responds if you have questions. He also doesn't nickle and dime for every feature. There was another app, called Pocket Casts from Shifty Jelly. That dev gave away their app on Amazon and then cried about it because of how much money they didn't make after they agreed to let their app be given away for free. Then they refused to update the app on Amazon anymore, so if you did buy it, you were screwed. So stay away from that app if you are looking for an alternative.
Android Central Newsletter
Get the best of Android Central in in your inbox, every day!
Thank you for signing up to Android Central. You will receive a verification email shortly.
There was a problem. Please refresh the page and try again.