Doctor Who: Edge of Time VR — What we know so far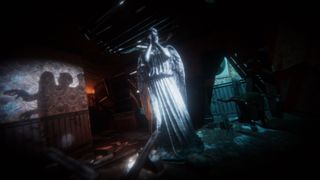 Immersing yourself in your favorite movies or TV shows has always been one of the dreams of owning VR. Making a franchise as beloved as Doctor Who jump to life is a big deal, and the BBC seems intent on doing just that. With Doctor Who: Edge of Time, the BBC, along with publisher PlayStack, has created a new Doctor Who storyline specifically for VR.
Here's what we know so far — and a lot we don't.
What kind of game is Edge of Time?
Doctor Who: Edge of Time is primarily a puzzle game with some action adventure thrown in for good measure. PolyStack says "Armed with the Sonic Screwdriver, players will solve mind-bending puzzles, grapple with iconic monsters and encounter new horizons..." This says to me there will be a lot of variety within the game, but from the screenshots we have so far, puzzles are going to be the main thrust.
One of the scenes we have been given so far shows a laundromat, while another is some sort of back office. It seems like these are areas you will need to explore to find clues and solve puzzles to progress through the game.
The game listing does also mention that you will be able to pilot the TARDIS as seen in the last season of Doctor Who, which I assume means operating dials and looking at doodads as you race around the console. As I said earlier, there is definitely going to be some fun action/adventure aspects to this game in addition to the puzzle parts.
What's new with Edge of Time?
June 6, 2019: Gameplay footage from E3
At E3, uploadVR had a huge VR rundown on YouTube. On it, they featured Edge of Time gameplay giving us a first glimpse of the real game. As you can see from the footage, the game has a definite point-and-click vibe to it. Using the Sonic Screwdriver is exactly how you would imagine it would be and the sound effects are so, so good.
We even get our first glimpse of the TARDIS as you open the door and look inside. You can see the difference in size as you open the door and it makes me so excited to see more of the game in the coming months.
So what's the plot?
Aliens. That's always the plot. Some unknown enemy has created something called the Reality Virus, and that virus threatens to destroy the entire universe. You take on the role of The Doctor's companion and you both must race to defeat them before they can reach the endgame.
That's all we have for the plot at this point. The trailer doesn't offer anything in the way of explanation either, so we will have to wait until closer to the release date for more details.
What kind of enemies will there be?
Right now, we only really know of three enemies in Edge of Time. The big bad doesn't have a name, we just know it controls the Reality Virus that could destroy us all. We did see two fan favorites in the trailer though.
The entire trailer is essentially one long panning shot up and around a Dalek — there is even a Dalek without its armor in a washing machine — ending with its sink plunger laser turning on. In the last scene, we get a few frames of the angel statue from the episode Blink, some of my least favorite Doctor Who baddies.
I think the angels are an excellent choice for a bad guy in VR. Having a 360-degree world to inhabit as you do in VR makes the angels a terrifying prospect. Don't look away!
Is this an official game?
Definitely. Not only is it officially made for the BBC, but the game has been written by actual Doctor Who scriptwriters. This makes it as authentic as anything can be and means the developers had access to all the sounds and visual assets from the TV show when it designed the game.
It also had access to the voice talent and character likeness of the thirteenth Doctor herself, Jodie Whittaker. That's right, you get to play alongside the actual Doctor, which is incredibly exciting. The developer even got to use the open title sequence for this season of Doctor Who in the game as well as the newly re-constructed TARDIS.
All of these little details make this game extremely authentic and add to the feeling of immersion. You aren't just playing a game of Doctor Who, you are in an episode, as the companion, helping the actual Doctor save the world. Stirring stuff.
When and where can I get it?
Right now just know the game will be released in September — that's it. We know the game will be available on the PSVR, Oculus Quest and others when it does release, and as soon as we have a pre-order for it we will let you know.
Get ready to be the Doctors companion
While we wait for our chance to be the Doctors assistant and travel to the Edge of Time, here are some fun little toys to help get us in the mood.
Sonic Screwdriver (opens in new tab) ($25 at Amazon)
You can't be the companion you need to be if you don't have a tool do it. This is the thirteenth Doctors Sonic Screwdriver and it lights up and make noises and everything!
Funko TARDIS (opens in new tab) ($17 at Amazon)
You want a TARDIS in your life, I want a TARDIS in my life. This TARDIS from Funko is excellent and would look great in any companions home.
ProductNameTKTKTK (opens in new tab) ($190 at Amazon)
Sometimes just being the companion isn't enough, you need to be The Doctor. This cosplay is everything you need to be 13.
Get the Android Central Newsletter
Instant access to breaking news, the hottest reviews, great deals and helpful tips.
Since the days of the HTC Hero James has had two or three Android phones stuffed into pockets. James is always on hand to offer advice on phones, apps and most recently, PlayStation, especially VR, It's now something of an obsession. Find him @keridel wherever Media Socials itself.