DKnight Magicbox Bluetooth Speaker review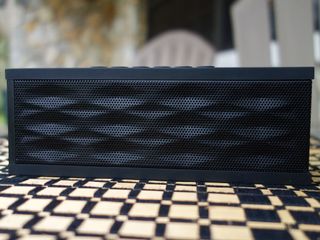 This portable speaker has been on the market for some time now, scoring great ratings and reviews on Amazon. It's definitely not the largest and most robust unit we've had our hands on, but its sound quality should be something that leaves an impression. Let's get a closer look at how this Bluetooth speaker performs over Bluetooth and via Chromecast Audio.
Design
The DKnight Magicbox is easily portable, measuring only 6 x 2 x 1.6-inches and weighing in at 8.3 ounces. On top you'll find 6 buttons for managing your music including volume, skip track, play/pause, and call controls. Both the top and bottom of the speaker have a removable rubber bumper that adds some extra grip and a soft feel. The right side is where the microUSB charging port, power switch, auxiliary port, and microSD card slot resides.
The diamond patterned grill is made of a durable plastic and wraps around 3 sides of the speaker. The Magicbox comes in red, blue, gray, and of course black bumpers — including a 21-inch auxiliary cable for non-Bluetooth devices or hooking up to a Chromecast Audio, and 20-inch flat microUSB charging cable.
Functionality and Sound Quality
Inside the DKnight Magicbox are two 40mm acoustic drivers that push a total of 6W. The quality of sound through these speakers is pretty amazing even at near max levels. Bass isn't very thick, but when you crank up the volume it doesn't distort or muddy the mix like some Bluetooth speakers tend to. If you're pairing over Bluetooth, the process is as easy as searching for nearby devices on your smartphone or tablet, and making sure you have the speaker switched on. There's a small LED that flashes blue in the top right corner behind the speaker grill when in pairing mode, turning solid blue when connected. It uses Bluetooth v3.0 and has a connectivity range of 30ft without any obstructions.
You can also answer and end calls using the Magicbox without ever touching your smartphone. The call button on top allows you to answer an incoming call and hang up when finished. To reject a call, simply hold the same button down for a few seconds. If you need to quickly redial the last number you dialed out, give the button a double-tap.
Keeping the Magicbox powered is a 1,000mAh battery that takes around 2-3 hours to charge when nearly depleted. While charging the LED inside will turn red, but you can still use the speaker without any issue. As you start to reach critical battery life you'll get a couple beeps periodically to indicate it's time to plug it in. On a full charge you can expect approximately 10 hours of playback, and/or slightly less if you're rocking the Magicbox at 100% volume level.
A unique feature on this unit is the microSD card slot on the side that allows you to use the DKnight Magicbox as a standalone MP3 player, which actually saves quite a bit of battery life compared to streaming over Bluetooth. All that's required is to dump your favorite playlist onto a microSD storage card — no larger than 32GB — and make sure your files are either MP3, WAV, or WMA format.
Streaming with Chromecast Audio
It's not unheard of to hook up Chromecast Audio to a Bluetooth-enabled speaker. By doing so you have the benefit of enjoying your audio casts without notification or call interruptions like you would streaming over Bluetooth. The downside being that you have to keep the DKnight Magicbox near an outlet so that your Chromecast Audio gets power. Still, if you want uninterrupted music streamed through this speaker — Chromecast Audio is the way to go.
5 speakers under $35 to use with Chromecast Audio
The verdict
The DKnight Magicbox sounds great and is impressively loud for its compact size and affordable $27.99 price tag. There are plenty of buttons to help manage your music and having the ability to take calls over the speaker is a plus. If you're after a portable speaker to tote with you on a trip or just to jam around the house, this one's a solid choice.
Get the Android Central Newsletter
Instant access to breaking news, the hottest reviews, great deals and helpful tips.