DJI and Ryze team up to produce a $99 drone that doesn't suck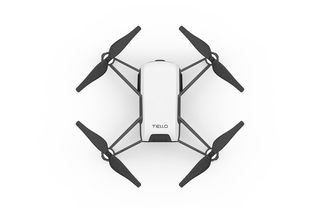 Drones are a lot of fun if you know how to fly them correctly, but they're not cheap: drone maker DJI's least expensive model is the Spark, priced at $499. That's inexpensive compared to other drones, but not reachable for most people. That changes today with the announcement of the Tello.
The Tello is actually built by a Chinese company called Ryze, but will be sold through DJI's storefront. The biggest draw of the Ryze will be its price: it will be sold for only $99. For that price, you get 13 minutes of flight time — only slightly shorter than the 16 minutes of flight on the Spark — a 720P camera, and collision detection to keep the drone in one piece. There's also VR headset compatibility, which sounds like it will be either fun or completely terrifying depending on the operator.
The Tello will be available in yellow, white and blue. There's no word on availability, but you can register for email updates on DJI's site (opens in new tab).
Are you interested in picking up the Tello? Let us know down below!
Here's what the press release says: "Priced at $99 USD (699 RMB), the Tello will first be available in China by the end of January 2018 through www.ryzerobotics.com and at select resellers. Tello will be available in the United States and other markets after March 2018." https://www.prnewswire.com/news-releases/cool-new-tello-toy-drone-soars-...

I've been toying with the idea of getting the DJI Mavic. But I have been holding back because if I don't like it it will become an expensive ornament. This will be ideal to see if I like drone flying. Just the wait for UK dates now.

I hear you. I'm afraid the novelty will go away quick so I've been strong and not biting just yet. I'm waiting for drones to get more common, advanced, better battery life and of course cheaper :)

I've been having fun with a mini drone because one of the venues I work in is an old 1400 seat theater with a high ceiling. I might move on up to this.

DJI GO 4 For drones since P4 4.1.22 APK is an android Application which made by DJI Technology Co Ltd in Video Players & Editors Category for android gadgets. The last version of this application released on Dec 12, 2017. App Download Version 4.1.22 Last Updated 29-Dec-17 Apk Size 10.21 MB App by DJI Technology Co Ltd.

Better check the B4Ufly app by the faa - drones are banned in most cities due to class b airspace limitations. If your within 5 miles of a heliport or any airport or airstrip regardless if size it is illegal to fly - unless you get a commercial license and consent from the airfield manager. Regardless of the size of drone

If I am going to take up drone flying I will do it properly. So I have already looked at the commercial license. Looking to see if I could integrate it in to my job. Trespass and suicide prevention on the rail network. I have space near me where I can learn to fly within the law. Then if I A: can fly one and B: enjoy it I will get licenced and insured and show my bosses the future.
Android Central Newsletter
Get the best of Android Central in in your inbox, every day!
Thank you for signing up to Android Central. You will receive a verification email shortly.
There was a problem. Please refresh the page and try again.