If you're buying The Lion King, make sure to connect Disney Movies Anywhere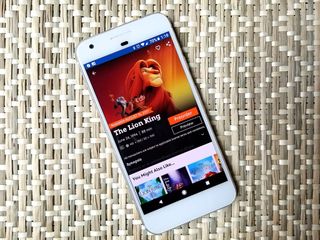 We've all seen it: buy the movie before it's out on Blu-ray, and you don't get any special features, and your copy is stuck in one store forever. It sucks, right? WRONG! Disney has a digital system that makes buying the movie early an actually tempting thing to do, and it all has to do with connecting digital stores and awesome app implementation.
Before you go buy The Lion King (opens in new tab), please download Disney Movies Anywhere (opens in new tab). You will not be disappointed.
Disney Movies Anywhere is a venture that Disney has undertaken in cooperation with Google Play, iTunes, Amazon, Vudu, and other stores to offer their digital copies on all your favorite digital platforms. If you buy a Disney movie on Google Play, Disney Movies Anywhere can see the purchase once it's connected to your account and then give you that same film on iTunes, so you can load it on the iPad before a family trip. Here's what we do:
Download Disney Movies Anywhere.
Open Disney Movies Anywhere.
Log into (or create) your Disney account. This is the same Disney account you'd use on Disney.com, the Disney Store, or a Walt Disney World vacation.
Tap Connect Account
Choose the service you'd like to connect.
Log in to that service to connect the account.
If you want to connect your account to Apple iTunes, log into the Disney Movies Anywhere website on your desktop computer or Disney Movies Anywhere app on your Apple device.
Now, buy a movie. Any Disney movie you buy will show up on every digital store you've connected to your account, and with the copy of your digital film in Disney Movies Anywhere, you'll also be able to access any shorts and special features associated with the film. For big blockbuster movies like The Lion King (opens in new tab) or Beauty and the Beast (opens in new tab), there will be a lot of special features. For smaller movies, like The Parent Trap, you'll only get the movie, but you'll get that movie anywhere that Disney has an agreement.
What if I want to buy the Blu-ray?
Great news! Remember those digital codes that come in a lot of Blu-ray combo packs? For Disney movies, those codes go right into Disney Movies Anywhere. This means that you can spend $20 buying The Lion King on digital and get all the special features on Disney Movies Anywhere, or buy a shiny Blu-ray combo pack for that same $20, pop that digital code into DMA, and get that magical digital copy with all the special features PLUS a physical copy for when you want to use that Blu-ray player gathering dust in your entertainment center. The physical copies are essentially free, so why bother buying a digital-only copy online, unless you already own the DVD from a previous release? The digital copy for The Lion King is available today, but the Blu-ray combo pack is available on August 29th, so if you can wait two weeks to watch a movie from 1994 — sweet Disney magic, I feel old now — you'll get more bang for your buck.
I am a huge Disney fan. I wait for the Blu-ray because it is the only Blu-ray I can buy that comes with a decent digital copy. Even better? This time, I don't have to wait an extra three weeks for that Blu-Ray combo pack!
Updated August 2017: This article was updated to reflect current Disney releases and which digital libraries are accessible with Disney Movies Anywhere.
Android Central Newsletter
Get instant access to breaking news, the hottest reviews, great deals and helpful tips
Ara Wagoner was a staff writer at Android Central. She themes phones and pokes YouTube Music with a stick. When she's not writing about cases, Chromebooks, or customization, she's wandering around Walt Disney World. If you see her without headphones, RUN. You can follow her on Twitter at @arawagco.
I love this feature and wish other studios followed Disney.

Me too. Disney's the only company that gets streaming right.

Definitely true, I wish more would allow the multiple access connections.

I was pleasantly surprised when my copy of Captain America Winter Soldier was imported to my Vudu (Ultraviolet) collection from Disney Movies Anywhere. I like the fact that they can all be in the same place.

I had no idea that this even existed, this is just great. I'm all about digital copies and no physical media these days for less stuff to store and dust. I hope that someday other studios will follow this example on how purchasing movies should work. We should not be punished if we don't want to buy the Blu-ray and not get the bonus material like directors commentary.

There seems to be some misplaced vitriol for UltraViolet which operates in the exact same fashion. Granted, the streaming providers are different, but it's still a digital locker that's provider agnostic. Any digital code I claim for non-Disney stuff I can see in multiple providers, not just one as the article indicates. I have tons of movies in my UV locker and they are accessible from Vudu, FandagoNow, CinemaNow, Flixster Video, and even my FiOS account. Disney Movies Anywhere is available for iTunes, Google Play, Vudu, Amazon, and FiOS. Vudu is really the provider of choice, having both UV support and Disney Movies Anywhere support. But there's still plenty of access options to choose from and you aren't tied to just one store.

Yep. I have over 120 movies in my Vudu collection between Ultraviolet and DMA. I also have a few movies exclusively in Google Play because I have gotten some incredible deals. (Harry Potter collection for $35). Which is fine since I have a Nexus player. Either way, I also don't understand the hate for Ultraviolet

Yup, DMA is available on Windows as well. Forgot about that since it was a recent addition. There's not much stopping Amazon or Google Play from becoming a UV partner as well. It's just all back end studio negotiation. My suspicion is that Disney did some strong arming here with Amazon and Google and said that if they didn't participate in the platform, that they wouldn't be getting any digital copies to sell at all. Regardless, there are very few movies you purchase today that don't have a provider agnostic digital code included. Things are split between two different lockers (DMA and UV) but the intent and implementation is pretty much the same. There have actually been rumors for a long time that Amazon was going to become a UV provider and it still may happen. If they did that, they can offer a similar service to Walmart in that you get instant access to your digital copy as your movie ships. Honestly, I'm still waiting for the model where I can get the digital copy when it comes out, but also the physical copy later since digital release windows are now weeks before the physical copy.

The problem being that the Vudu app is complete and utter crap. Ultraviolet I have less of a problem with other than the apps it connects to aren't as popular and more importantly aren't as good. But vudu's apps are crap, and it's the reason I watch my Batman: Bad Blood digital copy far less than the DC collection I bought in Play Movies.

Never really had an issue with the Vudu app, especially since they added downloading of HDX offline copies. Chomecast support works well, the app on my ShieldTV works without issue, and my LG TV's internal app works great (especially with Dolby Vision support.) They also allow you to download offline copies on PC as well which gives them a leg up on Amazon and Google Play in that respect if you wanted to load up your computer with movies before going somewhere. Would I like more UV providers? Absolutely. That's not really a problem with UV though, it's a studio and provider issue. Any time you ask someone to allow people to use their infrastructure for free, they are going to ask "What's in it for me?" Like I said, I suspect Disney gave these digital outlets an ultimatum, requiring participation if they wanted to continue selling. That's something Disney can do because they are Disney. Other studios aren't quite in the same position.

Really? I guess we all have our preferences, but I have to respectfully disagree. Vudu has been my go to app/platform for several years for buying, renting and watching movies on pretty much any device I have (Roku, AndroidTV, and portable devices (iOS & Android). I've felt the quality and audio with their HDX format was better than the competition (at least as of a few years ago.) And of course, with both Ultraviolet and DisneyMovies Anywhere supported... a majority of my movies just show up there except for the one-offs that happen to be on Amazon or Google. In the end, however, I'm just glad that these services (UltraViolet and Disney Anywhere) aren't tied to exclusive platforms for each... this allows for user end preferences like ours to co-exist.

My problem with Vudu is they don't have an Android TV version.. or at least on the Nexus Player it isn't available

Only sort of true with Vudu. Disney Movies Anywhere movies show up in a lot of places once you connect your account. For example buy it once and it shows up in iTunes/Google Play/Vudu/Amazon and I'm sure that is leaving a couple of other options out.

Best Upside to the Marvel buyout.

Yah Disney is remarkably cool about its IP in this respect.

I think more studios and store-fronts would do, but only Disney has the clout to get iTunes, Amazon, Vudu and Google to abide by their rules.
In this case, the customer wins, which is rare in this digital age.

Does Ultraviolet still only let you access the digital copy of your movie for a few years? I buy Blu-Rays and was deterred from using streaming providers because in the fine print, your digital streaming privileges to the movie you bought would evaporate after a time.

That's not what the fine print says. That's the date that you have to use the code by to redeem the copy. The same deadlines exist for DMA. Though, I've found that they don't always enforce those deadlines. UV copies are yours forever once you redeem them. The rights don't (and never have) evaporated.

@canonBoy I thought the same thing, but years ago just decided to activate anything I've got the code for. So far, I've never lost access to any movie I've added through UV. I have, however bought a blu-ray and the CODE had expired. In the couple of cases where that happened, I contacted the vendor and they sent me an updated code. I'm thinking the expiration date *may* be a couple things (pure conjecture, here): (1) absolve them of needing to perpetually and indefinitely supporting the scheme to validate the codes or (2) absolve themselves of providing access to films on a defunct platform should UV go away.

Love Disney Anywhere. I did the movie club so I make sure I alway fill my obligation with a Blu Ray with digital copy. I like Vudu's playback options best on my Roku but usually have Google Play credits to spend. So if not buying a physical copy of a Marvel/Star Wars/Pixar film, I'll buy it using Google Play and, boom, automatically shows up in my Disney and Vudu libraries. Like Cap said about the Internet: "So helpful".

Does this also work if a user has already bought a Disney film on the Play Store, or do you have to have linked the account to Disney Movies Anywhere first?

I got digital copies on on iTunes 10 years ago that were transferred to Google Play when I connected both accounts. So yes, previous purchases count, too.

Nice feature. I never realized you could do that. I will keep this in mind for the future, but I really don't buy movies anymore.

Holy crap, this is really useful. Less so for me, since the only Disney movies I have are all bought through Google Play, but I have friends with kids who have bought dozens of Disney movies and shows through multiple services, so this will be awesome for them. Also, if you link your DMA account and buy Rogue One through Google Play, you get some free Rebel Alliance and Empire decals, which are kind of fun.

Can you use DMA if you purchase the movie from an Xbox or PS4?

Xbox, yes. Microsoft Movies & TV is an account you can link to DMA (article left Microsoft off of the list of vendors). PS4, no, unless it was a Disney movie purchased through one of the vendors' apps listed in the article. Currently it is only the vendors listed in the article, plus Microsoft Movies & TV, and Verizon ViOS.

I love Disney Movies Anywhere! Also, you accrue points for each movie. I had saved all my points from the movies I had purchased and had saved up approx 5,500ish points. I got 4 movies for free +shipping. Pretty great!

If I could do this with any TV Show or Movie I'd start buying them instead of streaming!

Ultraviolet allows you to do just that.

I hate UltraViolet. I tried setting it up with different services, just does not work as nice as DMA. In fact I quit redeeming the UltraViolet movie codes, but always redeem DMA.

Love Disney movies anywhere. The gold standard for how to do it.

I believe they are also eligible for Google Plays Family Library... I bought the Rogue One Blu-ray and it registered the free digital code on Google Play and the movie also appears in my Family Library.

Strange I just connected all my accounts and I have some star wars movies on my google play account and they are not showing up in disney anywhere but one other disney movie is...

Star Wars is a sticky wicket, actually. Episode IV isn't available on Disney Movies Anywhere, nor is it available for the cross-platform benefits of it because 20th century has the rights to it forever. It's a shame....

I can't recommend this app enough. All of my iTunes Disney purchases and Google Disney purchases are suddenly cross buy without paying any additional stupid fees. Every single studio should negotiate the rights for this type of cross buy behavior.

What the hell, the title says Lion King! I got all excited thinking Lion King was coming out on video
Android Central Newsletter
Get instant access to breaking news, the hottest reviews, great deals and helpful tips
Thank you for signing up to Android Central. You will receive a verification email shortly.
There was a problem. Please refresh the page and try again.