DirecTV Now adds NFL Sunday Ticket access — but only in a few markets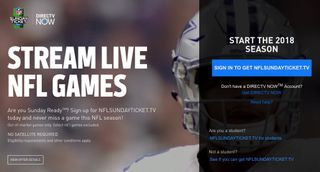 One of the biggest gripes not just about streaming TV but the whole damn system in the first place is that you still can't watch anything everywhere. And while that's really not changing anytime soon, the fact that you can now tie an NFL Sunday Ticket account — that's the one that lets you watch any game any week — into a DirecTV Now account is a step in the right direction.
(Never mind that NFL Sunday Ticket is a legacy DirecTV satellite thing, and DirecTV Now is obviously an offshoot of that, and so this sort of thing seemed to be inevitable and really doesn't matter unless you have DirectTV Now in the first place. But we digress.)
There are a couple of caveats here. First is that you'll have to at least have DirecTV Now's $55-a-month "Live a Little" plan.
See complete DirecTV Now plans and pricing
The other is that you'll have to reside in an eligible ZIP Code in the following locations:
Greater Los Angeles
Phoenix
Boston
Philadelphia
San Antonio
Hartford, Conn.
Louisville, Ky.
There are a lot of people in those locations, for sure. But it's not all the people in all the locations. At least not yet.
But with just a few short weeks to go until the regular season starts, it's definitely a welcome addition.
Do it: Watch NFL Sunday Ticket on DirecTV Now (opens in new tab)
Get the Android Central Newsletter
Instant access to breaking news, the hottest reviews, great deals and helpful tips.
Just know when you start mixing accounts that there will be issues with AT&T, and you're going to spend legwork trying to login, or fix a billing issue, or something else. As a DirecTV subscriber that came over from another AT&T product, Uverse, my email address was used for both, and the accounts merged, and caused an issue to sort things out - especially on the streaming front with the DirecTV app for actual subscribers to the dish (not DTV Now). Second, I used to stream NFLST, again using the same email address. And customer service claimed I would not be charged for renewal, as with being a new DTV customer, I got NFLST max package for free. Well, they charged me, so now I had to request a refund. The only way to do this was through help chat, not on the phone, and you can't easily find that link on the home page to NFLSundayTicket.TV and have to go to an email you received previously -- assuming it's not deleted. And when you sign up for NFLST streaming, it will auto-renew next year unless you cancel, and again, that can only be done through chat. Maybe you won't have these issues doing a mix of DTV Now and NFLST streaming, but, be prepared just in case. It can be a headache.