Digimon Heroes challenges you to save the world with your favorite digital monsters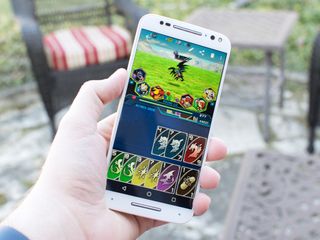 Bandai Namco has released Digimon Heroes, a new battle card game for Android. Your job is to build the best deck you can to save File Island, using over 1,000 available Digimon characters. Along the way, you can upgrade and expand your roster of monsters in an effort to become the best.
Here's what you can expect from Digimon Heroes:
SIMPLE AND STRATEGIC ACTION: Match Command Cards to form chains and devastate your enemies!
COLLECT YOUR FAVORITE DIGIMON: You can choose from over 1000 different Digimon, from common to legendary!
DIGIFUSE, DIGIVOLVE AND LIMIT BREAK: Enhance the Digimon who have joined your party by digifusing them, digivolve them into even stronger forms, and finally break through their limits to unleash their full potential.
EPIC BATTLES AND SPECIAL EVENTS: Fight your way through File Island and push your team to its limit with epic events and challenges!
Digimon Heroes is free to download, though there are in-app purchases for upgrades and new cards. You can find the game on the Google Play Store (opens in new tab) now.
I thought Digimon was dead. If anything bring back the original Pokemon #hailbrock #hailmisty Lam I Am

There's a new Digimon game coming to PS4/Vita next week too. Apparently it's actually really good....

Damn that's news. I'd like to see Pokemon on the Xbox One Lam I Am

To celebrate the 15th anniversary of the original series, they brought the show back with Digimon Tri late last year. There's a whole slew of new games, toys, and merch to go along with the new series. It's definitely geared towards those who grew up with the show so long ago.

They just started releasing Digimon Tri on Crunchyroll. It's a sequel to the original Digimon show with the kids in High school now. Definitely aimed at older fans of the original. Posted via the Android Central App

Okay, ill bite .. I miss Digimon World 2003.. Posted via the Android Central App
Android Central Newsletter
Thank you for signing up to Android Central. You will receive a verification email shortly.
There was a problem. Please refresh the page and try again.