Diablo 4 for PS5: Everything you need to know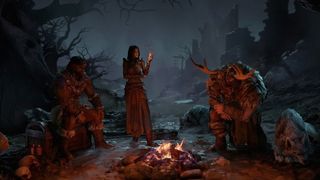 (Image credit: Blizzard Entertainment)
Diablo 4 was unveiled at BlizzCon 2019, with a stunning cinematic trailer and a series of updates following. There's no knowing when it'll arrive but there's plenty we know already about Blizzard's next foray into the world of angels and demons.
Classes, skills, always-online, what parts of the world we'll explore — Blizzard is sharing quite a bit well in advance of the release of its huge RPG. Here's everything you need to know about Diablo 4 on PS5.
What is Diablo 4?
Diablo 4 is an action role-playing game taking place around a decade after the end of Diablo 3. The story revolves around the return of Lilith, the Queen of Succubi who fell in love with the angel Inarius and together, bore the Nephalem, ancestors of the human race.
With Lilith's return, evil cults spring up and hordes of bestial Goatmen roam the world, yet the angels in heaven are not answering humanity's cries for help.
Given the kinds of games Blizzard Entertainment has made in the past, this could end up being one of the best PS5 games available, depending on how things turn out.
Diablo 4 Trailers
Our first look at Diablo 4 comes via the cinematic reveal from BlizzCon 2019.
After that, we also got to see a very early version of the gameplay via a gameplay trailer.
Diablo 4 Gameplay and features
As a top-down action RPG, Diablo 4 will be similar to past titles like Diablo 3, with the developers changing different aspects in order to balance the grind for better loot with functionality that makes for a fun game. Blizzard shared quarterly updates on the design process for Diablo 4 throughout 2020. It's early days but there are a few different things we know for sure.
Right now, there are five distinct regions: Scosglen, Fractured Peaks, Dry Steppes, Hawezar, and Kejhistan. Together, they make up the world of Diablo 4, which is larger than any past Diablo game. Three classes have been revealed so far: Barbarian, Druid and Sorceress. There'll be two other classes in the game at launch, though we don't know what they are right now.
Diablo 4's skill system currently takes the form of a literal skill tree. Players earn Skill points and Passive points, with Skills in the upper sections of the tree and Passives in the lower sections.
Player vs. Player combat, or PvP, will be available in certain areas. Trading and clans will also be available, though we don't know a lot about them right now. The game will always be online, though you can play by yourself if you want to. There will be special player vs. environment events that'll allow multiple players to fight massive threats together.
Although Diablo 4 will be on Xbox and PC, we don't know if it'll support cross-play with the PS5.
When is Diablo 4's release date?
Diablo 4 won't be released anytime soon. When it was first announced at BlizzCon 2019, the team confirmed that it wasn't coming soon, not even "Blizzard soon," and this was before the global pandemic affected the development of video games, causing things to slow down and be pushed back publicly or internally.
When Activision Blizzard discussed its financial results for the Q4 2020 quarter, the company confirmed that Diablo 4 and Overwatch 2 are not planned for release in 2021. All of this means the earliest fans should expect to see Diablo 4 released is some time in 2022, if not even further out.
So far, Blizzard Entertainment has only committed to bringing Diablo 4 to PS4, PC, and Xbox One. With that said, it'll absolutely be playable on the newest consoles through backward compatibility, so it'll be available on PS5, Xbox Series X, and Xbox Series S. Given the nature and scale of this game, it's almost guaranteed to have dedicated current-generation versions that could feature a higher framerate, resolution, and possibly even effects like ray-tracing or DualSense haptic feedback support.
Get the Android Central Newsletter
Instant access to breaking news, the hottest reviews, great deals and helpful tips.
Samuel Tolbert is a freelance writer covering gaming news, previews, reviews, interviews and different aspects of the gaming industry, specifically focusing on PlayStation on Android Central. You can find him on Twitter @SamuelTolbert