Death and the (Google) photo in your wallet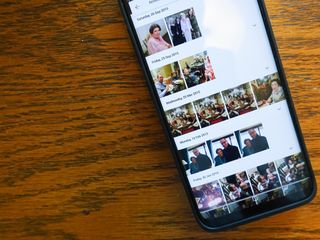 Last week, at 94 years, my grandmother Annette passed away. It was a peaceful passing, in her sleep, after only a brief illness. For that, I'm grateful. In her life, she was a mother and wife whose empathy and patience was bottomless; a generous friend and advocate for those around her; and a brilliant and award-winning chemistry teacher.
When I was 12 years old, she emigrated from South Africa to Canada to be closer to her family, all of whom had left the troubled nation years earlier. I was born there, and spent many of my formative days in her living room, playing with trains and building puzzles that she heaped on me with a fervor that only now I realize was borne out of a love for problem solving, logic, and a fierce desire to see my brow furrow as I neared a solution. I loved her very much.
In the years I was away at school, I maintained an email correspondence with my grandmother that I will always appreciate. Once she discovered that she could keep in touch with her friends and family in Australia, England, the U.S. and elsewhere without having to sit on the phone all day (although once she lost most of her vision the phone returned to its pre-AOL prominence in her life) she took to the computer, and Google, with a fervor typically reserved for early adopters. In writing, I told her about my classes and friends, my love of English and struggles with science education — chemistry in particular. In one conversation, she offered me a piece of advice that has shaped my life:
While sitting in her living room as a child I pored over one particular volume of her wall-spanning encyclopedia: the periodic table. By the time I was six I knew every known element and its defining properties, and the myriad ways they cohered and combated. Under her tutelage, I venerated the universal stuff that comprises our selves, our things and the world at large, and I'd like to think that my chosen career, an unusual hybrid of language and science, had its origins in her sagacity.
I thought about this, and about her, as I snapped digital photos of her physical memories this week, storing them on a service that promises to archive and make searchable all of the pieces of my life and, by extension, a selection of hers. I can open Gmail and reference our myriad conversations (and I do, often) or Google Photos to peer at the woman who in so many ways shaped the arc of my life.
To me, though, this is less a story about how technology makes it easy to recall her than it is about how she, despite a steep learning curve, voraciously pursued its unifying social properties to continue being the curious, generous, wonderful woman she was until the moment she passed.
A few more notes from the week:
Sony's new Xperia XZ Premium is probably the company's best phone ever, but it's going to need to come down in price a bit before I'm jumping on board.
I'm really excited about the OnePlus 5. If you listen to this week's podcast, you'll hear my thoughts on why I think this is going to be a much bigger deal than just an upgraded OnePlus 3T with dual cameras.
Interesting seeing how, despite claims of sustained network upgrades and a raise to gigabit LTE, the U.S. is so far behind many eastern markets when it comes to wireless speeds.
Peace and love this week, folks.
-Daniel
Get the Android Central Newsletter
Instant access to breaking news, the hottest reviews, great deals and helpful tips.
Daniel Bader was a former Android Central Editor-in-Chief and Executive Editor for iMore and Windows Central.