CyanogenMod 7.1 release candidate now live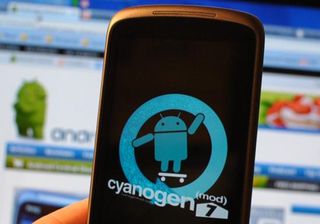 CyanogenMod 7.1 RC1 is now available for download from the mirror network. The changelog looks pretty impressive, addressing most of the user issues and adding features and options -- which everyone loves (we've got it posted after the break). The highlights are Android 2.3.4, Bluetooth mouse support, and improvements to the notification swipe to clear and Profile application.
It looks like a late night for all of us flash-a-holics. Grab it through ROM Manager, or from the source link below. Don't forget your Gapps!
Source: CyanogenMod. More: Gapps. Thanks everyone who sent this in!
Common: Android 2.3.4 (Google)
Common: Bluetooth mouse support - Scott Brady
Common: Improve notification swipe-to-clear - Evan Charlton
Common: Improve album-artist support in media scanner - Paul Crovella
Common: Profile improvements and bugfixes - Martin Long
Common: RTL text improvements - Eyad Aboulouz, Eran Mizrahi
Common: Wake on volume key option - Sven Dawitz
Common: Support for revoking application permissions - Plamen K. Kosseff
Common: Latest Superuser app - ChainsDD
Common: Control brightness by sliding on statusbar - Danesh M
Common: Add "copy all" to context menu - Danesh M
Common: Lockscreen haptic and statusbar indicators toggle - Danesh M
Common: Nicer timepicker/datepicker - Jiri Tyr
Common: Configuration 0/90/180/270 rotation - Jonas Larsson, Scott Brady
Common: DSP Manager bugfixes and improvements - Antti S Lankila
Common: Support for launching apps via gestures in the background - Jiri Tyr
Common: Option to hide hold button during call - Roberto Leinardi
Common: Allow using wildcards for call blacklisting - Nihanth Subramanya
Common: Option to allow in-call lockscreen to match main lockscren - Sven Dawitz
Common: Option to notify about incoming call only in background when screen is on - Pavel Kucera
Common: ADWLauncher- Transitions, catalog improvements, bugfixes - John Van Etten
Common: Optional GMT correction for SMS/MMS timestamps - Terry Hau
Common: Add FM Seek for TI devices - KalimochoAz
Common: Add FM support for SI4708 devices (Blade, V9, Racer) - Stéphane Konstantaropoulos
Common: Add FM seek implementation to FM application - Tom Giordano
Click, Motorola: Speed up photo recording - Emilio López
Click, Motorola: Add Geolocation to photo app - KalimochoAz
Vision/Glacier/Ace/Speedy/Vivo: 2.6.35 kernel and updated userspace
Buzz: 2.6.35 kernel - Arne Coucheron
Senior Editor — Google Ecosystem
Jerry is an amateur woodworker and struggling shade tree mechanic. There's nothing he can't take apart, but many things he can't reassemble. You'll find him writing and speaking his loud opinion on Android Central and occasionally on Twitter.
LOL.. Im backing up now and installing!

Wipe before flashing? Or just update?

If your coming from the latest stable do a full wipe. If your coming from one of the latest nightlies you can get away with just wiping cache. And as always do a backup first.

Backup, wipe cache+dalvik, flash. 99% chance that'll work just fine.

1) Down ROM and check MD5SUM
2) Wipe Dalvik Cache
3) Wipe Cache partition
4) Nandroid back up
5) Flash CM7.1RC1

Pretty sure you wanna backup BEFORE wipe...

IF you wipe your cache and your Dalvik cache prior to doing a back up you will not be backing up that cache. So it will leave your backup a little smaller. And you will get a smoother ROM post restoring that back up. I know where you are coming from but we are not wiping the /data or the /system prior to doing the backup. You always do a Nandroid back up prior to wiping the /system and /data. you are correct on that but cache it really doesn't matter either way.

Backing up and flashing now too:) Gotta love rooting and cm lol

Latest gapps link http://www.mediafire.com/?8mx6lg2xbmwm8u9

Lolno. GApps are available through ROM Manager, and the primary mirror: http://goo-inside.me/gapps/gapps-gb-20110613-signed.zip

God bless CyanogenMod, those are some hard working bastards. The nightlys have been smooth for my hero and my Nook Color so far. Next phone I upgrade to has to have CM support.

will this work on droid x?!

No, shadow (Droid X) was not included for RC1. It's not quite ready yet.

No, but, looking at all of the features listed in this blog post, we already have them in our nighties, just without the stability (and other bugs).

Installed on two MyTouch 4Gs, and both went from around 1800 Standard Quadrant to 2200-2400! Cool.

I'm not going to beat the drum to much on this one. Quadrant is a horrible application. It give no insight to the real world on how well your device runs. It is easily hackable (see post http://www.androidcentral.com/how-cheat-android-benchmarks ), and if running the same test over and over again will give one increasing better results, what is it really measuring. Just for example i just ran a QS test on my Glacier (MyTouch4G) my first test @ 1.5Ghz was 2,670 on the quadrant. My second test was 2,824. After running the "hack". My first test was 3,040, and my second test was 3,599. So what is the point of Quadrant if it's so easily hacked and always climbs. And for those of you that would like to see. I've uploaded the picture of the 3599 to my Google Docs. (https://docs.google.com/leaf?id=0B-1nxH5hA1CRN2YyYmI4ZDMtOTAzNS00YWI4LWE...)

Well, I didn't hack mine, so that point is meaningless. I'm only comparing my results before and after the upgrade (I had 7.0.3 previously). I understand that benchmarks aren't extremely useful when comparing devices, but between two revisions of the same device under controlled conditions it can give some insight in performance improvement. By the way, before the 7.1 RC1 upgrade, I never saw more than 2000 in Quadrant (without overclocking to 1.5). Now I get 2200 - 2400 consistently. I'd say that's a good sign. It's not definitive, for sure, but a general indication of improved performance.

can i install this on my atrix 4G?

Not necessarily trying to be rude but is that a real question?

yea...the boot-loader is no longer locked so i don't see why not?

CyanogenMod's website has a device listing, but unfortunately the Atrix doesn't seem to be on it (yet?).

The Atrix is not supported by CyanogenMod. You can't just flash any ROM for any device onto your device because the bootloader is unlocked. It has to be a ROM designed for the Atrix in order for it to even run at all.

SMH. I vote that Motorola & AT&T lock your boatloader back up for asking that. Haha! Seriously though, if you try to flash ROMs not made for your device, you are going to end up bricking your phone.

Easy dude. He was just asking an honest question. We're all here to help each other.

What a dick! It's not like his question was irrelevant to the topic at hand. Attitudes like that prevent people from learning.

There has to be one available for your phone...

Coming from nightly 95, flashed and everything a-ok. nice work

wish they add support for samsung galaxy 5 i5500. well I'll just relay to madteam for time being.

My hats off to all the folks at CM who put their work into producing quality ROM's. A lot of credit is not given to where credit is due. And they do this, basically for free. I'm sure some people send a few pay pal bones their way, but not enough to compensate for all the man hours involved, ensuring us Rooters and Rommers, get a quality product. Personally, I don't use Pay Pal, I have this thing about sharing my account info across the vast dark abyss of digital hell. But, an open invitation to the folks from CM. Come to Moscow, and the Russian Vodka is on me. At least for 1 night!!!

If they can't make it, I'll come over and drink their share of it. спасибо

Is it just me or does Google video chat not work.....

It doesn't work for me either and video chat was the only reason why I installed it.

The new GApps doesn't include Talk with video chat. See the footer of http://goo-inside.me/gapps for more info.

Thanks for explaining that. I was still hoping it might have been an issue with my installation and just flashing things again would help. Still pretty disappointed, but I love cm7, its speed and stability (it was getting ridiculous how many times htc sense would fc on me) and its customization options and tweaks.

Keep this up. Wish the "nex"t vanilla phone was a CM with total user input.

Absolutely fantastic. This is why I stay Android. Damn I'm one happy camper.

Trying to download for my NS4G now, if my work's wifi would stop timing out the download

make sure the wi-fi isn't turning off then the phone goes to sleep. Wifi options > menu button > advanced > wifi sleep policy > never

Somebody want to tell me how to update my current 7.0.3 to 7.1.0? I want all my apps and settings to stay the same.

Download via ROM Manager, check the "Google Apps" add-on, and at the pre-installation window, just check "Backup Current ROM" and "Wipe dalvik cache". Hit OK, and let it go. That's it.

1a) download the ROM from Cyanogen's site.
1b) store it on the root of your SD/Card.
1c) Check the MD5SUM
2) Wipe Dalvik Cache
3) Wipe Cache partition
4) Nandroid back up
5) Flash CM7.1RC1

I believe that you need to do a full wipe unless upgrading from one of the nightlies. Just do a titanium backup for the apps, for the settings I think you might be SOL unless there is a way to save those, maybe ADW settings?

You do not. Just wiping cache and dalvik should be fine.

I can confirm this in my case. I didn't want to have to do a wipe since I have everything setup just right, so I took a full backup and did a cache wipe and installed. Works fine as far as I can tell. I also did the 'Fix Permissions' operation in Rom Manager just to be sure.

Sadly, I have the same wifi performance issue with this rom as I do with the other 7.x versions. Wifi performance on my MT4G is is drastically cut vs the stock rom. I've tried roms from a couple other folks and the performance closely matches the stock rom but had other issues that keep rolling back to stock. Oh well, I'll keep trying new releases to see if the problem gets fixed cause I really like pretty much everything about the CM roms.

I have the MT4G and have been running CM7 from the start (stock blows badly). I haven't noticed any Wi-Fi performance issues. Can you explain so I can see if I have the same problem?

Via Speedtest.net I was getting ~1280kbs down and ~1480 up speeds. With the stock rom I am getting 9083kbs down and 4584 up... Very similar story CM7.00 and 7.03. I was also experiencing drop outs on wifi calling that I don't experience with the stock rom. I loved everything about the CM7 rom but I can't live with substandard wifi performance and connectivity issues

OK. I usually don't test my Wi-Fi connection. I ran SpeedTest and got 10537 down and 4932 up. Now, that sounds good. However, I have FiOS Internet that's rated at 35/35! I ran speedtest on my PC and got 20530/21020 about a minute after my MT4G test so there might be something to your assertion. However, 10Mbps is fast enough for me. I'd never go back to stock. I tried "upgrading" to a Sensation last week but found the screen quality inferior (even though the resolution was higher) and though Sense 3.0 is a slick piece of kit, it was just too much. I sent it back and went back to my MT4G. I like my OS to be understated, stable, and fast. CM7 has provided that. I'm officially spoiled. Getting somewhat inferior Wi-Fi performance won't keep me away, especially since I hadn't really noticed it.

I also have FIOS although not 35/35, I think mine is 20/10. Just ran another test on the stock rom and got 12889/4879. I could live with half that but not the results I was getting... Have you done any other wifi config tweaks? What kind of router are you using?

I'm just using the stock G Wi-Fi router that comes with FiOS. I haven't done any Wi-Fi tweaks to the phone or the router configuration. The only thing I'm doing differently is I have a D-Link external antenna hooked to the router, in lieu of the default antenna, to provide a stronger signal (supposedly, I haven't really tested it). I have used the Android app 'Wi-Fi analyzer' to find the most open channel to set my router to, but that should affect mobile and traditional Wi-Fi clients equally.

fyi, i went through ROM Manager and chose "wipe dalvik cache" only. from 7.0.3, this caused my HTC Desire to hang on the HTC logo. so, don't go from stable to RC without a full wipe. make it your excuse to start from scratch!

It worked for me to upgrade directly, so if you take a full backup it's worth a shot for those who don't want to start from scratch.

It worked for me to upgrade directly, so if you take a full backup it's worth a shot for those who don't want to start from scratch.

hhmmmmmm I'm stuck at the "HTC Incredible" boot logo after flashing......anyone else having the same problem? Did the normal proceedure for flashing this ROM, never had this issue before.

nevermind. i figured out LOL!

I am having the same issue, how did you resolve it?

I had this issue as well. After lots of attempts VolDown and Power at the same time got me into HBOOT where I was able to get into recovery and restore to my backup. I think I'll sit RC1 out! Good Luck!

downloading now see you later miui

No option to add Gmail to automatic sync for some reason and yes I installed Gapps. Not sure if it is the WiFi at my work but I can connect at home but not at work. Otherwise another great release.
Android Central Newsletter
Thank you for signing up to Android Central. You will receive a verification email shortly.
There was a problem. Please refresh the page and try again.