Cricket Wireless offers $100 bill credit to T-Mobile and MetroPCS customers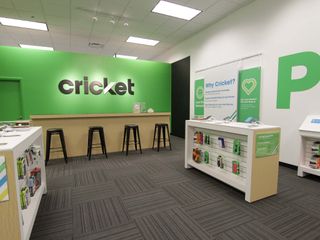 AT&T's no-contract subsidiary Cricket Wireless is going after the current customers of T-Mobile and MetroPCS with a new promotion, offering them a $100 bill credit if they switch their phone number to Cricket.
The special offer actually begins on Sunday, August 24 and ends on October 19 and is just for T-Mobile and MetroPCS customers who are moving their number or numbers to Cricket's Basic, Smart or Pro rate plan. The $100 credit should be enough for over two months of free use for Cricket's Basic Plan at $35 a month and the Smart Plan at $45 a month.
What do you think of this new offer from Cricket, and indirectly AT&T, to go after T-Mobile's customers?
Source: Cricket Wireless
Just switched my wife from Verizon to Cricket. I tried to stay with Verizon on their loyalty plan but with taxes and fees it was still $30 more than Cricket. Coverage is equal to my other phone on AT&T. Posted via Android Central App

The signal strength is equal to my corporate AT&T phone. Now that AT&T owns Cricket they use the same towers. Speed tests were less due to the speed cap that Cricket uses. This is the main difference between going with AT&T directly. For my wife, she is not a power user and so she has not noticed a difference from Verizon. In fact the capped speed has been better than Verizon so far which is sad.

Overall it's quite good as the other bloke said. I was with Cricket since it was AIO, and only switched back to post paid ATT a couple days ago (as I could get on someone's family plan for about the same cost and sans contract). Just bear in mind Crickets Coverage in somewhat more remote areas is always going to be a bit more sketchy, because while they are using ATTs towers they DON'T have access to ATTs roaming partnerships. It's still solid service, but if you're out and about with someone who has full ATT or Verizon they'll have coverage in places you don't every now and then. 1+1/N5

It's good service for the money. I pay $65/mo for 7GB high-speed data (capped at 8Mbps), and unlimited talk/text. For me, speed is less important than quantity since the most bandwidth-intensive things I do with my phone are streaming music and YouTube videos, and 8Mbps is more than sufficient for that. If you watch a lot of Netflix/Hulu on your phone, or tether and use bandwidth-intensive services, you should look elsewhere. Call quality, coverage, and buildng penetration are exactly equal to AT&T in my experience, which is to be expected. Also, customer service has been perfectly satisfactory the few times I've had to make use of it.

I love Cricket. Have been with them for ~3 years. Perfect. No dropped calls ever. Great reception everywhere I go. Suggestion: Go to Local, Corporate store. Don't use the 800 number. Talk face-to-face with a real person in this country. Prices has been better than all the other carriers, that and their great reception is what has kept me to be a long term customer. When all others were demanding you sign a contract and pay an outrageous monthly fee, Cricket was offering the lowest prices. And now, they still are.

With the Moto G for 50 bucks after rebates, can't beat it.

I love Cricket! More 4G LTE than T-Mobile, Sprint and Metro!

Haha, no thanks. I'll stick with T-Mo and Metro. Nice try ATT.

Is there an unlimited data option at cricket? Posted via the Android Central App

No. They top out at 5GB. Cricket is not for data hungry users. In my opinion it is for the people that do not have good T-Mobile coverage like me and are looking for the best coverage/cost combination.

Yeah, it's a shame that they axed the $70 7GB plan. I'm still grandfathered into it, but it was a great value for new customers.

Yup! Had and liked T-Mo when I lived in Portland, OR. When we moved to central Oregon, T-Mo's coverage was just crap, so I switched over to Cricket. Happy with the coverage now, but I am paying $15 more a month than I was on T-Mo.

True they top out at 5 for packaged plans, but you can also buy an extra gig for $10, as a recurring monthly option on your plan. With all discounts included that should get you six gigs of high speed data for $60 a month. I had that and would tether about a gig a month too and never got bothered about it. 1+1/N5

Same towers for the most part so this would be good but you know TMO will counter so we will see how far this will go. I switched from AT&T to TMO and I haven't looked back. AT&T's service is great in my area (Dallas/Ft.Worth/Austin) but its just too expensive in this day and age. I need AYCE and so far TMO is getting it right on the money for me. If someday if AYCE data stops, I'm going back to the Motorola P935 pager.

If i am not paying $28/month for unlimited Talk/Text/10Gb shared data between 8 member(ATT). I would have switched to T-mobile long time ago.. Its hard to convince the other 7 to switch to T-Mob. Here is the plan $100 for 10Gb data and $15 per line for each line. if you upgrade then the $15 become $40 so we have agreed not to upgrade at all. its cheap to buy a nexus.
we also get 28% discount on that $100. so thats $9+$15+$3.5(Tax)= aprox $28

This is how the Uncarrier could get undone (notice I said could). A lot of there business and gains have been in the prepaid space. If they make a big enough dent there, T-Mo could lose what it has gained. On the flipside, T-mo adds a lot of value to their plans and this just isn't really gonna do a whole lot of damage, unless the coverage is that bad where you live and cricket is better. It is a nice alternative to Tmo if it is not working for you

*their Posted via Android Central App

As a consumer I'm just happy to see the competition. I don't think there is question that t-mobile shook up the industry last year. I'm happy with t-mobile for now. But I'm free to come and go as I please. Posted via Android Central App

Being able to come and go as you please is the most important thing. Between the carriers' increasing willingness to offer good month-to-month service and the rise of inexpensive off-contact phones (which are still perfectly sufficient for most users), consumers have a lot more power than they did a year or two ago.

Now to get everything switched to lte-a so the cdma/GSM thing can stop being a hindrance Posted via Android Central App

Just a couple more years, we're almost there.

Switching wouldn't work for me. I use between 10-15 GB/mo. I'm sticking with T-Mobile. But my in-laws could probably make the switch. I know for a fact that they use less than 500 MB/mo. Posted via Android Central App

While certainly good news for the consumer I personally am not interested. I am happy with MetroPCS. Posted via Android Central App

I'm in....I had planned on leaving T-Mo once our contract is up on Sept 29th and this is a great deal for me to try out Cricket first.

Damn! I just switched from tmobile to cricket last week. Tooooo late Posted via Android Central App

I'd just call em' and see what they say. They might give it to you anyways! Worth a shot.

Yeah I'll try that route. What the hell might as well Posted via Android Central App

Thinking of going to Cricket from StraightTalk....where's my $100! Posted via Android Central App on my white Nexus 4 with StraightTalk ATT

You already use their network most likely if you have GSM StraightTalk which means they get a cut of your bill every month, no $100 for you.

I love the coverage with cricket but 5 gigs doesn't seem enough for me. I hit around 13 to 18gb every month. The 10gb plan with AT&T would be better but this option is great. Posted via the Android Central App

Ok, really, did anyone seriously NOT expect some kind of move from AT&T and/or Verizon? T-Mobile has been disrupting their business model for nearly 2 years now, and rubbing it in their faces to boot. Honestly, this "response" seems pretty lame - I expected something much more bold or impactful. Perhaps this is just a trial run to see what response they get? All that said, I think it's misguided. Competition is good, but this is the worst attempt I've seen in a long time. AT&T will have to do something much more assertive/aggressive if they want to slow T-Mo's momentum.

$100 is nice, but not when it's only from one carrier. Add in the Sprint and Sprint prepaids and you have a lot more customers willing to switch.

I am going to stick with TMobile. There 80$ unlimited data with no cap is great. I use about 10+GB of data a month. Cricket doesn't offer enough data for me to consider switching to them. Posted via Android Central App

Been having service issues the last 4 months on T-Mobile $30 plan with my Nexus 5. Been looking to switch to ATT towers (was gonna do straight talk) to see if I get better service, or if it actually is my phone that is the problem.. Now I will get the chance to do it, AND save money. I figure with this $100 credit it will bring the price of 8 months of service on cricket vs 8 months of service on T-Mobile to about even. Thank you AC for this article, probably wouldn't have found out about this promotion any other way.

They're not even trying to battle Tmo with their pro team. They're like "nope T-Mobile is not in our league. Cricket go handle my light weight." Posted via Android Central App

T-mobile has horrible coverage in my area, so I'm totally in. I rarely use more than 2gb of data, so it's a great idea! 2 months of free service would be a great way to start off new service, too!
Android Central Newsletter
Get the best of Android Central in in your inbox, every day!
Thank you for signing up to Android Central. You will receive a verification email shortly.
There was a problem. Please refresh the page and try again.