Cree's $15 connected LED bulb is perfect for the rest of your house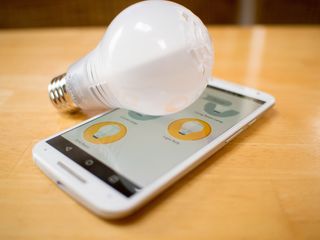 Smart lighting is a bunch of fun to play with, but for most people the current costs are way too high. Most people who have managed to justify the cost of a starter kit only go so far as to outfit a room or two, and that has just as much to do with there being absolutely no need for crazy color changing bulbs in your bathrooms as it does the price and design of the bulbs. The folks at Cree have been working very hard over the last year to release cheaper and cheaper LED bulbs, and with that comes the opportunity to release a connected bulb at less than half the cost of the more commonly known competition that you'd actually consider replacing all of your regular bulbs with.
Of all the current connected bulbs that exist today, the folks at Cree seem the most interested in making their hardware actually look like a conventional bulb. Their design is familiar enough that no one will question what's in your lamp from a distance, but up close it's a peculiar little gizmo with the crossing boards and vented areas. The only other bulbs that come close when it comes to pricing and functionality are the GE Link bulbs, whose LEDs are organized in a ring around the top and offer a glass dome more like a traditional bulb, but the opaque base make it so light doesn't evenly distribute beneath the fixture which can be a problem for lamps and sconces.
What really makes this bulb special is the way it plays nice with just about any ZigBee hub. Rather than release their own hub with their own standards, Cree opted to work with the folks at Wink. Instructions for connecting this bulb to a Wink hub is included in big bold lettering on the packaging, but it is also made clear that these bulbs will work with anything ZigBee if you know how to add the bulb.
Adding anything to the Wink app is almost exactly the same. You follow the step by step instructions in the app, and when the bulb is connected you're invited to use your new accessory with the rest of the app. This included scheduler robots that will turn the lights on and off at pre-set intervals or based on whether or not you're in the house, as well as a dimmer switch that you can control from anywhere with an Internet connection. Since there's already plenty of smarts in the Wink app, this new Cree bulb does everything a Hue Lux bulb does at half the price and is still a great energy saving bulb by being a 60w replacement that only needs 11w to operate. If you've already started building a connected home, these are a no-brainer. If you've been waiting for a less expensive entry point for your setup, Cree's bulbs and a Wink hub are a great place to get started.
A smart lightbulb............. okay Posted via the Android Central App

You mean lazy humans Posted via the Galaxy Note 4

Yeah, because when I want to make my lights pulse to the music I stand by the switch and hope I have rhythm. Because I'm an outstanding non lazy human. "I'm da Blur boys!" - Me with 1200 ping. Yes. My Internet got worse.

https://www.youtube.com/watch?v=O4gqsuww6lw#t=49
I'll just leave this here... It's how we used to do it before these fancy "smart bulbs". Noting that this was from 2006...

One thing that I have done with my Hue lights that I find really interesting is when I get a text message one of my lights will change color flicker and change back. One other thing that you guys might like is the ability for netflix and other movie streaming apps might soon be able to control the lights. Imagine watching Jurassic park and the lighting is completely controlled by the film. This is the kind of functionality that you guys are missing. Think outside the box ppl! http://www.slashgear.com/12-monkeys-tv-show-to-sync-with-philips-hue-for...

lazy has nothing to do with it... now with this, you can add dimming lights to any fixture, maybe you have a light in a celine fan but only one switch was wired. or maybe you want to turn down all the lights in a room to watch a movie. All controlled together, regardless if the fixture is dimmable or not. I guess I didn't realize than wanting more control makes us lazy...

Interesting. I like what I am seeing here. Not sure I will go this route. I do like having connectivity with certain features within the house, but controlled lighting isn't something that I am looking for. Nest and perhaps the new auto integration has my interest so far. One smart detector above the furnace section at home is also a possibility, but other than that the rest of my alarms will be standard ones.

I have a Wink Hub controlling my Philips Hue. My Philips Hue actually controls my Wink Lights. Since these are Zigbee bulbs, they should also work (hopefully). Why go through the hub to add these to my Wink? Because there is no IFTTT support in Wink and their app is still growing. Meanwhile using IFTTT gives me app notifications with Hue, turn on all lamps at sunset, lights off at bedtime, weather notifications, etc that are not achievable without IFTTT at this time.

It's also cool to have the lights turn on when your phone connects to the house wifi when you get home.

Awesome... I just picked up a wink hub and 3 GE bulbs this weekend.. Home depot has a special online only for 2 Ge bulbs and the hub for 49.99..... So far I like it... Can't wait to add door and window trippers, the spotty motion/sound detector and a dropcam. Posted via the Android Central App

I could see using this for the lights I frequently forget to turn off.

The wife always forgets the porch light when she leaves in the morning... So now I can turn it off wherever I am lol or put it on a schedule Posted via the Android Central App

Why wouldn't you just use a $5 screw-in photocell for this application? Seems like overkill.

In my case, the photocell didn't play nice with the CFLs, and the whole thing was too large for the fixture. We just went back to manually flipping the switch like cavemen.

simple, a $5 photocell aka dusk to dawn sensor, would turn the light on all the time when its dark out... now you can choose when and what lights to turn on or off at what ever time, instead of having a bunch of lights on for half the day running up the the bill. if you come home or leave for work the same time every day, you could just have the light turn on for a half an hour then turn off, no need for it to be on for hours

About $11 on Amazon even less if you buy multi packs

i don't think those are the same thing. they for sure do not look the same.

I think I'd rather have a smart light *fixture*. I don't need to pay for 3 smart bulbs all doing the exact same thing.

Please test them in various spots that are dimmable via switch around the house and let me know how well they work please. I have 8 recessed lights on a dimmer in my tv room and I would love to make 2 of them Hue lights that can sync with my TV, and the rest just simple smart buibs that I can turn off independantly. As I expand the Hue lights over time, I can remove some of the simple lights for other areas of the house.

That's how I'm using it. Since they have built in repeaters, there is no issues. I also use them with dimmers (GE Wink Bulbs). I have an 1800 sq ft home with bulbs in nearly every room. These bulbs are great for entry ways, hallways, bathrooms, etc. where having the expense and multi color bulbs can be an excess. I personally find the Hue Bulbs to be overkill in rooms where my only desire is to have them turn on when I arrive at home.

Since it's ZigBee have you tested it with the Philips hue hub? I know the GE bulbs work with it pretty well. How is the dimming compared to the GE bulbs?

I love seeing this author here! Welcome Russell!

Smart bulbs are always trumped by the switch. You will impress me when you have a UL certified $15 zigbee/ zwave/wifi wall switch (pick a protocol) Until then, my 3yro defeats your technology every time she plays with the lights. Ignoring the child factor, most light locations don't justify being smart. Yard/security and "minimum illumination" lights that are scheduled are about it for the typical home. The smartphone remote is just a toy that serves no purpose. If you have a smart smoke detector or burglar alarm you might want a few other smart lights to either help you get out or draw attention but then you need integration. And IFTT or online systems don't count during a fire since the internet could be what got hit by lightning and started the fire. Honestly, the biggest perk from smart lights is using them as a sensor to drive other automation. Posted via the Android Central App

I have to agree with this!!! This was my first problem when i started my whole house automation project..... pesky kids!!!! Since then, I have added soooooo much stuff Wink Hub
TCP Lighting with 2 bulbs
2 - Kwikset Z-Wave Locks
Honeywell WiFi Thermostat
2 Kidde Wifi Smoke Detectors
2 GE Link Bulbs
2 Z-Wave wall switches
1 Hue Starter Set
1 - Quirky Spotter
2 - WeMo Outlets (Not a big fan of the WeMo stuff) Always looking to do more...lol

This is why I want to put the smarts in the switch for my system. It's also cheaper, as most switches control several bulbs and each switch panel only needs one microprocessor and relay board to handle up to 4 light switches.

I wonder what happens to light switches if you mount these in ceiling lights.... Answered directly above me. That's lame... I'd have to mount an android device on the wall in my apartment, then...

I had a similar issue until I bought a Lutron Caseta dimmer switch. As it has constant power, I can access it at any time, put it on a schedule, all of that. I use it to power the dining room light fixture, which contains three LED "dumb" lights. It works great. I use the smart bulbs for places that don't have an easy-switch, like a floor lamp or a basement bulb with a short pull chain.

My landlord would love that! :-P

Ah this is great. Now if only the Wink app could be improved. Its clunky to use at best and my shortcuts never seem to stick and my robots don't really work. Great idea but needs work on the execution.

I have my primary rooms outfitted with wemo light bulbs and motion detectors. Not cheap but very cool once you get it all going. Posted via the Android Central App

Does anyone know the model # of the bulb?

They aren't available until, 'next month.'

Lost a lot of money on Cree stock a year ago. I am putting together a smart home now. I'll try a few of these and see what happens. My current LEDs are saving a lot of money. Will post my experience when I figure out how to post to the right forum. :)...

Does anyone know how much power these bulbs consume when off? Also, how does it's energy consumption when on compare to a non-smart LED bulb providing the same illumination. No use having a "smart bulb" for energy savings it consumes a lot of energy when it is on or off.

Home Depot has the Wink hub + 2 Link bulbs for $49.94. I think I am gonna grab that since you're getting 2 bulbs free in that deal and then expand with the Cree bulbs.
Android Central Newsletter
Thank you for signing up to Android Central. You will receive a verification email shortly.
There was a problem. Please refresh the page and try again.