Cree's $15 connected LED bulb is perfect for the rest of your house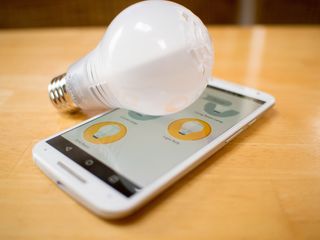 Smart lighting is a bunch of fun to play with, but for most people the current costs are way too high. Most people who have managed to justify the cost of a starter kit only go so far as to outfit a room or two, and that has just as much to do with there being absolutely no need for crazy color changing bulbs in your bathrooms as it does the price and design of the bulbs. The folks at Cree have been working very hard over the last year to release cheaper and cheaper LED bulbs, and with that comes the opportunity to release a connected bulb at less than half the cost of the more commonly known competition that you'd actually consider replacing all of your regular bulbs with.
Of all the current connected bulbs that exist today, the folks at Cree seem the most interested in making their hardware actually look like a conventional bulb. Their design is familiar enough that no one will question what's in your lamp from a distance, but up close it's a peculiar little gizmo with the crossing boards and vented areas. The only other bulbs that come close when it comes to pricing and functionality are the GE Link bulbs, whose LEDs are organized in a ring around the top and offer a glass dome more like a traditional bulb, but the opaque base make it so light doesn't evenly distribute beneath the fixture which can be a problem for lamps and sconces.
What really makes this bulb special is the way it plays nice with just about any ZigBee hub. Rather than release their own hub with their own standards, Cree opted to work with the folks at Wink. Instructions for connecting this bulb to a Wink hub is included in big bold lettering on the packaging, but it is also made clear that these bulbs will work with anything ZigBee if you know how to add the bulb.
Adding anything to the Wink app is almost exactly the same. You follow the step by step instructions in the app, and when the bulb is connected you're invited to use your new accessory with the rest of the app. This included scheduler robots that will turn the lights on and off at pre-set intervals or based on whether or not you're in the house, as well as a dimmer switch that you can control from anywhere with an Internet connection. Since there's already plenty of smarts in the Wink app, this new Cree bulb does everything a Hue Lux bulb does at half the price and is still a great energy saving bulb by being a 60w replacement that only needs 11w to operate. If you've already started building a connected home, these are a no-brainer. If you've been waiting for a less expensive entry point for your setup, Cree's bulbs and a Wink hub are a great place to get started.
Be an expert in 5 minutes
Get the latest news from Android Central, your trusted companion in the world of Android