Cover-Up's natural wood grain cases for Android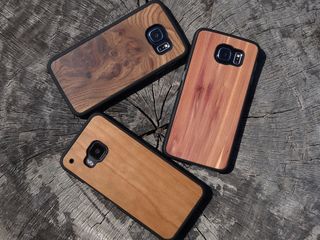 Hand-crafted in the UK, each WoodBack Snap Case is designed to resist stains with their special finish made from vegetable oils and waxes, changing slightly in appearance as the wood ages. We got our hands on a few of these unique cases for the Samsung Galaxy S6, S6 edge, and HTC One M9 to see how they look up close.
Cover-Up offers different wood grain options for a variety of devices including the Nexus 6, Galaxy Note 4, HTC One M8, and many more outside the ones we're looking at here. Since they're quite slim, wireless charging is never an issue, and there's ample room to access your camera, side buttons, and charging/auxiliary ports. Along the edges of each case is a smooth black polycarbonate that helps to enhance grip, too. The company states that the wood they use for these covers is sustainably sourced and laser cut before being hand-sanded. No matter what grain you go with, the cut will always be different for a truly unique appearance.
READ NOW: Cover-Up's natural wood grain cases for Android
Carpathian Elm Burl for Samsung Galaxy S6 edge
Image 1 of 2
This cut sports a more rich, and darker look compared to the others. You can pinpoint the small knots in the wood along with slight crevices where the wood has opened up. The blend of light and dark brown looks amazing from top to bottom.
Cherry for HTC One M9
Image 1 of 2
For a lighter, more subtle grain is the Cherry option, which we're using on the HTC One M9. While this case definitely isn't as busy in pattern, its linear look makes the case seem even slimmer than it already is.
Cedar for Samsung Galaxy S6
Image 1 of 2
Similar to the Cherry, the Cedar case presents a linear look but with slightly darker accents and more knotting. There are even hints of light streaks throughout that make this cover pop.
Would you go wood?
These cases aren't made to provide heavy duty protection, but rather casual coverage that doesn't bulk up your device with multiple layers. They're not scratch resistant, however imperfections are much harder to spot on the wood grain. I've been rocking the Carpathian Elm Burl on my Galaxy S6 edge for a couple weeks now, and I'm interested to see how its look develops over time. If these style covers are your thing, take a look at the other options available and let us know which ones you like best!
Get the Android Central Newsletter
Instant access to breaking news, the hottest reviews, great deals and helpful tips.