This could be the first glimpse of the BlackBerry 'Krypton'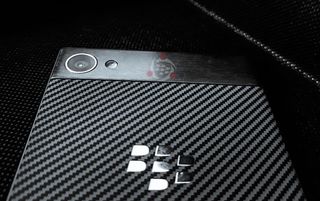 By now, it's no secret TCL has more BlackBerry smartphones in the works. The device known as 'Krypton' has passed through the Bluetooth SIG, Wi-Fi Alliance and FCC already and according to François Mahieu, head of global sales for TCL, the full-touch device is expected to arrive at some point in October. Still, despite all of that information, the 'Krypton' has eluded being caught on camera, mostly. A recently posted image offers up what could be the first glimpse of the next BlackBerry.
As posted on BBM Channels, the image purports to show off the back side of the BlackBerry 'Krypton', though, given the source itself seemed uncertain if it really was the 'Krypton' there's certainly a bit of room here for speculation and debate. Given it's only a small look at the backside, there's not a whole lot that can be derived from the photo, but have at it in the comments. Does even this small look pique your interest?
Android Central Newsletter
Get instant access to breaking news, the hottest reviews, great deals and helpful tips
Hopefully the roll out of their next phone doesn't flop like keyone.

Blackberry still relevant?

More relevant than these redundant comments

lmao the keyone is the best selling phone blackberry has had since they launched the BB10 devices what are you talking about.

i personally think they should stick with the top portion of the KEYone. Makes it iconic and it looks way better than what is shown here. KEYone has been my daily driver since May 31st and it's hands down the best phone I've ever used. It was like it was custom-made specifically for me! I'm glad to hear about its global success! :)

Good to know! I was thinking of getting a second phone (well, third, but who's counting? ;-)), and the KEYone maybe the one. :-)

Doesn't Alcatel do rear fingerprint scanners?

Krypton? Like that new SyFy show? So no one really asked for it or wanted it, it won't be that good in the first place, and everyone will have forgotten about it in a year? Sold!

Isn't the black phone in the picture the KEYone?

Based on the picture, this phone could be a slider.

I think it's two different phones

Yes, the KEYone Black edition is the black phone, this won't be a slider. It will be a midrange full touch.

I want to like blackberry again (I owned two bb10 phones, the z10 and z30), but I don't feel like I can ever trust them again--even on Android--after they announced the Priv won't be getting updates to Nougat. Yes, they had logistical issues in updating it, but as a consumer--I don't care what their reasons were. All I care about is getting the upgrade. So glad I went with the s7 edge and not the Priv (or any other non-update blackberry android for that matter).

Exactly, the lack of support on priv was surprising and not in a good way

I agree with your points. No more Blackberry for me.

Exactly. Plus even the 2 newest ones (DTEK 50 & DTEK 60) wont be getting the upgrade either.

I'm sure the 25 people who still use BlackBerry devices will be psyched.

BlackBerry and Motorola are the pioneers of the phone game.. What are you like 16? others are followers, respect your elders son.

Blackberry is very relevant in the corporate world

Uh oh, shouldn't've said that... You won't hear the end of it

Meh. We shall see. I was never happy with the Priv. Not sure i would buy another Blackberry.

It better be good. The V30 is looking pretty snazzy.

I looked at the Key One the other day and for all intents and purposes it is not a bad phone. I haven't used a fixed keyboard on a phone in a long time but on that one it's not really bad. I don't know if I would buy one or not though. This rendition looks weird to me fwiw Mac

In today's world I'm now only interested in dual sim, full LTE bands, 18:9 ratio and 3500 battery. The rest is all the same.

I think Blackberry has to be different, why not make a rugged phone like the Active s8 from Samsung? Another touch device no one is asking for and I think will be a flop. I do think the KeyStone with keyboard is a good one and the look and feel are classic blackberry, that has a niche.. I have a Pixel Xl and really just want water resistance dust, the more rugged the better and only other phone would consider is a Pixel 2, Samsung Active or BlackBerry/other Android modern rugged phone with great battery. Why is Samsung the only one playing in this area with their Active Line??

Not a bad shot. BlackBerry have always had excellent build quality. Why not make it the ultimate work phone, regardless of what type of work, from banking to demolition.

Remember dummies, as a consumer it's always a good thing to have lots of choices. If you're gonna bash it then head on over to Apple where you only get two devices to pick from

its a key one with no physical keyboard

I wish more than just Sony would make a less than 5 inch, "compact" phone. After having the 6P for a while now, I'm sick of these giant phones. I've switched back to my amazing Lumia 920 this past week, it's still the best phone I've ever owned <3

How does your Lumia perform now?! I had the 800 back in late 2011, my first smartphone. Loved it!

It doesn't run windows 10 mobile as smooth as it ran wp 8.0 but it's barely noticeable. I can't stand that they threw in the towel. I hate having only 2 options

Just another gimmick, blackberry stopped making hardware with the priv, it's all tcl/Alcatel and all this is is another attempt to get non blackberry users to try and buy the gimmick of something we don't need because 99% of us don't work for NASA, the NSA, or any other alphabet agency so what do we need the security for that honestly doesn't even work when you collaborate with Android/Google because we all know they gather all our info anyway.
Blackberry died with bb 10 RIP
Android Central Newsletter
Get instant access to breaking news, the hottest reviews, great deals and helpful tips
Thank you for signing up to Android Central. You will receive a verification email shortly.
There was a problem. Please refresh the page and try again.