Corning's new Gorilla Glass Victus can survive a drop of 2 meters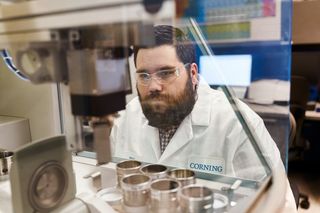 (Image credit: Apple)
What you need to know
A new type of Glass could spell a big change for consumer electronics.
Corning has today announced Corning Gorilla Glass Victus.
It can reportedly withstand drops from up to 2 meters.
Corning has just debuted Gorila Glass Victus, what it calls a significant improvement for the drop and scratch resistance for the Gorilla Glass family.
Succeeding Gorilla Glass 6 (and switching branding tactics), Victus's primary claim to fame is its improved drop performance, reportedly surviving falls of up to 2 meters on hard rough surfaces. It also features improved scratch resistance, being twice as good as its predecessor in resisting nicks and cuts. The company focused on both of these attributes rather than choosing one or the other as it did in the past.
John Bayne, senior vice president and general manager of Corning's Mobile Consumer Electronics said:
Corning says that Samsung will adopt its Gorilla Glass Victus in the near future, which means it may be set to debut on the Galaxy Note 20 when that launches on August 5th.
Gorilla Glass is typically used by most flagships and upper-midrange models, including the iPhone (spurring an investment from Apple (opens in new tab)) and Galaxy. While competitors using alkali-aluminosilicate like Dragontrail exist, Corning says that this new Victus performs more than twice as well in drop tests and four times as well in scratch tests.
How strong is Gorilla Glass 6? We sat down with Corning to talk about the future of phones
And probably still get scratched from lint in a pocket.

Agreed. I care much more about scratches.

Scratch resistance and shatter resistance are generally ln direct opposition, increase one, decrease the other. But you can add scratch resistance with a screen protector though.

The Corning promo looks impressive, but why would they call the glass Victus? Invictus I could understand, but defeated, beaten, overcome? Calling it food is even worse.

They probably just thought it sounded cool

That's the point though, it sounds lame.

No one is going to call it that.

"Scratches at a level 6 and deeper grooves at a level 7, cause glass is glass and glass can break."
Can't wait for Jerryrigeverything to test this out!
Android Central Newsletter
Thank you for signing up to Android Central. You will receive a verification email shortly.
There was a problem. Please refresh the page and try again.