How strong is Gorilla Glass 6? We sat down with Corning to talk about the future of phones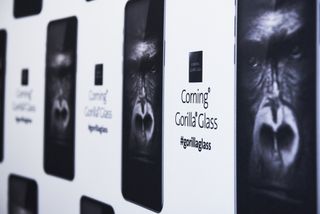 Corning recently unveiled its next-generation Gorilla Glass. It's promised to be stronger than ever and designed to balance the effects of drops from heights and numerous drops to address what we need most— phones that won't shatter when they slip out of our hands.
I spoke with Scott Forester Division Vice President of Marketing and Innovation Products at Corning about Gorilla Glass 6 and the future of glass technology.
Corning first looked at what Gorilla Glass 5 has accomplished and thought about the biggest issue with glass on phones. Though Gorilla Glass 5 out-performs from higher drops, it was counter-productive to increase the height success rate when the deeper issue lies in how often we drop our phones, not at what height we drop them from.
So, since Gorilla Glass 6 is better from less heights, but more often, does that mean it no longer meets the original standard of Gorilla Glass 5's 1.6-meter drop performance? No. It has both! It still provides the same success rate from 1.6 meters (actually a bit higher), but now it also, has a higher success rate from just 1-meter.
I know what you're all thinking. "So, why does my phone screen crack if Gorilla Glass is so great?" You're not the only one who worries about that. Forester's own kids ask him the same question.
Corning also takes into consideration a wide variety of different phone features, like glass thickness, whether the glass is raised above the phone significantly, how stiff is a device, what's underneath the glass (like screws or components that could create a localized bending event), and more. There are innumerable possibilities to consider when creating real-world scenarios for drop events.
Corning works very hard, and for a very long time to create thousands of scenarios for drop events using what they call "pucks" as the testing material (because, you know, dropping thousands of $800 phones would be kinda expensive).
One final thing Forester mentioned to me was how glass is positioned to be an ideal material for the future. The reason? It's non-conductive, which is something metal can never be. Glass can always be made stronger.
Glass, it sounds like, is the future of phones and Gorilla Glass has proven its mettle at being the strongest you can put on a mobile device.
Do you think the next generation of Gorilla Glass is going to keep your phone screen from cracking as often? Has your phone avoided the dreaded cracked screen so far?
Get the Android Central Newsletter
Instant access to breaking news, the hottest reviews, great deals and helpful tips.