Colin Kaepernick returning to Madden NFL 21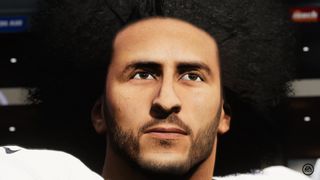 (Image credit: EA Sports)
What you need to know
EA Sports announced that starting today, Colin Kaepernick would be available in Madden NFL 21.
The quarterback is currently rated 81, and is available as a free agent.
Kaepernick remains unsigned by any NFL team.
Colin Kaepernick has yet to make an official return to the NFL, but today, EA Sports announced that the quarterback will be returning to the Madden NFL franchise, and will be available in Madden NFL 21 starting today.
Kaepernick - who remains unsigned by any NFL team - hasn't been included in the virtual game since 2016, when the quarterback began kneeling during the national anthem to protest both racial inequality and police brutality in the United States. Kaepernick will be slotted into the game as a free agent, and is rated an 81, putting him among among the top 15 best quarterbacks in the game as of today.
"Colin Kaepernick is one of the top free agents in football and a starting-caliber quarterback," the company said in a statement released on Twitter. "The team at EA Sports, along with millions of Madden NFL fans, want to see him back in our game. We've had a long relationship with Colin through Madden NFL and worked through our past soundtrack mistakes."
The "soundtrack mistakes" reference the fact that during the launch of Madden NFL 19, Kaepernick's name was seemingly edited out of one of the song's used in the games soundtrack. Shortly after it became known, EA Sports released an update to the game to correct the mistake, saying that the company "messed up" and it shouldn't have happened.
Kaepernick made his debut in the Madden NFL franchise in 2011, and quickly became one of the biggest names for the game and NFL. During his time in the NFL, Kaepernick led the San Francisco 49ers to a Super Bowl appearance and was regarded by many as one of the most electric quarterbacks in the league. However, Kaepernick's protest against racial inequality quickly became a hot topic, leading to many teams reportedly trying to distance themselves from the quarterback after his time with San Francisco.
According to a report from The Undefeated, EA Sports approached Kaepernick over the summer about getting his likeness back into the game. Kaepernick was reportedly hands-on in determining how his avatar was to be used, including requesting that his character sport an afro and use a Black Power fist as his signature celebration.
Players looking to play with the quarterback can find him in the game starting today, where he'll be listed as a free agent and able to be assigned freely to any team.
Go deep!
(opens in new tab)
Prepare for the game.
Madden NFL 21 promises to deliver another year of excellent football simulation. With the game set for launch later this year, you can secure your copy now.
Android Central Newsletter
Get instant access to breaking news, the hottest reviews, great deals and helpful tips
Anthony Nash has been writing about games and the gaming industry for nearly a decade. When he's not writing about games, he's usually playing them. You can find him on Twitter talking about games or sports at @_anthonynash.
Oh boy let's see these comments get crazy.

I really cant hate this guys he's smart. Below average QB probably out of the league in a couple seasons took advantage of an opportunity. Can't fault him. Do I think he cares about the cause? Nope, buts inside he's laughing his way to the bank. Good for him!

WTF? Dude doesn't even play football anymore. If they're doing this, they should bring back Marino, Favre, Elway... you get the idea. *and Kaepernick was a **** QB when he was playing!* Hate seeing companies bowing down to SJWs.

Maybe should focus more on winning games and less on social causes....

I bet he can do both like the Superstars of the NBA.

He has and will continue to make more money out of the NFL then he ever could have made in it!

I'm more surprised that EA didn't add this dude as a paid DLC.....

Kap famous for:
-Being an awful QB
-Declaring US police officers are "pigs"
-Advocating for the regime in Cuba
-Applauding marxist thug Che Guevara
-Supporting convicted terrorist Assata Shakur
-Going 1-10 as a starter in 2016
-Going 2-6 as starter in 2015
Android Central Newsletter
Get instant access to breaking news, the hottest reviews, great deals and helpful tips
Thank you for signing up to Android Central. You will receive a verification email shortly.
There was a problem. Please refresh the page and try again.