Clubhouse is now open to everyone, because invites are so last year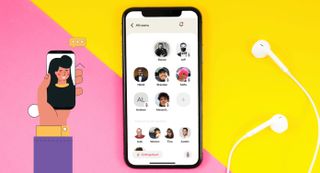 (Image credit: TechCrunch)
Update, May 13 (11:30 pm ET) Clubhouse today announced an expansion to Canada and other English speaking countries
Update, May 18 (02:30 pm ET) Clubhouse today confirmed that it would expand worldwide by the end of the week
Update, May 21 (02:00 pm ET) Clubhouse is now available worldwide on Android phones.
Update, July 21 (01:45 pm ET): Clubhouse is no longer invite-only.
What you need to know
Clubhouse is now available in beta on Android.
It's only available in the U.S. at the moment, with a UK release in the coming days.
The invite-only system will remain for the near future.
After an earlier private beta teased last week, Clubhouse today announced that it would be making its debut on Android after an earlier announcement this year. The app had taken off in the heyday of the pandemic and spawned many imitators but had neglected the Android market for a while. There are a few caveats. This is still a beta, it's still invite-only, and you'll need to be in the U.S. to use it (though an expansion to other English-speaking markets has been promised.)
Writing over on the Clubhouse blog, the team said:
There are still a couple of missing features in this initial release. Clubhouse highlights them over on a separate FAQ:
Topic following
Localization and in-app translations
Club creation or club management
Twitter account or Instagram account linking
Update name or update username in-app
Sidebar
Payments (currently U.S.-only for iOS)
You can report someone from their profile, but reporting via the recent speaker choice will be coming soon
You'll also be able to use Clubhouse only on Android 8.0 and above, though that shouldn't be an issue for any of the best Android phones.
Clubhouse appeared to be dragging its feet on the Android app, allowing competitors to swoop in. Twitter's Spaces, for example, is already available and more widely accessible to more users as of now than Clubhouse. Could this release help stop users from leaving? It's hard to say at this point. It's worth noting that Snapchat's revival of its Android app led to a growth in userbase even when competitors had copied its raison d'etre, so Clubhouse might be able to regain lost ground if it builds its app out quickly enough.
You can download Clubhouse from the Google Play Store (opens in new tab) here if you're in the U.S. Clubhouse says the app will debut in the UK and other English-speaking countries in "the coming days," and you can already pre-register if you're in the UK.
Update, May 13 (11:30 pm ET) — Now available outside the U.S.
Clubhouse confirmed via email to Android Central that the app would become available in Canada, the UK, and other English-speaking countries from 12 PM Eastern today via the Google Play Store.
Update, May 16 (02:30 pm ET) — Clubhouse goes worldwide this week
Clubhouse announced today an expanded rollout, highlighting countries like Japan, Brazil, India, Nigeria, and Russia. It aims to hit the rest of the world by Friday afternoon.
Android rollout continues!

🇯🇵🇧🇷 🇷🇺 Japan, Brazil & Russia coming Tuesday
🇳🇬🇮🇳 Nigeria & India on Friday AM
🌐 Rest of world throughout the week, and available worldwide by Friday afternoonAndroid rollout continues!

🇯🇵🇧🇷 🇷🇺 Japan, Brazil & Russia coming Tuesday
🇳🇬🇮🇳 Nigeria & India on Friday AM
🌐 Rest of world throughout the week, and available worldwide by Friday afternoon— Clubhouse (@Clubhouse) May 16, 2021May 16, 2021
Clubhouse continues to see strong activity, with the company confirming to Android Central that it sees 300,000 new rooms a day with between 5,000 to 15,000 rooms active at any minute and an average user visit time of one hour.
Update, May 21 (02:00 pm ET) — Clubhouse is now globally available on Android
Clubhouse is now available on Android across the world, the company announced today.
You can download the app from the Google Play Store as long as you're running Android 8.0 (Oreo) and above.
Update, July 21 (01:45 pm ET) ― Clubhouse audio chats are open to everyone
Clubhouse announced in a blog post on Wednesday that the app is no longer invite-only, meaning anyone will be able to create or join audio group chats that have become so popular among many platforms.
The post highlights the team's growth (from under 10 employees to nearly 60) and the growth of the platform, which added 10 million users since launching on Android in May. The company also recently launched its own Backchannels DM system last week, which has apparently seen 90 million messages sent since the feature rolled out.
Of course, with many other platforms adopting audio-only chats, the Clubhouse team recognizes the challenges of competing with bigger networks. That said, the company aims to issue new updates every one or two weeks, which may help bring new features faster to keep its users engaged.
The latest release rolls out today for mobile devices.
Clubhouse
An interesting social media platform that relies on audio first and foremost, the app is finally available on Android after being limited to iPhone users for almost a year.
one more app for attention seekers who talk too much and never shut the f up, blah blah blah

Does this response mar the irony of this being the first comment?

Judgmental about things one doesn't know about. Not a great look.

Different app, but I'm still waiting for the Earbuds social media app to drop on the Play Store. We're past the time of iPhones being the majority of devices out there, so why is Android still so neglected at times? If companies want the greatest exposure from day one, they should release the iOS and Android versions at the same time

If anything, Android should be priority as Android is by far the majority and its really only the US where iPhone is the majority, but Google needs to d9 more to give developers more incentive to develop for Android first or at least release apps for both platforms.

I'm not a developer but reasons I've heard is that 1) it's easier to develop for IPhone users because there are fewer devices to plan for, 2) revenue is typically higher because iPhone users are wealthier (global context), and 3) money for app investment comes from wealthy areas like silicon valley where the developers and investors majority use an IPhone.

The fact that there are more Android users globally than iOS users means Google could help by making Android more developer friendly and build some sort of code or AI into Android that optimises apps and games according to the hardware specs automatically.

Amd are we supposed to care? Nope, Clubhouse is nothing but a fad that will disappear.

Still not excited because I still don't know what it is and it turns out, two articles later, that I still don't care. I guess I'm not the target audience. Oh well.

Not interested. This app looks pretty useless.

I read the article and still don't understand what this app is all about.

Think of it like a live podcast with an audience
Android Central Newsletter
Thank you for signing up to Android Central. You will receive a verification email shortly.
There was a problem. Please refresh the page and try again.