The iPhone-exclusive Clubhouse app is coming to Android soon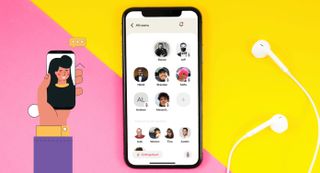 (Image credit: TechCrunch)
What you need to know
Clubhouse, an audio-only social network, is coming to Android soon.
The highly sought after app has been iPhone exclusive since launch.
Rival social media apps, Twitter and Telegram, have dabbled with Clubhouse's premier selling point as feature add-ons.
Clubhouse, a hot new social network that blew up during the pandemic, is launching its own Android app, after months of being an iPhone-exclusive experience.
For the unaware, Clubhouse is a social media network with a twist — it's audio-only. This means no stories, no fleets, no photos. It's more natural 'feeling' than a group-chat, and it's a lot more ephemeral and private due to its very nature.
In a story run by the New York Times when the app just launched, users described the experience as a highly addictive and engaging experience that replicated a real-world environment.
While Clubhouse has been around for almost a year now, it's been highly limited, with the app being iOS only and users needing to request invites just to take part. That's going to end soon.
Writing on their official blog, the Clubhouse team said:
Some may question whether Clubhouse is too late for an Android launch. Twitter and Telegram have launched their own takes on the app's audio-chat room feature — and they already have a large cross-platform userbase.
On the other hand (and at the risk of being redundant), Clubhouse users are on Clubhouse. Sure, Twitter's Spaces may copy Clubhouse's features, but until Clubhouse communities and the conversations that they engage in migrate to Twitter, the platform is unlikely to be in any danger. Feature parity is no match for one of the most modern ailments: FOMO.
Just look out for the misogyny and racism when you do get on there. People gotta ruin nice things, especially when it's poorly moderated.
Android Central Newsletter
Get the best of Android Central in in your inbox, every day!
Thank you for signing up to Android Central. You will receive a verification email shortly.
There was a problem. Please refresh the page and try again.