AppRiver's CipherPost Pro offers users secure, encrypted email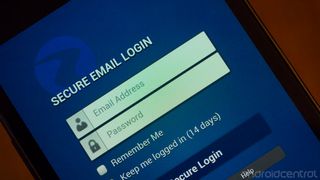 Great, enterprise-grade encrypted e-mail is not a small thing to accomplish. In nearly every case, you're looking at special hardware, software and management to keep everyone's private email... well, private. AppRiver is hoping to get around that by offering its own over-the-top secure encrypted email solution with an app its just released called CipherPost Pro.
Instead of running your own back-end security system, the idea of CipherPost Pro is that you can use any email provider you'd like, and simply pay a subscription fee to use this app's encryption system. Features you'd expect like mail tracking, data loss protection and MDM (Mobile Device Management) integration are all on board. CipherPost Pro is compliant with industry security standard such as HIPAA, PSQIA, PCI DSS, Sarbanes-Oxley and more.
You can take a look at CipherPost Pro in the Play Store at the link above.
Source: AppRiver (BusinessWIre)
Andrew was an Executive Editor, U.S. at Android Central between 2012 and 2020.
Wait, pay a subscription fee to encrypt? That's crazy! Install K-9 Mail and AGP. Generate a PGP key with AGP, Publish same right there in the App.
(Or import an existing one). Encrypt and/or sign mails sent via any mail host.
You can also encrypt any file on your phone. And its pure PGP, no un-spoken back-doors.
Did I mention Free?

Can you use a GPG key instead of a PGP one?

@ice bike The devs that made this app understand that there are a lot of people out there that are coming from IOS, and they don't know they have a fully functional computer in their hands, that allows them to manually do these these things for free. Us nerds and tech geeks need to have a little understanding and let these devs make money off of the people that don't know. In retrospect,
"Knowledge is Power".
New Android'ians, remember! Seek and talk to nerds and ye shall find for FREE.
Android Central Newsletter
Get the best of Android Central in in your inbox, every day!
Thank you for signing up to Android Central. You will receive a verification email shortly.
There was a problem. Please refresh the page and try again.