Chromecast is now the No. 1 streaming device in the U.S., users have casted 1 billion times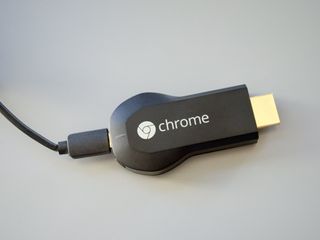 Today in the earnings call coinciding with its Q4 2014 release, Google CBO Omid Kordestani let us in on a few metrics of the Chromecast's success. The $35 (or less) streaming stick has been available for over a year and a half now, and just crossed the milestone of users tapping the "cast" button a full one billion times as of last week. Further, Chromecast usage per device has increased by 60 percent since launch — not surprising considering the number of apps that now support Google Cast.
Kordestani also shared numbers from analyst group NPD, which determined that the Chromecast was the No. 1 selling streaming device in the U.S. in 2014. With numbers like those you can see why Google is so excited about the Chromecast, and that surely has some kind of influence on the boost in Google Play sales in the past quarter.
Andrew was an Executive Editor, U.S. at Android Central between 2012 and 2020.
Love my Chromecast. Easy to cast my Nexus 5's screen and play any video I want on my plasma or just cast it with ES File Manager video player, but kind of sucks that not every audio codec is supported which is understandable. Posted via the Android Central App

You should try casting with BubbleUPnP instead. It now supports local transcoding from your phone. That's what I've been using when playing MKV videos for instance (which I could never hear the audio for despite being able to see video). Works like a charm. Posted via Android Central App

MKV works fine via Chromecast as long as the audio codec is AAC or MP3 and not AC3. MP4 files with AC3 audio are also not supported by Chromecast.

You should download bubbleupnp and sempervidlinks. The bubbleupnp app is a streaming app that will cast virtually any video. I have yet to find one it doesn't. The sempervidlinks app allows you to cast video from any app such as YouTube or showbox. I find this to be the perfect setup. Give it a try you'll love it.

Half of that one billion casting number has to be showbox. Lol Posted via the Android Central App

Showbox + Allcast. Best combo ever.

Thanks! This will be a nice add To kodi, Netflix and Hulu.. Posted via the Android Central App

I just recently started doing this as well. Works sooo good! I tried it for like 30 seconds and then bought the pro version. Posted via AC App from my S4 mini WITH an LED CrackLight ;-)

anyone use avia. I bout the pro cuz it was literally the only option when the chromecast was available. how doe sit compare to allcast?. stability features and all that don't wanna buy allcast license if its really not better

Ssshh.... Don't give it popularity. :o Posted via the Android Central App

And 10 percent of it has to be "WTF, why did it disconnect? Pause! PAUSE!"

That's what you get for using a shitty router.

Still happens, albeit less often, after upgrading to a brand-new, top of the line Netgear router, but thanks for playing.

Not once had it disconnected from my NetGear since I purchased it on lunch day. Posted via the Android Central App

Never even once have I had tis happen. Take a look at your wireless equipment, wireless interference, or other factors in your environment.

Lol, TRUEEEE Posted via the Android Central App

I have Chromecast and I love it! Chromecasr plus the Note 4 is the best! Got to love WiFi too!

I use chromecast everyday. about 20 cast every day

Doubt this, Rokus have been around way way longer and sales of those devices probably tops Chromecasts by a ton.

Chromecast was #1 in sales in 2014. Surely Roku has more sales overall considering its been around several times as long. But honestly wouldn't be surprised if Chromecast surpasses it over time because its much cheaper.

What do you doubt exactly? The audited results of a years worth of sales tracking?

Based on what exactly? The Chromecast has a significant edge in cost, brand recognition, ease of setup and use and has been combined with several promotions that make it the next best thing to free.

Yeah, Texans don't let facts get in the way of an opinion no matter how ignorant.

Last Parks report at Q314 had chromecast overtaking Apple TV in sales, and fast approaching Roku. Not bad given the headstart Roku had. Clearly, for the full year chromecast is #1. http://uk.pcmag.com/tv-home-theaters/37986/news/buyers-snap-up-roku-as-c...

notice how it says STICK. I wouldn't doubt it's the most popular stick, 100% certain it's not the most popular media streaming device though. when you explain it to people, it usually helps to say "it's like a Roku".

I have the original Roku XD. We only JUST (this Christmas) bought the Roku 3. We are talking three years between Roku purchases. I bought the Chromecast the Christmas before because Comcast would not allow HBO Go using a Roku. I could get it on my phone and cast it via the Chromecast. Comcast only JUST started to authorize Go on the Roku. Prior to that, I bet a lot of people were using the Chromecast as a workaround for Game of Thrones. Comcast didn't reverse its year old stance until the END of 2014.

I have both Roku 3 and 2 chrome-cast units. If I have to I'll use chrome-cast, but Roku3 is definitive a better choice. Nothing beats a wired connection (mostly plex, Netflix, hulu, amazon), the remote is elegant and headphones in the remote are great addition. I know chrome-cast is cheap, but you also get what you've paid for.

Great news! Hopefully they update the Chromecast this year, would love to be able to get one with Dual band and whatever new features they can add.

At least that's one good news for Google today. They're taking a hit everywhere today. I still use my chromecast every week Posted via the Android Central App

They just posted double-digit revenue growth for Q4 and 2014... taking hits where now?

Shhhh! Don't bring facts and rational thinking to the conversation! some of us are still basking in the earnings report from that other company. Posted via the Android Central App

Dude, meth will mess you up, get off that stuff while you still can...

I am the one who knocks... Posted via AC App from my S4 mini WITH an LED CrackLight ;-)

Once they enable ads on YouTube chromecast app, they'll make mad money. They really should.

It will be up to the content creators if they want to monetize by adding ads to their videos. Nothing is free, but they will be offering a YouTube keys subscription. 7.99 for early adopters. Posted via the Android Central App

Hey those ads keep all the other great, free Google stuff free. Don't knock 'em.

Google already makes enough money, and I paid for the Chromecast so I don't see why I should have to see ads.

They already have from time to time. Its pretty rare tho and vevo channels seem pretty much all the time.

Been happening to me for some time now. Posted via AC App from my S4 mini WITH an LED CrackLight ;-)

use something else, like allcast or something, 10000 times beter. :D Posted via Android Central App

Way prefer my Roku.. Posted via Android Central App

Me too.
Sold. The Amazon fire stick, which I liked more th an the Chromecast. Love the roku 3.somethung about the Chromecast cast though has me never wanting to get rid of it though. Posted via the Android Central App

Depends on what I'm doing. My wife prefers the Roku, I like the Chromecast. Roku in the bedroom and Chromecast in the living room. Saving electricity by using the Playstation less and less for streaming. Posted via AC App from my S4 mini WITH an LED CrackLight ;-)

I do too. I use Avia to stream TV Portal and Showbox, just like I used to do with my Chromecast. I dunno why but I prefer 'channel surfing' with the Roku (especially on YouTube), and I like Miracast better than whatever the hell Chromecast uses to mirror screens on every device but my phone. AND I can plug in USB and MicroSD and Ethernet. AND I get Amazon Prime Video. AND I get a full Spotify app. There just isn't anything Chromecast can do that my Roku can't also do or do better. I just can't stand having Google on EVERY device I have. It's a nice 3rd party option that plays well with everyone imo. Works equally well if I have a Windows Phone, iPhone, or Android phone.

yeah, me too, I don't know why I will need a chromecast if I have a roku and a samsung smartv to cast my samsung galaxy note 4, however there are some hidden/private channels on roku that cannot get on any other platform, not even in a pc. roku rocks.

I love my Roku XD (still going), new Roku 3 and Chromecast. Chromecast $29.99. Roku 3 $84.99. See the difference there? I don't think I can cast my laptop screen to the TV using my Roku like I can my Chromecast either.

Is no one else concerned about how they know how many casts have occurred? Am I being paranoid?

Not being paranoid.... Good point Posted via the Android Central App

Oh my god you're right! How horrifying!!!!!

Google pretty clearly lays that out in its Privacy Policy:

"Google may collect system activity, crash reports, and other details about how you use the casting functionality of your Cast device, including the apps and domains you cast. The setting for the collection of usage data and crash reports is enabled by default. For Chromecast, you can manage this setting through the device settings menu of the Chromecast setup app. For Android TVs, you can manage this setting through the Google Cast settings in the Android TV settings menu."

You are not being paranoid. I just don't care if they know.

Note 4 + unlimited Verizon LTE + FoxFi + Chromecast = perfect cord cutter's dream. Posted via Note 4

Except no NFL Mobile. Posted via Android Central App

So how much Chromecasts have been sold?

Much numbers of chromecasts My M8 posted this

Strong is the Force in this one.

I've one for living room n one for kids to share. Can not go wrong for 30 squid. using my note4 or nexus 9

I absolutely love my Chromecast. Better than cable sometimes. Posted via the Android Central App on the 2nd Gen. Moto X

I Chromecast multiple tvs everyday. So does Rob Lowe and so does Rob Lowe. Posted via AC app by way of my right thumb.

Haha I'm the kind of guy that stops a microwave at 1 second to feel like a bomb defuser.

A dust collector for me...it works but I have no use for it. Posted via the Android Central App

Do you just not stream much media, or do you have a different streaming device that works better for you?

I use Fire TV all the time. It is fast and never has buffering issues. Posted via the Android Central App

I've been using my ps4 for Netflix a lot more recently since the app is very solid Posted via the Android Central App

I cast Espn in HD every night Posted via the Android Central App

Chromecast is great in my house. Now if I can only convince a certain someone to pull the cord on cable for good.....lol Posted via the Android Central App

Brother, I'm right there with you. We've got two Rokus and a Chromecast.

I couldn't live without my Chromecasts now.

I wish the WWE app would support Chromecast. Posted via the Android Central App

roku stick has miracast. if you have a windows 8 laptop with a newer Celeron or better, miracast is pretty dope for adding a 2nd screen.

That didn't take long at all. The Chromecast was my best purchase of 2014. I use it nearly every day. I do have problems using it with Songza, otherwise it's a smooth experience Posted via the Android Central App

I would have more use for it if they would add amazon prime video for it. I hate having to have a Roku just to watch amazon prime. Shit Roku supports almost every streaming service out there. It also needs slacker radio to support it as well, another reason I have to use a Roku. So unless those two things happen I pretty much find it useless for the most part. Who cares if it's cheap if it doesn't work for your needs and I'm not talking about things that no one else uses either. Until then I'll just get rid of mine. Posted via the Android Central App

I doubt Amazon will add video support whilst they've got Fire TV/Fire TV Stick to sell. But not an issue if you can mirror your phone or cast from a browser. And I've never had a problem casting "radio" audio from a browser. Curious what your prefered device is if you just use Roku for these two services. Don't you stream anything else?

Chrome from the PC. I use it all the time with my Dell Venue 8 Pro. Posted via AC App from my S4 mini WITH an LED CrackLight ;-)

I really enjoy the Chromecast except for NFL Mobile not being able to cast. Greedy NFL. Posted via Android Central App

Yet Spotify can't get off their butts and add support for this. AC should write an article about Spotify... Posted via the Android Central App

I wish someone....mobile nations, Engadget, Verge....anyone would do investigative journalism. Really get to the bottom of why Spotify won't support this. Sure we all have our theories (Spotify connect), but it would be nice to have some real on the record answers. But tech media doesn't do such stories. They should.

there's nothing to investigate. Google is a BIG target, why would Amazon or Spotify support Google when they're stealing business from them?

Why? It's their choice. Don't like it, use another service that does support it.

It is their choice, but when you have forums dedicated to enhancement requests, you should listen to your paying subscribers. Chromecast support has been the number one request in the history of Spotify. They give no reasons as to why they won't work on it. Just not very good business practice. Posted via the Android Central App

I switched from Spotify to Google Play all access due to the lack of Chromecast support. Posted via the Android Central App

reminds me of 'you're holding it wrong'. if it doesn't do what you want it to do, it's a problem with what you want to do, not the device -_-

I've hit that cast button at least a thousand times. Posted via the Android Central App

Use my Chromecast almost every day. scAmazon Instant Video seems to be lacking support though, another part of my "Prime" wasted. I'm sure they just want people to buy their Fire devices. I think I'll just stick with Netflix, it seems to be far better anyway.

Roku. That's all. Posted via BlackBerry Classic

You are using a BB Classic. That's all. Posted via Note 4

Classic is a great phone. The keyboard is too amazing. I sold my Nexus 5. No regrets. I still have Nexus 4 for backup. Posted via BlackBerry Classic

for real, Roku does EVERYTHING Chromecast does + more. if these fanboys think anything but price is selling Chromecasts, they're sorely mistaken.

Exactly. Roku is way, way, better than chromecast. Posted via BlackBerry Classic

Wait when did Roku vs Chromecast become the new iOS vs Android?

I still prefer Plexing from my NAS because of the pretty presentation of content and "don't need to think about it" codec support, but Chromecasts are darn handy for casual viewing.

I use mine every evening after I get home from work. I don't have cable. So I do all my program viewing via the Internet with my Chromecast. Posted via the Android Central App

Brilliant gadget. #1 added more services to our main Samsung TV, which they won't update - they'd rather sell me a new TV.
#2 added smarts to a non-smart kitchen TV
#3 cheap on Black Friday sits in the AV amp and gives me DD+ 5.1 from Netflix. Add in the regular content offers and it's a real no-brainer. Never understood why folks compare it to a box solution needing a clunky dumb remote and costing 3 times the price. Especially the one offering 1000 apps - 995 of which are dross. My phone has more computing power than my TV and BD combined and browsing for and choosing content on a nice big phone screen is much quicker. There's one service I have already on the TV. From start to play, that app takes at least 4 times longer to get going via its TV version compared to the equivalent on chromecast via my phone. But it's not for everyone. Any streamer needs a good connection and in the local network, CC needs good wi-fi. Also in the multiple occupancy house with folks coming and going, I can see an old style dumb remote would work better. But for us, I can't think of another tech product which has got more use and given us so much entertainment.

The best experience so far is Popcorn Time 3.7 on a Windows tablet streaming to Chromecast over 802.11n at 1080p. So simple, fast, reliable and with blu-ray quality. No more wasting time with XBMC add-ons, broken links and annoying captchas.

All hail the great dongle. Posted via Android Central App

This is just amazing to me. I have a Chromecast. At $29.99 (on sale) it was a no-brainer. Originally, it was my workaround to no HBO Go on Roku with Comcast (Comcast has since relented obviously). Now, I only mess around with it (still can't cast the screen of my G3 to it though). Even though I don't use it heavily, I still love the device, but I'm amazed at the number of people using it so much. Google should really make a physical remote for it.

For viewing local media files via Chromecast, take a look at (1) HomeNet Wifi Server
(2) Next Browser app
(3) Vega Cast app Rather than using more complicated UPnP media servers like Plex or XMBC, I use the much simpler HTML5 based HomeNet Wifi Server. On my Chromebook or PC, I can then just cast from HomeNet's Chromecast URL Player. On Android, I use the Next Browser to access my HomeNet files and then offload video to Chromecast using Vega Cast. In the past I used Localcast or Bubble UPnP to offload to Chromecast but Vega Cast is more direct and simple. It just works.

Introducing another way of using chromecast ,see here.
https://www.kickstarter.com/projects/1752052318/joydrone-music-adapter-f...

What the World Would Be Like Without Chrome cast Device on multiple device. http://www.masterswriting.com/thesis/
Android Central Newsletter
Get the best of Android Central in in your inbox, every day!
Thank you for signing up to Android Central. You will receive a verification email shortly.
There was a problem. Please refresh the page and try again.