Chris's most-used apps of 2011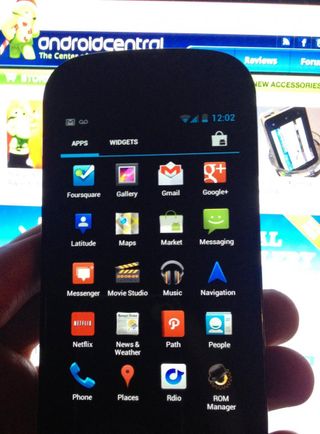 While I spend a lot of time checking apps out so that I may share them with you all, friends and family and just generally know what I'm talking about it, fact is -- I rarely stray away from my main ones. I'm a creature of habit, and once I find something I like I find it hard to move on to something else. My main apps of choice may interest you though, and if that is the case -- jump on past the break to see what I use most often.
1. Tweakdeck
It's really not all that often that I break away from my computer in order to stop using the desktop version of Tweetdeck but when I do -- I keep it in the family in a way. Rather then using Tweetdeck's official version of mobile client, I make use of Tweakdeck which has been tweaked up by Paul O'Brien
2. Dropbox
A lot of my life depends on the cloud, I store pics, documents, videos and music there. I'm a bit of a nut when it comes to having things backed up, given the amount of personal items I've lost over the years thanks to hard drive failures, SD Card failures and just hardware failures in general so backing things up to Dropbox has become a habit for me now, and having the comfort of being able to grab files from there when I need them is important.
3. Gmail
Take the best email client out there, create a mobile version of it and you get the best mobile email client. Nuff' said about GMail -- go get it.
4. Rdio
Yeah, Google Music is nice -- but I'm already paying $10/mnth for Rdio anyway and given that it really requires nothing on my part except for opening it up, and searching for what I want to listen to it -- I'm all in.
5. Evernote
If my head wasn't attached to my body I'd likely forget it somewhere and that's not a good thing. However, Evernote keeps me in line. For things I need to remember or keep track of -- be it links, notes or even audio reminders Evernote is there for me.
6. Netflix
I like to be entertained. Despite the subpar selection due to big media having their heads in the sand when it comes to offering Canadians compelling content, Netflix still manages to make it happen for me. I appreciate that, and as such -- they get my money and to stay on all my devices.
7. 1Password Reader
These days, keeping "easy-to-remember" passwords just isn't an option. In an effort to keep thing more secure I make use of 1Password -- problem with that though is, I can never remember my passwords. Luckily, 1Password offers a mobile client as well so that any passwords I created, can be viewed and accessed on my Android device.
8. Root Explorer
I like to tinker and poke around my devices, even if that means I'll end up trashing them for a short period of time until I figure out what I broke. One 'enabler app' as I like to call them is Root Explorer. If you have root, it allows access to all sorts of internal files and that makes it a must-have in my tool box.
9. ROM Manager
If you're not familiar with ROM Manager, you should be. Making backups, flashing new ROMs and having one central location to do it all from makes life easy for those of us who are rooted.
10. SwiftKey X Keyboard
I'm a guy, I have big hands and some keyboards just don't cut it for me. One that does though, is SwiftKey X -- no, it doesn't magically shrink my hands or anything like that but it does have a habit of knowing what I'm trying to say. For that reason alone, it's worth the buy in cost.
dropbox forever.. saves me everyday

Phils list still trumps them all.

DropBox, Evernote and 1Password are some of mine on Android.

Damn, this list is much cooler than the one ol' Phil did. Phil should use Jerry's Chris' apps. :p

I think Phil should show us his top 11-20 apps.

ok since these lists have been very lame i'll list mine - 1. Astro
2. ChromeMarks
3. Documents To Go
4. Dropbox
5. Google Finance
6. History Eraser (by Dumapic)
7. Jorte Calendar (4x4 Month Widget)
8. MightyText
9. Pandora
10. Fancy Widgets (4x2 Clock/Weather Widget) i have not included the obvious Google Apps like Gmail etc. HAPPY NEW YEAR!

If you log into chrome on your desktop, it will sync your bookmarks into your device in ICS. A nice touch and ChromeMarks will not be needed.

My list is almost identical, save for the fact that I don't tweet and I remember my passwords. Good list here, though.

It's not about "remembering passwords". Everyone can remember a password or two. However, the smart and secure way to go about business on the Web is to create a unique, large and random password for each site. Unless you have the memory of Rainman, this requires a tool like 1Password.

Good list - I agree that SwiftKey is by far the best keyboard available. I do prefer ES File Explorer to Root Explorer though. It has more features, and you can enable root access and read/write permissions in the settings.

Calendar Pad is a must. It syncs with Google calendar and you can see your shared calendars just like the one online.

Excellent list. Just replace password manager with Lastpass. No one can survive without Swiftkey X.

I used to use ewallet but switched to safewallet....LOVE IT.
Believe it or not I am not a big fan/ user of evernote. My apps would be: 1) Safewallet-or any password manager that communicates with a desktop and other devices 2) Titanium Backup when rooted 3) Tapatalk- wish though that you could click a link in an email and it open the thread in tapatalk somehow 4)Fetch it!- I lose my phone in my house all the time and this works great. 5) Dropbox- Best thing out there 6) Poweramp- forget beats, this app is just a solid music app 7) SiriusXM 8) Cell Limit 0- It's a buggy app developed by a local hospital but with one click it enables an auto response so you don't text while driving. Don't want to look at my device with kids in the car. 9) Google Maps/ Navigation- To he!! with garmin and paying to update maps every year. 10) ADT Pulse- control my alarm system, cameras and thermostat from my phone.

you mentioned cell limit 0 and it was developed by a local hospital, so i had to look, cause my local hospital, made those damn stop texting stop sign car magnets....and well, yep, same hospital, didnt know they had an app.

swiftkey x is the best im glad i grabbed it from the amazon app store when it was free but if i had to buy it i totally would. i see ubersocial hasnt been mentioned yet...no love for the best twitter app on the market?

I used ubertwitter on bb for the longest time. A bit late to the game but I think Plume and others still have it beat. Got swiftkey for 10 cents and love it!

I'll list 1 or 2 not here Smart App Protector - keep your phone unlocked for anyone to use and then use this program to put the clamp down on certain apps only with either a pattern, password, or PIN. It's great because friends can use my phone freely but can't access my "root" programs, texting, bank app, etc. Pulse - great news reader in a pinch

I love the following apps on every device i have ever had. 1. Netflix, 2. Android central widget, 3 twit.tv, 4 evernote, 5 stitcher, 6 mlb.com app, 7 dolphin mini, 8 google plus, 9 facebook, 10 plus news reader, All other not mentioned like gmail, google googles, are all automatics...Nothing beats google wallet either which is new for me on my Galaxy Nexus...
Android Central Newsletter
Thank you for signing up to Android Central. You will receive a verification email shortly.
There was a problem. Please refresh the page and try again.