Check out Kickstand4u - a kickstand and tripod adapter for all your mobile devices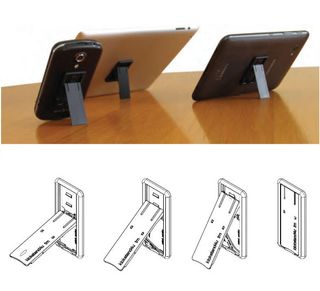 This one comes from mouseglider, straight out of Mobile Nations' own Android Central forums. If you're looking for a kickstand, or a tripod adapter, or just a way to hold something bigger than one hand in one hand, it's worth a close look.
Kickstand4u is billed as the "Ultimate Accessory Package" for all your mobile devices, the small (and removable) base attaches to the back of your phone or tablet, and can be used with or without a case. Using different pieces that attach to the base, you can have a kickstand for your phone, or add an extender to use with your tablet, or add a mounting bracket so that your favorite device can screw right onto a standard tripod. For extra-bonus-round points, the base kickstand is also a "Sure Grip" adapter so you can keep hold of your phone or tablet with one hand at any angle — perfect for reading in bed.
But mouseglider and company need our help. The Kickstarter project needs to meet its $18.845 funding goal by the end of August 2014. Even if you can't swing the $10 to get early access to a Kickstand4u of your own, you can still throw a buck or two to help fund the project. Everyone seems to love kickstands, and often the best products come from makers and tinkerers who don't have millions of Samsung or Apple dollars at their disposal.
Hit the links below and give this one a look!
Source: Kickstarter; via Android Central forums
Senior Editor — Google Ecosystem
Jerry is an amateur woodworker and struggling shade tree mechanic. There's nothing he can't take apart, but many things he can't reassemble. You'll find him writing and speaking his loud opinion on Android Central and occasionally on Twitter.
For people looking for a small portable kickstand I have used this on my G2 (with an Incipio Feather case) and it works fine and is very cheap ($2.99).
Find it at NewEgg: https://www.androidcentral.com/e?link=https2F%2Fclick.linksynergy.co... 1X Mini Universal Phone Stand Holder, Clear
Prop your smart phone up for comfortable viewing with this mini folding stand holder
Your cell phone will be conveniently positioned with this adjustable cradle
Ultra small, lightweight, and portable
Color: Clear
Material: Hard plastic
Dimensions: 2.12 inches wide x 0.25 inches deep x 1 inch high I would post a picture but I'm afraid I don't know how - the NewEgg link is the best I couid do: Sorry.

That's pretty cool, if I didn't have a Clearshot already (another previous Kickstarter protect by a Boeing engineer) I'd probably order one up. It's kind of in the same category tho and the Clearshot is more portable (wallet friendly thickness), this is cheaper tho. Joby makes a not quite as portable mini tripod plus smartphone holding head that's also very nice. I'm actually using their top part (phone holding part) as a universal car mount, it's that sturdy.

I got this one from DealExtreme for half the price and its so small that my Galaxy S4 couldnt keep up in portrait mode.

Yeah I later read the Amazon reviews, seems pretty hit or miss.

Sounds like a good idea!! I would love to have a kickstand for my phone, but I don't want to put a case on it because I don't like how cases look. This seems like a good product for me. I'll have to check it out and perhaps throw some money their way! OK, Google Now. Post comment to Android Central.

Hello HenryWiygul, I think you will like it - I appreciate your interest - so throw some money at it for me! :-)

What ever happened with the coin kickstarter? Summers almost over no word. Posted via Android Central App

So.. It's basically a flygrip with "slide on" accessories... Brilliant! Posted via Android Central App

Hello kreinartz83, I think you will like the Sure grip feature, as you can slide your hand deeper in for a more comfortable leverage and hold it at more angles the flygrip - but that is just my opinion and I am biased.

Yikes, the poor fella only has 3 backers so far. Posted via a Republic Wireless Moto X using the Android Central App

Yeah, still quite a bit of time to go, but I wonder if showing an iPhone (at least in some of the images) may have gathered interest from a wider audience. It's made clear that it works on multiple devices, but, you know... fans of specific brands.

Hello Argh, You are correct in your assessment on showing an iPhone - but I own more Android stuff - good for me, but bad for marketing I think! :-(

Hello reeper55, Yes it is a bummer, but it is starting to pickup a little - I need your help! Help a poor forum member out! :-)

$18.345 to be funded, where's the ,? Posted via Android Central App

Hello patstar5,
Sorry I don't understand your question - but injection tooling is a lot of money - if I reach my goal, that will only cover tooling cost and nothing else, but I will fund the rest of the kickstand with Sure Grip, Tablet Extender, and Tripod Mount. But it will be a difficult slow process to cover the rest with my own money.

Why do you need kickstand on your phone Posted via Android Central App

To watch videos (YouTube etc.) on the phone, or possibly when using an external controller for games?

Loved the kickstands on a few phones/cases that I had

I had an Evo 4G with a built in kickstand, and I used it quite often. You can put the phone, and for this project tablet, on a table and not have to hold it while watching. It came in handy for me while at work or at home, I could put it on my desk or table and watch video clips.

Right now I am having to lean forward to read on my phone while trying to eat. If it soon a kickstand, it would be easier on my neck. Posted via Android Central App

I'd back this but $23 extra to ship outside the US is a little ridiculous.

Hello UnearthlyDoctor, If you can let me know of an alternative cheaper way with proof of delivery and tracking, please let me know, because dang! the international shipping is more than the part!!!

I own one. It feels flimsy, but it did the job & lasted a while on my tablet. I put it under too much stress & snapped the track guides off. I'll replace it with the same....

Hello MAD WIL, The new Generation 2 will be vastly stronger than the first Generation that you had and will come with Sure Grip, if it is broke, I will replace it free - you can also upgrade to the new Generation for half price plus shipping when available.

If you want something for using your tablet in bed, check out the iProp Slim. Only downside is that if your tablet has slim side bezels, the Youtube progress bar can be a pain to access. Otherwise? Awesome :)

Just bought one. Are you guys saying these are junk? Posted via Android Central App

Hello Jon Pham, The original Generation one was weaker in design than the one you ordered and does not have the Sure Grip feature - but wait until you get it and use it, because if it is not right for you regardless of the reason, I will refund your money 100%. So basically you have nothing to lose. And like all things in life, the next Generation should be better. (But I will add and say it definitely is better!!)

Wow! This is a surprise "mention!" Thank you so much Jerry Hildebrand! Stephen Fong (aka forum signature mouseglider)

Jerry is awesome :) Posted via Android Central App via XT1060_NiT through spacetime. Android Central Moderator.

Darth Spock - I have to agree! :-)

Shared everywhere that I share stuff :) Posted via Android Central App via XT1060_NiT through spacetime. Android Central Moderator.

Darth Spock - Thank you for your help in sharing!!!

Kickstarter - Nope - I'll pay more if it ever hits production, lost too much time/money on that website.

Hello the tree, The kickstand4u mobile kickstand with Sure Grip will be in production whether I hit my goal or not! :-) Although the Tablet Extender and Tripod mount may take a little longer to get to market if I don't hit my goal - so if you can help me spread the word, that would be appreciated! Thank you for your interest in my product(s). :-)

http://www.seskimo.com/crabble.php
I bought this a couple of years ago and really recommend it. It's REALLY compact, is always in my wallet and does the job very well.

I have one of those, used it for a few years as well, pretty good for the money. The Clearshot I have now is more stable tho and takes up the same space in the wallet.

Project Update as of 12-11-14 As of now: * All the final working prototypes in both 3D print and CNC machining have been approved. * Since this is a completely new tool separate from the 1st generation kickstand, special attention is given for the best tool "method type" which will provide the best finished product is the main concern. Final tooling method for the new generation kickstand is approved and ordered. * Final working prototypes and tooling method for the new Tablet Extender is approved and ordered. Next step is to approved initial production samples from the tools - if these look good, they will go out to the early adopter pre-orders. * New packaging is all in the final stages Tripod Mount is on hold for future product, but looking into alternate methods of producing short runs. I may sell the tripod stand as a separate item if there is a demand for it. But rest assured, the "kickstand" and the "tablet extender" are a sure thing and I am trying to get this out as fast as possible. Sample production quality samples should be here mid February. Thank you for your support!
Remote Systems
Stephen Fong
Android Central Newsletter
Get the best of Android Central in in your inbox, every day!
Thank you for signing up to Android Central. You will receive a verification email shortly.
There was a problem. Please refresh the page and try again.