Channels officially launches for Android TV and Amazon Fire TV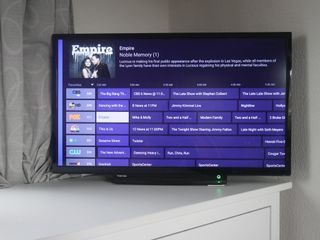 When it first emerged, Channels was interesting firstly for jumping from iOS and Apple TV, and secondly because the DVR portion can be set up on the Shield. So your Android TV box can become a DVR for an iPhone, iPad and Apple TV.
Crossing the streams.
Work has been ongoing and Channels is now available officially as a viewing app for live TV. And it's also made an additional jump to the Amazon Fire TV as well.
How it works
Channels has always been the best way to use a HDHomeRun with Apple devices, and its premium price tag was always worth every cent. Fancy Bits, the developer, is a small operation, but when the product is this good, paying for it is more than fine.
Just as with the Apple TV, you can set up Channels to work entirely in the app if you're going to use it just for watching TV. If you have a HDHomeRun attached to your network it can find this, pull in the program information and let you get on with watching TV.
You can also attach it to a DVR (which is a separate subscription of $8 a month) that lives on your PC or Mac. If you use an NVIDIA Shield, you will be able to set that up to be the DVR, but if you're running this on a Fire TV or the other supported Android TV devices (Nexus Player, Mi Box or Sony Bravia TVs) then you'll have to go down the computer route.
At launch, this app doesn't yet support the DVR feature, but it is coming soon, and it's the first thing that the developer was actually working on.
Channels is set to be another great cross-platform DVR for NVIDIA Shield TV
Features galore
For a $25 app, you'd expect features, and Channels has them. It'll also keep getting them, because the developer is very active and there's a solid community built around the app.
DVR is the big one that's still to come, and also on the roadmap is a jump back feature, sending you back to your previously watched channel with a double click on the remote.
What Channels does have is a really slick interface that launches really quickly, supports HD TV channels from your HDHomeRun and has the smarts to be able to isolate movies, sports, kids tv, news and so on removing the need to go through your entire guide all the time.
You also get the important pause, fast forward and rewind for live TV, and what's especially useful for HDHomeRun owners is that Channels will allow you to update the firmware on your tuner from within the app. You don't need to go back to your PC or open up the official HDHomeRun app at all.
To anyone who ever used Channels on iOS or Apple TV, the app feels very familiar. The overall styling is about the same, but the simplicity of use has always been one of its strongest features, and nothing has changed here.
And it's pretty easy to set Channels to launch every time you boot your Android TV.
Bright future
There will always be the "why would I get this" responses, especially to an app that costs $24.99. Extra especially when Android TV has a Live Channels app built right in. The answer to that isn't black and white, and especially with TV, there's no one "best" solution that will suit everyone.
Why do I like Channels? My household is a mixture of Android and iOS, both mobile and TV, and Channels is an app that bridges that gap. It's more reliable in my experience than the Google app (which doesn't have DVR in the UK still), and yes, it's expensive, but I can have the same experience on the Shield, the Apple TV and the Fire TV Stick we have, as well as easily the best experience on the iPad.
But your needs and tastes will be different. I think for actually enjoying live TV, this is better than Plex, because the Plex way of doing things isn't 'normal,' and I like a traditional guide when I'm watching television. And when DVR is added to the main app, my Shield will be the hub for all the devices I watch TV on.
More will come, even if you're not taken right now, and I can understand caution. If you're remotely interested, the Channels forums are a great place to have a look around and chat with some pretty enthusiastic users. Personally, I hope that an Android mobile app will follow, too.
But it is a quality app from a quality developer and one I'm happy has shifted their attention to Android as well.
Android Central Newsletter
Get instant access to breaking news, the hottest reviews, great deals and helpful tips
So this app would be pointless if I don't have a HD Homerun?

How does this compare to the Live Channels app? That works really well with my HD Homerun already.

I love the Live Channels app on my NVidia Shield TV. It's fast, easy to use, already has a DVR, is free. I don't see what this Channels app is offering that we don't already have.

Exactly. I can understand that on the Apple TV, the app is a easy sell, but Android TV has this functionality already, AND apps that support its API, such as Pluto TV, integrate right into the guide. Just providing DVR functionality won't cut it.

This, like Plex, offers a whole Home Solution. You can watch live TV, schedule recordings, and watch recorded shows from anywhere in the house. Not just from the Android TV where the antenna is connected.

I'm a Lifetime Plex Pass subscriber and have been for a long time. I love it and Live TV and DVR makes it a winner in my book. I really don't understand why you would say it isn't "normal" the way Plex does live TV. It feels intuitive and great to me and I'm sure a bunch of others. But this is Android Central and you guys are nothing if not salespeople.

I would say Plex Pass is not 'normal' because you have to pay a fee to view OTA. My 'payment' to OTA networks is the fact that I view their commercials. Live channels is THE app for cord cutters. (AKA money savers.)

He means it's not normal because of the interface. There isn't a grid style guide for the TV schedule. This is something that bothered me at first, but I have gotten used to it.

I think someone tried to patent the Grid EPG format and was shot down. Now they all have it (I thought).

$25 for the app is fine. The subscription for DVR is the deal breaker.
Android Central Newsletter
Get instant access to breaking news, the hottest reviews, great deals and helpful tips
Thank you for signing up to Android Central. You will receive a verification email shortly.
There was a problem. Please refresh the page and try again.