Channels is set to be another great cross-platform DVR for NVIDIA Shield TV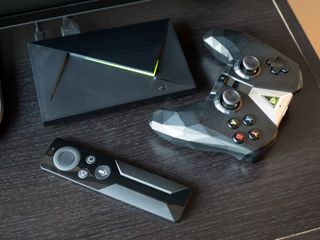 The NVIDIA Shield Android TV is so versatile and affordable that it's a great choice for cordcutters regardless of their platform. It's early days for Channels on Android TV, but already you can use the Shield TV as a DVR for an Apple TV. There is also a front-end app for the Shield that's in its early stages that will allow you to record and watch TV here, too.
There's not a lot that needs to be done to get setup on the Shield TV. It involves downloading the DVR backend app from the Google Play Store. On its first run, it will download the necessary files it needs and set up the DVR. That's all there is to it. You'll now have a web address that you'll need to go and enter into a web browser to bring up the settings for the DVR.
For a complete rundown on setting up Channels, hit the link below to see the guide over on iMore.
Setting up and using Channels DVR
You'll need to set up where you're going to store the files on the Shield TV, and if you're not using the 500GB Pro model you will need to plug in an external drive for this.
Once you've setup storage and downloaded the guide data, you're good to go. If being used in conjunction with an Apple TV, nothing is different over using Channels DVR based on a PC or Mac. The Shield TV is good at transcoding, able to decode mpeg2 and h.264 natively so for the most part, you shouldn't see any real issues.
Of course, using a Shield TV with an Apple TV isn't perhaps the most logical thing you should be doing. The developers are taking small steps, primarily as they're learning Android having been exclusively iOS until now, but already there is an early experimental version of a front-end to Channels for Android TV. The DVR will only work on the Shield, but the front end will also work on other boxes like the Xiaomi Mi Box or Nexus Player.
In the early stages, there's not a whole lot to shout about. Functionality is basic, but the user interface is minimal and nicely thought out. The killer right now is that if you're an Android only user, unless you're hot on super-early access there are easily better options to get a DVR working using the Shield TV. Channels DVR costs $8 a month, and when the Android TV version is on parity with Apple TV, it's a better option.
Naturally, Android TV users aren't as limited as Apple TV owners when it comes to access to services like this. Nevertheless, choice is always a good thing and this is an app coming from a great developer, so we'll be following it closely.
Find out more and sign-up to try it out at the link below.
Be an expert in 5 minutes
Get the latest news from Android Central, your trusted companion in the world of Android