Best Buy has a bundle featuring the Blackout Blue Yeti USB-powered microphone and the Logitech C922 Pro HD webcam together for $119.99 total. The Blue Yeti mic normally sells for $129 by itself. The next best price on it right now is around $106 on Amazon, and the C922 Pro webcam is $70 at Best Buy on its own. If you need both items, you're definitely saving by getting them bundled today. Of course, this is one of Best Buy's deals of the day, so the discount won't see tomorrow. Grab it while you can.
Audio Video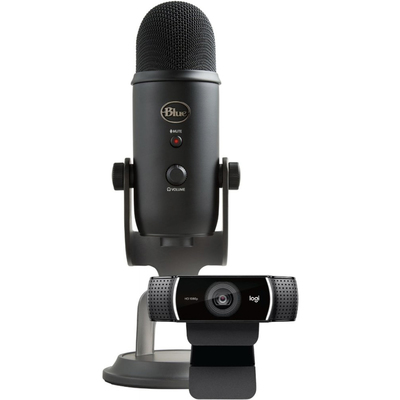 The Yeti is a USB condenser microphone with gain control, mute button, and zero-latency output. It's plug-and-play and compatible with Windows and Mac. The C922 Pro captures video in full 1080p, has HD autofocus and light correction.
$129.99 $200.00 $70 off
The Blue Yeti is powered by USB so it's easy to just plug in and get it going. It's a condenser mic that includes a tri-capsule array that can record almost any situation. You can choose from multiple patterns (cardioid, bidirectional, omnidirectional, and stereo) that allow you to pick up audio from a specific direction (directly in front of the mic, all around the mic, in front and back of the mic, etc.). The mic also features gain control, a mute button, and zero-latency headphone output.
The mic works with Windows XP and up or Mac OS X 10.4.11 or higher. It requires a minimum of 64MB of RAM, which is a really basic requirement.
The C922 Pro webcam is one of Logitech's best. You can use it to stream your beautiful face in 1080p at 30fps or 720p at 60fps. It has a 78-degree field of view so you can actually capture you and a friend if you want. The camera also comes with HD autofocus and light correction, so it will get the conditions just right and make you look good with little effort. It also has two microphones to help it capture sound, although you won't need that with the Blue Yeti bundled on top of it.
We may earn a commission for purchases using our links. Learn more.