The Brookstone Big Blue Party speaker lives up to the name and has Chromecast Audio built-in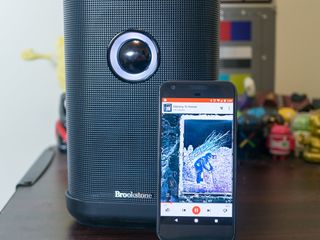 Party speakers live somewhere between a small portable Bluetooth speaker and a dedicated home audio system. And finding a good one that doesn't lay waste to your bank account is difficult. Or used to be difficult, because the Big Blue Party speaker from Brookstone is that speaker.
Right away you know this isn't something you compare to the small pill speaker you might already have. For starters, it's a whopping 16-inches tall with a 6-inch x 6-inch footprint. It weighs about 12 pounds and comes with a built-in carrying handle that you'll need. This thing is big and built tough from metals and thick plastic.
It's also water resistant (the long form name is Big Blue Party Indoor-Outdoor Speaker), which was put to the shower test where it passed with nary a hitch. While I wouldn't recommend anyone put something this nice in the tub and turn on the shower, know that it should survive. That means it will also survive splashes by the pool or a few minutes in the rain while you're scrambling to put everything away. A good party speaker needs to be able to do this.
The Big Blue Party brings plenty of connection options. Bluetooth worked without issue, as did the 3.5 mm Aux port. The thing that really got us excited, though, was the Chromecast Audio integration.
This sets the Big Blue Party apart from most of the competing products of its type. Chromecast support brings simple connection options for anyone at your party, and zone support means you can use more than one of these beauties if you need to fill a big space. My wife loves how she can ask Google Home to play her music on something that sounds great.
And it does sound great. You might have seen others rave about the sound quality from the Big Blue Party, and I can confirm what they're hearing. It's hard to describe audio quality, especially with the written word. The sound is well balanced from the low to high, with a 360-degree sound pattern that sounds great no matter where you are when you place the speaker in the center of the room.
A big part of the reason why is that you're hearing true stereo playback through four separate drivers and a standalone subwoofer with a passive radiator. The crossover logic is done well and the bass is separated from the mids and highs just about where it should be no matter what type of music you're listening to. The Big Blue Party has the sound of something that costs a lot more and isn't portable.
Brookstone lists the frequency response as 40Hz–20kHz and both the top and bottom end of their claim was audible and clear at any volume. At higher frequencies, the 2.5-inch drivers had none of the ringing you might expect from a speaker in this price range until the volume was near or at the maximum. The opposite end of the spectrum was equally impressive and whenever you could "feel" the bass you could also hear the rumble. Brookstone lists the power as two 18 watt channels with a 36-watt subwoofer for a total of 72 watts. We can tell you that this thing gets loud enough for your neighbors to call the cops because they can hear it out in the street. And it still sounded good at those volumes.
There's one thing I didn't absolutely love about the Big Blue Party — the battery life. The 4,400 mAh Li-ion battery is rated at 4-6 hours of continuous playback and that's about what you'll get. This has little consequence when you're throwing a house party or you want to use it as a room stereo, but it can put a damper on a day at the beach or a picnic. Chances are you don't want or need this much sound in a public setting like the beach or the park, but it would be nice to be able to have it for longer than five hours.
The final verdict? You won't find anything that offers this much sound at this low of a price (retail at the time this was written is $250) with Chromecast support built-in. If you're looking for something that can get loud and sounds great no matter how it's connected you need to have a look at the Big Blue Party. I couldn't build something this nice this cheaply, which means I have to give it my thumbs up.
Jerry is an amateur woodworker and struggling shade tree mechanic. There's nothing he can't take apart, but many things he can't reassemble. You'll find him writing and speaking his loud opinion on Android Central and occasionally on Twitter.
Brookstone.... then its OVERPRICED

Normally I would agree, but what your getting is fairly priced for the total package.

Vizio crave360. 150. Also, doesn't look stupid.

was at costco. Doesn't look like that's the case anymore. 199 looks to be the current best. But even vizio themselves had it for 150 for the holidays. Regardless, much better looking.

So it looks like it has size (i.e. volume) and Chromecast/Google Home compatibility over Sonos Play 1. Probably would make more sense to compare it to Sony's WiFi speakers as they are also compatible with Google Home. Those start at $199 I believe. However, I've read they don't sound as good as the Sonos for the same price. Thoughts Jerry?

I had one of these from a few years back. It's battery degraded quickly. It's probably 3 years old now and its battery is unusable. It would make me hesitant to try again.

Not many batteries last longer than 3 yrs.. It won't work plugged in normally?

Yes, but if i wanted that I'd get a play1. I don't expect the same battery life after 3 years, but half would be nice. It went from 10 hours + to 10 mins tops.

I just impulse bought the smaller one.
Big Blue Studio Wireless Wi-Fi Speaker with Chromecast built-in Will be the third speaker in the group I created, now the whole house is covered.

This is a cool party speaker but we at 310 Audio invented party speakers!

I like my hefty Klipsch Bluetooth speaker. Runs on D cells for hours or AC. Sounds great, too!
Android Central Newsletter
Get the best of Android Central in in your inbox, every day!
Thank you for signing up to Android Central. You will receive a verification email shortly.
There was a problem. Please refresh the page and try again.