Bose is launching new wireless earbuds with noise cancelation to take on Sony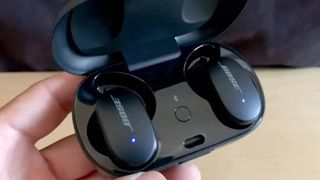 (Image credit: Josh Quill)
What you need to know
The Bose Noise Canceling Earbuds 700 leak on YouTube.
In the video leak, the earbuds, charging case, and shipping box are all shown off.
Bose announced these earbuds earlier in the year, but had yet to show off anything beyond a sketch.
Bose's upcoming great wireless earbuds have just been leaked online, and they might just be one of the best pairs to come out this year when they launch.
Showing off the earphones themselves, the packaging, and the charging case, it's a comprehensive video leak that leaves little to the imagination.
You can see it courtesy of Josh Quill on YouTube (via Gadgets 360).
When announcing the earbuds earlier in the year, Bose said:
The Bose Noise Canceling Earbuds 700 are slated to be announced sometime in the year. Given the comprehensiveness of this leak, it may err on the side of sooner rather than later.
Bose Noise Canceling Headphones 700
If you're not one for waiting and you prefer over ear headphones, these Bose headphones are actually out and available for sale. They come with ANC and offer both great design and sound. On the other hand, you can't fold them and slip them away, and they are a little heavier than competitors.
Without an over the ear hook, I don't see how these would stay in my ears.

Wing tips on them are pretty good. They look similar to the sound sport free. Just don't do any burpees in with them

The bt2 headset had a nice fitting wing. Looks pretty similar. Felt great.

I'm not a work out person, and the climate I live in has nice summers... But no painful heat and humidity... So... So the Bose QC over the ear that predated the latest version are so comfortable and do such an awesome job at noise cancellation... I'll skip the buds. Bluetooth keeps improving, but I doubt I could tell a difference... The classic NPR 'How Well Can You Hear Audio Quality' test should be mandatory before you consider upgrading, or even buying premium headphones. I'm good, the buds aren't for me. But sure, nice to see incremental progress.... Noise cancellation is an awesome feature.
Android Central Newsletter
Get the best of Android Central in in your inbox, every day!
Thank you for signing up to Android Central. You will receive a verification email shortly.
There was a problem. Please refresh the page and try again.