Boeing reveals the Boeing Black — a super-secure smartphone for those with super security needs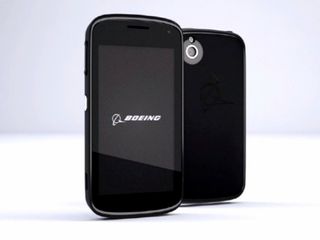 This phone will self destruct in ten seconds…
In this day and age of malicious apps and intrusive government surveillance, you might be wondering how to keep your data secure. You could turn to a solution like the up-and-coming Geeksphone Blackphone, with a modified version of Android and sets of secure communications services. Or you could do what the government does and turn to Boeing.
Yes, Boeing. The company that makes massive jetliners, fighter jets, satellites, and all sorts of high tech military hardware is getting into the smartphone game. Their Android-powered entry is the ominously-named Boeing Black. Because stealth.
The Boeing Black is really more designed for government buyers, with a security-first mindset. Said Boeing:
Roughly translated: this phone is meant to be secure, from the silicon on up. From disk encryption to hardware crypto engines and embedded secure components, the Boeing Black just oozes with security. According to the FCC filing today that outed the phone and set the ball rolling to tonight's announcement, Boeing's even gone so far as to engineer the phone to self-destruct if you try to break inside it.
The handset, which is assembled in the United States, also features modularity as a selling point — the back door can be swapped out for any number of add-on modules, including satellite radio transceivers, expanded battery packs, solar chargers, precise GPS receivers, secure discrete radio channels, biometric scanners, and whatever other mission-specific modules they can dream up. In addition to the module expansion on the back, the Boeing Black also has a PDMI port, a rarely-used connection (the Dell Streak from 2010 had a PDMI port) that combines USB, audio, power, HDMI, and DisplayPort output in one connection. Thankfully there's also a standard USB port for data and charging, plus a microSD slot.
You'll be hitting that charger a lot with the Boeing Black. You might think that a phone that's 13.25mm thick — nearly twice as thick as the new Samsung Galaxy S5 — would house a massive battery suitable for multi-day covert ops away from a charger. You would be wrong. Housed inside that chunky self-destructing frame you'll find a 1590mAh battery. It's also heavy, at 170 grams, and has a 4.3-inch 540x960 display of unspecified type or quality. Thankfully there are LTE, UMTS, and GSM radios present along with dual SIM slots, and even Bluetooth 2.1 (yes, the rest of the world is on 4.0 now).
An unspecified dual-core 1.2Ghz ARM Cortex-A9 processor is powering Android 4.x of some variety. There's a camera present in the renders, but what kind of camera it is, we don't know. If it seems like there's some vagueness going on here with regards to what exactly is in the Boeing Black from both a hardware and a software perspective, that's intentional. Part of the security model is not letting people know what you're up to. Boeing was very clear in their FCC filing that "low-level technical and operational information about the product will not be provided to the general public."
Just as you can't get complete specifications on a Boeing F/A-18 E/F Super Hornet strike fighter or Boeing's Joint Direct Attack Munition smart bomb kit, the details of the Boeing Black smartphone will remain opaque for as long as Boeing sees fit. Or until somebody outside the government gets their hands on one and tears it apart.
Much of what comprises the Boeing Black seems like it would have been state-of-the-art 2 or 3 years ago. That's not surprising, given the way that government contracting usually works. With Boeing's focus on security for the Boeing Black, the specs were likely locked down years ago and the work since then has focused on the security software. It's not a phone that's meant for you or me. It's a phone meant for Special Forces soldiers and CIA agents.
But even with the security features in place, we're not sure it will be up to the task. Boeing has decades of experience as a government contractor and has provided everything from planes and missiles to IT networks to the military and government agencies. But smartphones are a very new thing for them, and the design of the Black isn't exactly inspiring in confidence of their technical prowess. The government moves slow, but as the recent move by the Air Force to ditch BlackBerry smartphones for iPhones shows, even the powers that be aren't willing to wait forever. Especially when we're talking about multi-year government contracts.
There's one more bit of obscurity here: Boeing's being coy about a launch date and pricing for the Boeing Black. You can be sure the pricing will be astronomical — they're selling these to the government, after all — but Boeing did tell The Wall Street Journal that the release would be "soon", which in government contractor terms could very well mean by the fall.
Source: Boeing, The Wall Street Journal
Derek Kessler is Special Projects Manager for Mobile Nations. He's been writing about tech since 2009, has far more phones than is considered humane, still carries a torch for Palm (the old one), and got a Tesla because it was the biggest gadget he could find. You can follow him on Twitter at @derekakessler.
Coulda swore Lockheed Martin would build something like this instead *shrugs*...

They probably will/are anyway.

Up next: the Sikorsky phone

Would love a phone that said SkunkWorks on it, especially while booting up. Boeing makes tons of specialized hardware with software for the consumer market, Especially "One of a Kind" automated machinery that cost millions to make. The USPS has a lot of custom made hardware made by Boeing for sorting packages and parcels to fit leased out or new buildings that they can't transfer other machinery from and have to be custom built. I have Family that work for the post office and fix these machines and have seen these devices.

This is a device for those that want exactly what's stated in the packaging. Its not up to date, but its a known trusted system that has been thoroughly secured. Posted from my "KNOX-FREE" 4.3 Sprint GS3 Maxx...!!!
(ZeroLemon 7000mA battery and ZeroShock Case)

Now put a credit card reader on it. Posted from my "KNOX-FREE" 4.3 Sprint GS3 Maxx...!!!
(ZeroLemon 7000mA battery and ZeroShock Case)

I want one just to say I have one. :) Posted via Android Central App

OMG ITS SOOOO COOL ITS BLACK AND EVERYTHING!!!!! "Low level technical details will not be made to the general public" Get over yourself assholes there's only so many ways you can make a phone and if this is for government buyers only why did you even do a press release? It doesn't matter though because as an American I can comfortably say I would definitely buy a thousand iPhones before I spent $5 on Boeing's POS phone. I just hope it's water proof though.... especially since it's being delivered by Boeing's blood drenched hands. Posted via Android Central App

They clearly want to sell this to Russian oligarch gangsters as much as they do governments, otherwise why announce it to the general public? Posted via Android Central App

As another American, I've no problem with anyone anywhere who devises ways to destroy our enemies ... preferably in great numbers at a time. Sent via Cyberspace

In case my dripping animus with the government purchasing process and the technology products that result thereof didn't make it clear, as a soldier in the United States Army, I'm all too familiar with such things.

I understand what you're saying, but you're still ahead of everyone else. Posted via Android Central App

I wonder what the intended function of this phone is? Posted via Android Central App

Data security more than anything. A lost cell phone can jeopardise a ton of vital information now a days. Posted via Android Central App

So will this stop the NSA from accidentally hacking themselves? Posted via Android Central App

Should have the Jack Bauer character promote this phone Sent from my SG Note 2

So much this. Posted via Android Central App

Best comment of 2014 so far!

This is not enough. -------------------------------------------------------
Sent from inside a cave. Yes, T-Mobile covers caves. N5

How about Inspector Gadget?

Jack uses way cooler tech than this lame phone. He had SD cards in mobile devices before 98% of the population even knew SD technology existed. Besides, if any 24 character were to promote a phone intended for special covert forces, Chloe would be a much better choice. Have you seen the trailer for the new season?? She looks like such a badass!! The new look would go great with the market this is intended for!!

This isn't actually all that special. From the sounds of it it doesn't use any type one encryption on the outgoing transmissions. This is basically a phone that can't be physically exploited [easily]. It can still be intercepted just as easily as any other phone

Wow! You've already managed to break into the not as-of-yet released phone? Tell us more Mr. Science, how easy is it to exploit? Seriously though, from what they've released thus far, you're right, it doesn't sound all together special but I just love how definitive you are about about how secure the phone is without having all the relevant information. Everything is easy on the internet.

It figures that boeing designed it, the phone has bezels wide enough to land one of their planes on it.

+1 that's just funny Posted via Android Central App

This could be BlackBerry's worst nightmare, final nail in the coffin or a BlackBerry killer.

I wasn't interested until i saw it has a microSD slot. Now i want one. Posted via my G Pad which is much better than some silly Nexus

Me to. -------------------------------------------------------
Sent from inside a cave. Yes, T-Mobile covers caves. N5

I'd love a phone with a self distruct option. Lol Posted via Android Central App

According to the recently published "breakage" test results wouldn't that be an S4?

One word that comes to mind. JANK. Posted via Android Central App

If it ain't Boeing, I ain't going! Posted via Android Central App

Imagine boarding the Airbus A380 with thie Boeing phone....

Just like anyother time boarding the Boeing plane -------------------------------------------------------
Sent from inside a cave. Yes, T-Mobile covers caves. N5

Small battery. Posted via my Motorola Startac

You all should be prepping to put your devices on Swappa..
You know.. You want this.. Bad.

Probably uses Knox 2.0 /s Sent from my Galaxy S4 running SlimKat 4.4.2

I'm sorry, but Boeing BLACK, and the BLACKphone. Did BlackBerry start a trend that has people thinking of Black (titled) phones as secure? It seems to me that they did. Posted via Android Central App

Or you know, it could just be that "black" has always been synonymous with secrecy and undercover/covert operation. Or did Blackberry invent the term Black Ops? Why wouldn't the meaning extend to phones?

Call me when Airbus releases their phone ;P

Airbus has just signed a contract to BlackBerry.
Anyway, looks like crap, but was it necessary? Personally don't think so Posted via Android Central App

I hope this phone has 4 GEnX engines powering it. :P

So Boeing decided the Z10 and Q10 need competition. Posted via Android Central App

It will be interesting to see how long it takes for it to be jailbroken, vulnerable to Android exploits and Play malware.
Not one manufacturer has managed to release a secure Android so far and the policies made available by Google are scarce.

Yeah it's kind of hard to make a super secure OS with something that's inherently open sourced. However this could be "Android" in the same bastard way the Nokia X is technically Android. We don't know fully what kind of software modifications they will be doing.

There is no reason that being open source makes it harder to make it secure. In fact from the manufacturers point of view having the source makes it easy to make it secure. The bad guys will find holes in the software regardless of wether they have access to the source. What stops major manufacturers from making more secure phones is that security hurts usability, and most consumers care more about the stuff they buy being easy to use than they care about security. Posted via Android Central App

Is there a thread on XDA for the root process yet?

A special for the fox news audience.

Can I get this phone in a "slightly darker black?"

As long as you have the turtleneck to match!

NONE MORE BLACKER. Posted from one of an unnecessarily large collection of Nexus devices because I'm That Guy

If it has BLACK in the name it MUST be secure. My guess/speculation is the US taxpayer will be paying about $80,000 per phone. Other encrypted phones are about $10K-$20K and there is NO WAY that Boeing would be the low cost supplier.

Too many battery problems with Boeing airplanes recently, I want a blue Airbus Phone !!

I think in order to get the per unit cost down, they will also be given away as "ObamaPhones."

Like they say at the NSA... I'd tap that!

I don't believe for a millisecond that a device being made by a company HUGELY dependent on Government funding doesn't have a built-in NSA backdoor.

Introducing our brand new super secure phone for government use that still has a camera and will not be allowed in many Boeing facilities, let alone secure government environments....
Give me a break. Without even needing to comment on the lack of decent specs this phone is DOA as a "secure" device for government use.

So... we've got a thick, black chunka shit with no battery life, a port no one gives a frig about and meant for the government. Sounds perfect for them. Posted via Android Central App
Android Central Newsletter
Thank you for signing up to Android Central. You will receive a verification email shortly.
There was a problem. Please refresh the page and try again.