BlueAnt V1x Bluetooth headset review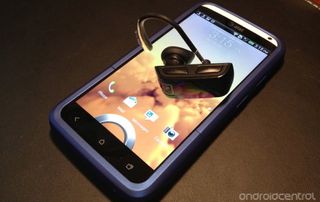 Since many of us live in places that make talking on the phone or text illegal (opens in new tab) (we already know it is dumb and dangerous) investing in a Bluetooth headset is more of necessity than a luxury. Read on to see if this is the right headset for you.
Like more expensive BlueAnt headsets, the V1x uses voice controls for most of the functions. The V1x also has some proprietary digital signal-processing tech on board that is user adjustable to diminish outside noise.
What's in the box
The Blueant V1X comes with an extra ear gel, on additional clear ear loop, a small goose neck USB cable that attaches to the AC power adapter and connects to the proprietary connection on the headset. BlueAnt also throws in a Quick Start guide.
Pairing the V1x
Press and hold the BAB (BlueAnt button) and put the V1X in your ear. You will hear a series of voice prompts telling you what to do to Pair your headset to your phone. Initially, you just press the BAB once and the headset shows up on your Android phone if it is in Search mode.
On your HTC EVO 4G LTE or HTC One X or other Android device, just:
Go to your Bluetooth settings
Choose Scan for devices
Select the Blueant V1x from available devices
The other way to pair your BlueAnt is by using the built in voice commands and just say "Pair me."
On older phones, you may still be asked for a Pairing code – just input 0000
Functionality
the Blueant V1X is meant to be used by using your voice and learning a few commands. Some prefer not to use Voice commands, and the BlueAnt makes that easy. Just hold the Volume + button and the Volume – buttons for about six seconds; this will turn off the Voice control on the headset.
With Voice control OFF, just press the BAB (BlueAnt button) to initiate the Voice commands on your Android phone. When a call comes in, just tap the BAB to take the call and just tap the button to end a call. You can hold down the Volume button to redial a call in this mode as well.
One additional nice feature is the ability to turn off the blinking LED light. This is particularly helpful during nighttime driving when you don't want to annoy the other folks in the car.
Voice dialing
With Voice control set to ON, you use your voice to take care of most of the basic functions on your phone.
If a phone call comes in, you can just say "Answer" or "Ignore." To use the voice dialing features built into your Android device you will need to say "Phone commands" at the prompt. The Voice dialing features of your phone will then be initiated.
If you want a full list of possible voice commands, just press the BAB and say "What can I say?" Options may vary according to phone but they include:
Answer
Ignore
Pair me
Teach me
What can I say?
Am I connected?
Check Battery
Settings menu
Phone commands
Redial
Call back
Call Voice mail
Call home
Call office
Call favorite
Call Goog-411
Call speed dial 6-9
Switch headset off
Cancel
Simply speak a command and follow the prompts. If you have Speed dials set up on your phone, you can tell the V1x to call Speed dial numbers 6-9. If you say "Call Speed dial 1" – you will dial your voicemail. Speed dial 2 calls your Home, speed dial 3 calls your Office, 4 is your Favorite, 5 is Goog 411.
Comfort
The Blueant V1X has an ergonomic earpiece and a ear loop to secure the headset to your ear. This particular ear loop did not bother my glasses like other ear loops do, but I had a little trouble getting the earpiece to stay put in my ear.
For me, this was not the most comfortable headset to use as I had trouble getting it to really stay put.
Call quality
The BlueAnt V1x has two levels of voice isolation – Standard and Max. You can touch the BAB button quickly while on a call to cycle through the levels of voice isolation. Essentially, using the Max level reduces all background noise but makes you sound like you are in a tunnel. Using the Standard level reduces the background noise just enough so that people can hear you with minimized distortion and background noise.
For the most part, call quality was good with this headset. I did find myself turning up the volume on calls; however, this was primarily due to the trouble I had getting a good fit with the headset.
Callers on the other end said I sounded fine – but they did notice a more "hollow" sound to my voice when I had the noise isolation set at Max.
The wrap up
The Blueant V1X is a decent headset. Its big brother – the Q2 - is a better headset and isn't that much more expensive.
Using the voice commands is certainly cool and can be helpful, but with most Android phones today, it is easier to turn off the Voice control feature and just use the built in Voice dialing features of the phone.
The good
Small and lightweight
Voice control feature is well executed
Call quality was good
Pairing is simple
The bad
I had trouble getting a good fit
Earpiece did not stay in ear
Voice is muddled when isolation is set to Max
The verdict
The BlueAnt V1x works well, for the most part, but not as well as the BlueAnt Q2 which is just a little more expensive. Since most Android phones have good built in Voice command, the voice features on this headset are sort of a novelty. With Voice control off, this was a simple to use and efficient Bluetooth headset.
Buy it now
Others like this one
Get the Android Central Newsletter
Instant access to breaking news, the hottest reviews, great deals and helpful tips.