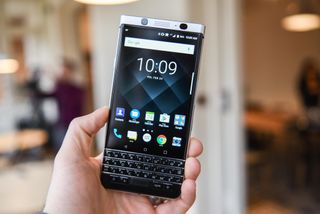 The latest BlackBerry, the 'Mercury', is now officially called BlackBerry KEYone. The latest device from BlackBerry Mobile has a strange 3:2 aspect ratio screen to accommodate the full-sized QWERTY keyboard, similar to what CrackBerry addicts were using for years and years.
With a 4.5-inch HD display, a Snapdragon 625 processor, 3GB of RAM and 32GB of storage, this isn't necessarily a state-of-the-art powerful device, but the 3505mAh battery, along with the very efficient chip, is aimed at making the KEYone the longest-lasting BlackBerry to date.
Here's the full spec sheet.
Swipe to scroll horizontally
Category
KEYone
Operating System
Android 7.1.1 Nougat
Display
4.5-inch, 1620x1080
IPS LCD
434ppi
Processor
Qualcomm Snapdragon 625
Octa-core 2.00GHz
Adreno 506 GPU
RAM
3GB
Storage
32GB
Expandable
microSD up to 2TB
Rear Camera
12MP (1.55 micron) f/2.0, PDAF
dual-tone LED flash
HDR, 4K, 30fps
Front Camera
8MP f/2.2
1.12-micron pixels
Selfie flash
1080p/30 video
Battery
3505 mAh
non-removable
Charging
Quick Charge 3.0
USB-C
Water resistance
No
Security
DTEK security suite
FIPS 140-2 Full Disk Encryption
Android For Work, Google Play for Work
Connectivity
Wi-Fi 802.11ac, 5GHz, Bluetooth 4.2 LE, NFC
GPS, GLONASS
Network (NA GSM)
LTE Band 1/2/3/4/5/7/8/12/13/17/19/20/28/29/30
TD-LTE Band 38/39/40/41
Network (NA CDMA)
LTE Band 1/2/3/4/5/7/12/13/20/25/26/28/29/30
TD-LTE Band 41
CDMA BC 0/1/10
Network (EMEA)
LTE Band 1/2/3/4/5/7/8/13/17/20/28
TD-LTE Band 38,40
Dimensions
149.1 mm x 72.39 mm x 9.4 mm
Weight
180 grams
Get the Android Central Newsletter
Instant access to breaking news, the hottest reviews, great deals and helpful tips.
Daniel Bader was a former Android Central Editor-in-Chief and Executive Editor for iMore and Windows Central.
"Operating System: Android 7.1.1 Marshmallow"

Pay no attention to the man behind the curtain. (fixed, thanks)

Ooh sounds very good. This is going to have amazing battery life!!

Man with that battery it should have Moto Z Play type life

Probably even better since the screen is smaller and will require less power.

Yep.. 2 day battery maybe. You aren't buying this phone for specs.

I'm not going to get it just because of the name alone. What a terrible name for a phone.

If that's what made the difference for you, were you really that interested?

While I agree the name isn't the best, that's a pretty terrible way to choose a phone... The iPhone may be the device you're looking for.

It's just as valid a reason to choose a phone as any other criteria.

We all have our priorities on what we want. Naming is non-existent on my list.

Or a Samsung or Pixel. iPhone is a fantastic mobile device

Battery, OS and weight are highlights for me. Ticked all the boxes :D A droid a day keeps the Apple away

Definitely not for me, but it seems like an incredibly solid device for the people it is for. Maybe a tad pricey at the consumer level though.

April can't come soon enough.

The physical keyboard is the obvious differentiator here, but does anyone miss it? Not asking rhetorically. My gut tells me that there is either no market for a physical keyboard phone anymore, or that it's a really tiny audience. I used to miss it, but I'm way faster on glass now.

I, and a couple of friends and coworkers, are hardcore holdouts. I haven't changed phones since the LG Mach (I had a Samsung Moment before that). I (and those other holdouts) are excited about this phone. You are right that it is a diminishing market, as even a couple former holdouts I know eventually switched to all-glass because of no product availability. The thing the marketing geeks don't get is that a large segment of the keyboard-loving-crowd doesn't care about light-and-thin. Marketing is too busy trying to appease the people who are happy with all-glass and then not loading the keyboard phone with enough horsepower. It looks like the KEYone might be spiffy enough. If they offered a Samsung Moment (was thick and had a less than 4" screen) with a modern processor, 4G, and, 32GB, I'd throw down $600 in a heartbeat. That said: I'll wait a month to see if the KEYone has any glaring problems (like Samsung or Apple blowing up while charging) before buying, but I'll buy the CDMA version unblocked if I must.

True there are a lot fewer people interested in a pkb but I'm one of those who never had a BlackBerry before bb10 and all my smartphones had vkb. I'm what you might call a partial convert. I still use my vkb slightly more than I use the pkb but since I got my priv I've gotten very proficient with and enjoy the pkb. I don't plan on moving away from my priv for any phone anytime soon but if I needed to and priv wasn't available I'd give the keyone a hard look

Meh , got a q20 for my bb fix just can't do the Android blackberry thing it's got to be true bb 10 . Got a s7 edge and note 5 for my Android fix just saying

KEYone? Pronounced phonetically? Kee-wun? Or is there a stressed syllable somewhere? Kee-ah-knee? Maybe?

This smartphone isn't for me, but I'm not the target demographic. Still, it appears to be a very solid device.

Right?! I'm really curious how the performance of the camera will be.

If you want great keyboard I think moto qwerty keyboard mod is better idea.
You can put it on and off in a snap, so better invest in the moto Z or Z Play. Keyboards used in landscape mode on mobiles makes more sense to me.

https://andro4all.com/2017/02/moto-mod-teclado-qwerty-moto-z

Yeah. Me too. I heard it has the same sensor as on pixel. Well the fact is that after image processing is what makes the pixel the best. Hope they have the same image processing. And pkb looks good also the physical button app assigning is a innovative idea. Tbh this one got a good specs as a mid ranger but 450$ would been awesome and attract more customer. Lets see what happens. I am waiting for user reviews.i like it in first look and It has got that classic BB look. Posted via Android Central App

I'm getting it. I've never been underwhelmed with a BlackBerry product. I've used the latest by Samsung and IPhone on occasion, yet I always crave that BlackBerry way of doing things. The phone looks good and based on the performance of the Priv and Dtek60 I feel confident KEYone will more than suffice.