BlackBerry KEYone is the Mercury's official name, and it's coming in April for $549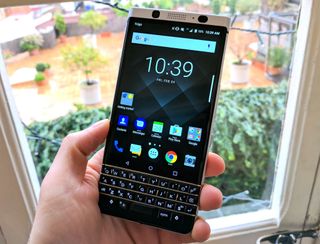 The Mercury has a name, and the phone that rode into 2017 without one hopes to be a catalyst for a series of devices released annually by the newly-formed BlackBerry Mobile.
The phone we all know: it's a long candybar design with a slightly stumped 3:2 aspect ratio IPS display and a permanent QWERTY keyboard that fills in the remaining space of a traditional widescreen smartphone. That's the main selling feature on an otherwise mid-range phone that nonetheless sports some very nice design touches, a decent camera, and BlackBerry's well-regarded Android build that — and this was reiterated a bunch of times to us — is signed by BlackBerry in Canada, maintaining the security legacy the beleaguered former software giant is known for.
With a 4.5-inch 1620x1080 pixel IPS display nested atop the QWERTY keyboard, this is the product that commands the attention of both BlackBerry Passport and Classic users — people who either stuck with BB10 — or have since moved on to other platforms but yearn for that hardware keyboard. And while the KEYone isn't ideal for landscape use, BlackBerry Mobile is aiming for a very particular demographic with this device: Bureaucrats. Workaholics. Industry people.
This is reinforced by the phone's 3505mAh battery which, coupled with a Snapdragon 625 processor, keeps it going for over a day and, for some light users, approach two days. With an excellent camera pedigree — it has a Sony IMX378 sensor inside, the same one as the award-winning Pixel — this is certainly a capable device, and one that, if you check out our hands-on, comes off as a well-rounded handset, especially given its niche market aspirations.
Available for $549 in the U.S. starting in early April, the BlackBerry KEYone isn't going to sell millions of units, but this is fan service at its best, and one that its new overseers in BlackBerry Mobile hope sells enough to justify a KEYtwo, and three, and four.
Android Central Newsletter
Get instant access to breaking news, the hottest reviews, great deals and helpful tips
Daniel Bader was a former Android Central Editor-in-Chief and Executive Editor for iMore and Windows Central.
I preferred the Mercury name honestly. But this is looking to be an exciting midranger!

I liked Venice a lot more than Priv, too.

Wow, that's an awful name.

It's bad when no one in your marketing department has the guts to say that the code name is way better than whatever some high-up exec tossed out on a whim. I'm guessing that's what happened, because it's much worse if the marketing department actually thinks KEYone is better than Mercury.

It happens quite frequently too, one of the worst I remember was when project Katana became the Dreamcast...

Name is okay though I like Mercury much better. Price has me disappointed, honestly. I need to think long and hard before my final decision on whether or not I'll get it.

Seriously - what is up with their naming? Mercury was nice - KEYone sounds stupid. So does Priv, Venice was a nice name - why are they doing this? Pearl, Curve, Bold - all good names. What happened?!

Agreed. There official naming department need to be sacked and give the job to the code name naming department. Mercury would have been brilliant. Keyone is just boring. And dont get me started on the priv (slang for toilet in the UK).

This is not a new thing for Blackberry either, the codenames have a long history of sounding better than the eventual official names, in one case (might have been Storm) the carrier partner decided they were going to use the codename as the official one.

this looks good, but i may end up getting the dtek60 instead

Curious why anyone would prefer physical keyboard on a tiny phone? Can't adjust it, no Swype, letters too tiny, why? All I can think of is it makes older folks feel more comfortable? I dunno.

I'm 39. Does that qualify as old for you? For me it's just that I'm faster and more accurate with a keyboard. Physical keys mean that you can look at the words you're typing, and not the keys you're pressing, so you'll make fewer mistakes. Once you're used to the positions of the keys, you'll find them by touch like on your computer's keyboard. I think that's superior to swiping and autocorrecting, and I'll take the trade-off of a smaller screen. I remember when it was quick to bash out long emails on the go with a Blackberry Curve (okay, that sentence makes me old). With a touchscreen I debate whether I want to do that or just wait until I'm back at my desk because it's so much easier and faster. It's also worth noting that BB's keyboard does a lot more with its touch sensitivity. Anyone who uses swipe shortcuts on their screen should like the letter-based shortcuts on the keyboard.

No disrespect implied with my previous comment. And no, you aren't "old" in my book, I'm 47.
To each their own, I'm glad the physical keyboard works for you.

Haha. No offense taken. I meant that jokingly, but I forgot how quick people are to show their displeasure in the comments these days. Cheers!

If you have to question, it's not for you, sorry to say.

Exactly! How dare anyone ever question anything! Stop being curious about things. Either accept what you're told or move along...

Lol... To me, this phone is meant to be very niche so that's why I said what I said. Nothing wrong with asking questions but they aren't trying to make everyone use and buy this.

He asked a legitimate question. If someone only ever used a touchscreen keyboard they would naturally be curious why someone would prefer a physical one. It doesn't at all mean it's not for them.

It's an acquired taste. The keyboard on my Q10 is fantastic except for a broken key (big downside of physical keyboards), so I need to replace that. Even with autocorrect, swype and predictive text, I am still much more faster and comfortable typing full emails on a Q10 than I am on a touch device. Also for instance, some of us just can't type with two hands on a touch device, but on a physical keyboard it's possible.

It's gonna have awesome battery life. I hope the camera is fast and good.

I get that there's a lot of unique tech going into this phone, but a lot of people are going to see a Snapdragon 625 for US$549 and walk away. Figure this will be $700-750 in Canada. I really want one, but I was expecting a compelling price that would put BB back on the map. Feels like the Priv all over again.

My biggest question coming out of this is....when will Android Nougat arrive for Blackberry's other Android devices?

Nope!!!!Price is too high and have to wait another 2 months? Na I'll pass, phone looks good but I'm disappointed in the price. Just my opinion.

The more I think about it, the more disappointed I get. I am now seriously considering switching from my passport to the DTEK60. I would miss my physical keyboard extremely, but the combination of specs + price + release date on the KeyOne is just subpar.

I am shocked and stunned that people are complaining about the price. That never happens...

If this phone doesn't make it to the carriers, it's doomed. I guess BB don't learn from old mistakes.

If they had something closer to QHD display I think it could be worth the price.

1440p on a 4.5" screen? Why?

I'm not buying it unless it has a 4K display and an i7 processor. But yeah, I think the specs are just right for the way we're going to use this device. No one's going to use a phone that has an inch and a half of keyboard space at the bottom for any kind of processor-intensive gaming, or probably even landscape-mode video watching, so the SoC, display, and amount of RAM are perfectly sufficient. I get complaints about the price, but not about specs.

If it doesn't make it to carriers, how can I test it out to see if I even like it...

At $ 350, it's a compelling value. At $ 550 and these specs, not so much.

You could even push that to maybe $450 given that it has enough distinct features to attract some people, but their price would place it around the lower end of flagship pricing for a mid-range spec and that is not a realistic position. Unless you were desperate for a physical keyboard, there are no end of phones from 2016 with a higher spec and a lower price than this one.

It'll be 450 by Christmas. That being said, I'm getting the Keyone dayone.

Sorry bb can't do the Android blackberry thing I just can't still love my q20 though.

Solid midranger......that is priced too high.

i think its a little overpriced. 349.99. I'm actually thinking about the DTEK60 instead

I've got the dtek60 and it was a £100 cheaper.. But it is so run of the mill like every other phone out there I'm just so tired of being just one of the pack. I'll gladly pay more to have that exclusivity while the rest of you argue over specs and spend the rest of your lives moaning about how spending an additional £100 will cause you to be poor forever. Apart from the fact that the 625 is a well proven chip that is sure to make your phone last at least 24 hours with loads to spare and is very zippy, not just an ordinary keyboard but one that is touch sensitive, you can swipe type on it.. Yes like Swype keyboard style that you think is only available on virtual keyboards, flick typing, tons of shortcuts, more accurate and satisfying typing, Built for one hand use and it doubles as a touch pad. I just can't understand the moaning. This phone is well worth it.

This would maybe be interesting if they somehow made it a retractable keyboard. A 4.5" display, PLUS a keyboard? That's well beyond my comfort zone for a phone, personally.
Android Central Newsletter
Get instant access to breaking news, the hottest reviews, great deals and helpful tips
Thank you for signing up to Android Central. You will receive a verification email shortly.
There was a problem. Please refresh the page and try again.