Black Galaxy Note 2 spotted, reportedly coming in early 2013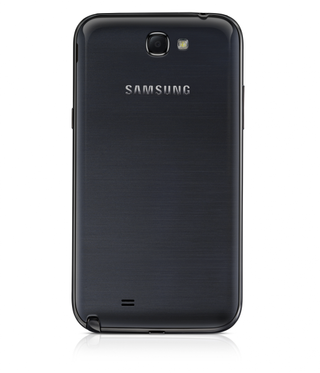 Rumors of new Samsung Galaxy Note 2 colors are nothing new, and nothing particularly surprising, given the diverse palette of Galaxy S3 colors now available. Since the phone's launch, though, many have to been hankering for a Galaxy Note 2 in classic black. If the latest rumors are to be believed, that's exactly what'll be coming in early 2013.
Swiss blog AndroidSlash has today come across a high-res press render of a Note 2 in black. And, well, it's a Galaxy Note 2. In black. Interesting to note is that the black Note 2 seems to retain its faux-metal texture, whereas the black Galaxy S3 lost this effect in favor of glossy plastic finish.
There's speculation that this, and other Note 2 color variants, will be shown at Mobile World Congress in February. But remember Samsung's also going to be at CES in just over a week, so there's a chance we might see the Note 2's new coat of paint sooner than expected. Lucky for you we'll be reporting live from both shows in the new year.
Anyone want to place bets on when the inevitable berry pink version will appear?
Source: AndroidSlash; via: SamMobile
Alex is global Executive Editor for Android Central, and is usually found in the UK. He has been blogging since before it was called that, and currently most of his time is spent leading video for AC, which involves pointing a camera at phones and speaking words at a microphone. He would just love to hear your thoughts at alex@androidcentral.com, or on the social things at @alexdobie.
I love my Titanium Grey, but I would be envious of Black for sure.

Ok now the big question. Will the Black version for Verizon still have the ugly Home button logo??

Yes. Guaranteed. It's what Verizon loves doing, just branding their handsets to remind you that you're on their network, because we always forget what network we're on.

I actually feel that the grey looks better on this one.

Its hard to tell from the photo, but if it is less glossy and the chrome is black chrome so is has a "Black on Black" look I think this one will be more attractive. Totally opinion though. I use a case so that kills the aesthetics anyways :P

Black chrome, you say? Hmmm. I would love a flat black finish on the phone. Yum. Anyway, has anyone here dropped their Note II without a case on? I've dropped it multiple times from relatively high altitudes and NOT A SINGLE SCRATCH OR DENT. (I have since ordered 2 cases because I still don't want to risk it. When I dropped my GSII from not even half a foot there were scratches on all corners of the chrome trimming. ALSO, Have you guys seen the case that makes the GSIII and Note II look like an iPhone?
http://forum.xda-developers.com/showthread.php?t=2062130

I should have been more specific, not necessarily black chrome, but a black "material" were the chrome is now, at least that is what I see when I look at the image. Not a huge fan of the "iphone" note and S3 case. I am in love with this one for the S3: http://www.urbanarmorgear.com/collections/samsung In the "shop" tab it has Galaxy Note 2 'coming soon' so hopefully I wont have to put up with the one I have for too much longer.

That should be the default color at launch...period. I'm still enjoying my Titanium Gray one :)

I'm a big fan of Samsung. I like how they have finally became like apple in having all carriers make their phones more universal so accessories are more compatible but I really wish they would release a variety of colors at launch instead of keep releasing new colors every few months.

I feel that they are on the cusp of hitting a homerun. They are still throwing around the "Galaxy" name too much on inferior phones. I really want to go inside the minds of people who are in charge of naming their products.

This is actually the Note 3.

Would have been my choice if it was available before I purchased my note.
I hope the note 3 comes in black with 128gb option right from day one

Ermahgerd!! I want this freakin' thing!!!

Thats going to be my next phone!

I just want a 32GB option on it. Only thing holding me back from moving off my S3 right now is lack of internal storage.

Agreed! I really would like to move to N2 from my S3 but ....

Christmas Promo!! iPhone 5, Galaxy S3, Nokia Lumia 920 4G LTE Albert Techie Ltd, Now Offering Christmas Promo "International Offer for all buyers interested International. Christmas Promo!! Buy 3units & Get 1unit free at affordable prices. iPhone 5 16GB - $ 500 USD
Galaxy S3 GT-i9300 16GB-$ 440 USD
Galaxy II Note N7100 - $ 480 USD
Lumia 920 32GB - 4G LTE $ 450 USD
Ipad 16gb + wifi 3 - $ 350 USD
iPad 16gb + wifi-mini - $ 270 USD We offer good products and services. Contact us today via: albert-tech@techie.com

Great color no question. I still love Titanium Grey.

Although I love black phones, I prefer my Titanium gray and I just need a break from all those black phones I've had over the years.

Engadget just reported that this is fake.

I must be one of the few that dont like the faux metal looks... just give me flat black
Android Central Newsletter
Get the best of Android Central in in your inbox, every day!
Thank you for signing up to Android Central. You will receive a verification email shortly.
There was a problem. Please refresh the page and try again.