Big week for Stadia: Service gets two new exclusives, ESO free this weekend for Pro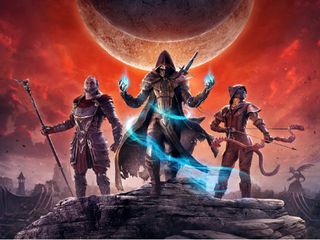 (Image credit: Zenimax Online)
What you need to know
Outcasters and Submerged: Hidden Depths are both out now for $20 each or free for Pro subscribers.
ESO is free for Stadia Pro subscribers from today until 7 a.m. PT on Dec. 9.
Six new games hit Stadia Pro this week, including Hitman 2 and Into the Breach.
Valkyria Chronicles 4: Complete Edition launching on Dec. 8.
Google Stadia just passed the one-year anniversary mark last month and over the past year, it's grown considerably. Looking at the list of every game on Stadia the consistent quality of its Pro subscription offering is becoming apparent.
Google is kicking off the last month of 2020 with a bang as well by launching two brand new Stadia-exclusives today that are being added into the Pro subscription, as well as six new games for Pro earlier this week.
The two new exclusives titles releasing today are Outcasters, a quirky twin-stick shooter with cute blob-like characters, and Submerged: Hidden Depths. Submerged was not even previously announced prior to today and it's launching on the same day as its reveal. You can play it instantly right here.
Elder Scrolls Online will be free this weekend as well for Stadia Pro subscribers starting today. Since the Stadia edition of ESO features cross-progression and simultaneous cross-play with the PC version you shouldn't have trouble finding people to play with. If you're new to Stadia, you can sign up for a free one-month trial of Pro and sample the lineup of games, including the free ESO period this weekend.
The six other games getting added to the Pro subscription for subscribers to access as of this week are:
Anyone can also check out Super Bomberman R Online entirely for free right now without even needing a Pro subscription.
In additional news beyond the Stadia Pro subscription, five other games also just launched on Stadia this week as well:
To top off the slew of announcements and new games revealed this week and during the Holiday Live Hangout, there are two more exciting games coming soon. Journey to the Savage Planet is getting a Stadia release,including exclusive content not seen on other platforms yet, such as an enhanced photo mode, improved framerate, and extra cotnent. There is no date on that announcement.
Finally, Valkyria Chronicles 4: Complete Edition is also coming on Dec. 8. It's a much-loved action-strategy RPG that mixes turn-based mechanics with real-time third-person shooting mechanics.
Get Stadia cash
Top up your Stadia balance
Whether you want to bank some extra cash to save up for the next big Stadia store sale or just want to gift some Play credit to a friend to use on Stadia, Google Play gift cards let you get what you want without leaving a credit card on file. The best part is that you can choose your gift card's denomination, from $25 up to $200.
Everything you need
A great way to start
This bundle includes everything you need to get started with Stadia. It includes the controller, a Stadia Controller Power Adapter, Google Chromecast Ultra, and a Google Chromecast Ultra Power Adapter with an Ethernet port. However, all you absolutely need as the bare minimum is a PC, laptop, or Chromebook with a web browser or smartphone compatible with the Stadia app.
Be an expert in 5 minutes
Get the latest news from Android Central, your trusted companion in the world of Android