Beta version of Pebble app with new appstore now available to developers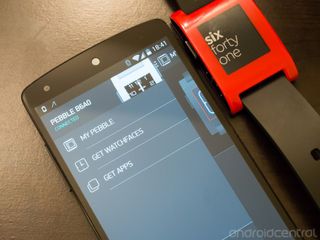 Bugs are still present, but development is moving towards a general release
We already know that a general release of the new Pebble app for Android that includes the new appstore is on its way, but it's available to try out now provided you have a developer account. Pebble has just posted the new Android app — version 2.0-BETA8 — on its developer site to give devs a head start on making sure their apps interact properly with the appstore, but there are still a good number of bugs left to squash.
This is definitely still a beta release, with issues pairing your Pebble, installing apps and configuring them once they're installed. The promise is that this updated app will be ready for release to the general public "very, very soon," but it's hard to do tell from the state of the current developers-only build when that may be.
Source: Pebble
Andrew was an Executive Editor, U.S. at Android Central between 2012 and 2020.
Piss poor rebuttle to everyone being pissed.... With that said. Can I have my steel now? Posted via Android Central App

I tried it and the new update broke most of my favorite watch faces. I actually downgraded back to the old firmware to get my watch faces back. I hope the individual app developers get their faces updated soon...

Ya I'm currently trying it... Good thing its in beta lol Posted via Android Central App on my Moto X

I see why it isn't final release. At least this can hold off some of the angry mob for a bit. definitely has some ways to go. The speed issues/program hangups are especially frustrating. Nice to see where they are going with it though!

Ok, let me get this straight. I have a pebble smartwatch with me right now. We Android is more than 80% of the market and YET we still have to wait for apps after iOS get's theirs. What's wrong with releasing both at the exact same time. You never see this problem on games releasing on different game consoles. This still doesn't make sense to do so in 2014.

I'm liking the transparency that these guys and girls are showing. Posted from my "KNOX-FREE" 4.3 Sprint GS3 Maxx...!!!
(ZeroLemon 7000mAh battery)

I'll wait. Posted via Android Central App

Wow. I know it's beta, but it feels terrible. It's an awkward mix of iOS7, web frames, terrible performance, and bad design. :o I was looking forward to this update, but now I'm thinking I'll hold off if possible.

I downloaded it yesterday on my IOS device, and it is very very choppy; however, it is way better having a central location to find apps. Also, the notification center on the pebble is a huge plus.

Got my Pebble Plastic (lol) yesterday. Can't wait for 2.0, but in the meantime, I'm already enjoying 1.0! The apps "Glance" and "Music Boss" are awesome. Posted via Android Central App

been running the beta app/firmware for several weeks now and helped test a few apps during this process. first of all the firmware is a huge upgrade. the faces can do so much more now. you have a notification history which is huge and plus some other cool stuff. this is great. what is terrible is how they released this and their lack of communication.the new app version with the app store is a great app but its not fully baked yet. its slow and buggy but it functions as it should.
Android Central Newsletter
Get the best of Android Central in in your inbox, every day!
Thank you for signing up to Android Central. You will receive a verification email shortly.
There was a problem. Please refresh the page and try again.