Best tempered glass screen protectors for the HTC 10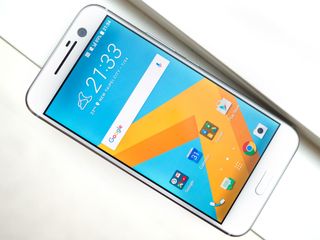 Tempered glass is about four times stronger than regular (annealed) glass, making it an ideal choice for screen protectors. Rather than shattering into jagged and potentially harmful shards, it breaks into small, relatively harmless bits. So, if you have a tempered glass screen protector on your HTC 10 and, for whatever reason, it breaks, the bits won't scratch up your screen.
It can be difficult to figure out which screen protector is the right one for your HTC 10, which is why we've rounded up some of the best available.
HotCool
HotCool's tempered glass screen protector is tough to withstand big time abrasion without getting scratched, scuffed, or pitted, while maintaining all of the HTC 10's screen sensitivity. It cuts down the glare on your screen, giving the impression of sharper images and clearer text, since light isn't messing with your view.
There is a rounded design so that it doesn't block the front camera and other important sensors on the front of your phone, so keep in mind that all of the glass on your screen isn't covered, though those spots are minimal and shouldn't really affect the overall protection.
See at Amazon (opens in new tab)
Mr. Shield
Mr. Shield, that's his name. That name again is Mr. Shield. Offering a lifetime replacement warranty and two to a pack, Mr. Shield throws ultra-thin into the mix as well. These tempered glass screen protectors are 0.3 millimeters thick, which means you'll have optimum sensitivity and high definition at all times.
Again, the cutouts are all accurate and the rounded edges means you won't slice your thumbs on the edges where your protector ends.
See at Amazon (opens in new tab)
Supershieldz
With so many phones now having curved screens, it's becoming increasingly difficult to find a screen protector that doesn't suffer from the "halo effect" where it starts to peel up all around the edges of your phone.
Supershieldz, like other screen protector manufacturers, makes their protector a little smaller than the actual screen size, so that you're not getting that ugly lifting at the edge — your protector actually stays on your phone (apparently a key factor in screen protection–who knew?!).
Just like the other tempered glass screen protectors in our roundup, Supershieldz maintains and slightly enhances the high definition of your HTC 10's screen, while also maintaining all of the touch sensitivity.
See at Amazon (opens in new tab)
Omoton
Omoton claims to have the thinnest tempered glass screen protector in the world, at 0.26 millimeters thick. That's a whole 0.04 of a millimeter thinner than the rest!
All that means is that Omoton offers a crystal clear protector that won't hinder any of your HTC 10's sensitivity and won't affect the resolution of your screen in the slightest. It also claims to be fingerprint-resistant and uses an adhesive that promises not to leave any bubbles during installation.
See at Amazon (opens in new tab)
G-Color
G-Color provides another great oleophobic option, which means you shouldn't have to deal with smudges or fingerprints with the screen protector applied. As with all the other tempered glass screen protectors, you'll get great scratch protection for your HTC 10, and should be a quick and easy bubble-free installation.
It's all backed by G-Color's no-hassle lifetime replacement warranty, so you can buy with confidence.
See at Amazon (opens in new tab)
Keep in mind
Most tempered glass screen protector manufacturers will claim that their products are rated "9H" on the pencil hardness scale, which is a way of measuring the durability of a particular coating. "9H" refers to how hard the pencil lead (graphite) is. Something that is rated 9H means that the hardest pencil lead out there won't leave a permanent mark. That doesn't say much about the material's resistance to dents or pits.
Tl;dr? Don't pay any attention to this 9H rating; it's virtually meaningless.
Mick is a writer and duty editor for Android Central. When he's not on the job, he can usually be found vacuuming up pet hair or trying to convince his wife that he needs more guitars.
At least they don't seem to have the problem us S7 users do where the glass can't cover the entire screen because of slightly rounded edges. Almost 2 months with my s7 and I still don't have a protector on it...I also don't have any scratches Posted via the Android Central App running on my Galaxy S7

You should be fine when it comes to scratches. The only phones I have right now that scratch are my iPhones. No screen scratches on my S7 Edge or M8. Posted via the Android Central App

I always use a case to protect from drops; but haven't had a screen protector in years. The biggest risk to my screen is cracking from falling (which is why I use a case) - but with my never carrying anything else in my pocket with my phone, the risk of anything scratching it is minuscule.

Yep. Same here guys. I have a tech21 case on my S7, just no glass protectors. And I don't put ANYTHING in the same pocket as my phone. Phone is always front right pocket, cigarettes and lighter front left pocket, keys and any pocket change back left and wallet back right Posted via the Android Central App running on my Galaxy S7

I keep paper money and a plastic comb in the front left pocket with my iPhone, sometimes the comb and coins and a few keys in the front right pocket with the HTC M8. The iPhone screen was gouged by the plastic comb, so I make sure it's against the back now.

I faced the same issue of small edges(Galaxy A3 2016). Tempered glass was clearly not an option. However I was able to find a silicone (plastic type) screen protector which was especially designed for the curved screen and fit properly. This was the best way to protect my screen. Posted via the Android Central App

yea I just decided to go without a protector on my s7 and so far it's still scratch free. I'm wondering if the iPhone 6 with its 2.5d screen also has the same problem or is the s7's 2.5d screen more drastic? Posted via the Android Central App

The HTC 10 has 2.5D glass as well from what I can tell from pics of it.
If it does it will have the same issue as any other phone with rounded glass.
Either the screen protector won't cover the entire screen or you'll have ghosting. Posted via the Android Central App

The solution to that is the amfilm one. It has a black border, and covers entire screen. That way, no haloing.

I've tried many of those types on my note 5 with no luck.
Of course they were all cheaper versions bought in Amazon. Posted via the Android Central App

They used to just have adhesive on the frame i believe? And those weren't to good. Now its the whole thing, like a regular protector.

The One X had that 2.5 D whatever kind of screen, I never suffered scratches

The glass does round out on the edges Posted via the Android Central App

Hi. Only Here 10% Off in spigen cases: http://r.sloyalty.com/r/uh8CsIbhls5U

Just got my 10 delivered at the office today, but my screen Mr. Shield protector doesn't come until Monday >:\ Obviously its sounding like protectors dont matter much anymore, but to me it's stubborn logic to keep the screen pristine to cover it before I use it. Told myself I wasn't going to touch it until I had a protector on it, but my resistance is fading lol

Does anyone have that wallpaper that's being used in the picture?

HTC does. Posted via the Android Central App

My screen is going commando. No scratches on my HTC One M8 and I've had it since release day. I think the 10 will be just as resilient.

I'd recommend against the HOTCOOL screen protector and the G-Color as well. I've had both and they both suffered badly from the halo effect (doesn't adhere at the edges). Even worse the HOTCOOL one leaves a huge uncovered gap around it. http://i25.photobucket.com/albums/c52/zoffster1/IMAG00211_zpsadcluwcl.jpg

Same experience with the Mr. Shield screen protector. Going to try out an IQ Shield screen protector (wet install).

Have you tried that glass screen protector? Is there one that properly adheres to the whole glass and doesn't leave any gaps?
I've bought a ebay one but there's one or two millimeters that are not protected around the whole screen...
Cheers

Take a look at reviews at amazon! All these glasses are stupidly narrow. idk why would one sacrifice 4mm of screen width

Pencil hardness scale? Try the Mohs Hardness scale. Diamonds are 10, Corundum and glass are 9, ceramic is about a 6 or 7. This means relative hardness. The higher the number, the higher the hardness. Only something that is the same or harder will actually scratch (gently drawn across its surface) that material. By applying pressure, a lower hardness could scratch, of course, but that's more by the force than by the material.
Android Central Newsletter
Get the best of Android Central in in your inbox, every day!
Thank you for signing up to Android Central. You will receive a verification email shortly.
There was a problem. Please refresh the page and try again.