Best Streaming TV Services For Cord-cutters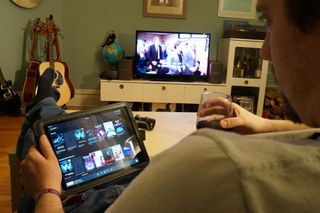 Cutting the cord is becoming more commonplace every year. While popular streaming services such as Netflix and Hulu have done an excellent job of leading the charge, some people would love to cut the cord but still enjoy the same TV programming their cable provided provides them.
Streaming TV Services are a blend of traditional cable and streaming services that allow you to access not only on-demand but also live TV channels, so you don't have to miss out on your favorite shows.
Playstation Vue
Why you can trust Android Central Our expert reviewers spend hours testing and comparing products and services so you can choose the best for you. Find out more about how we test.
Available for PlayStation 3 and PlayStation 4 consoles across the U.S., PlayStation Vue lets you access some of the most popular networks on television for a monthly subscription fee.
They have four different subscription packages, that range from $39.99 to 79.99 a month, meaning you should be able to find the package that is right for you. All of the packages come with a slew of channels such as AMC, Cartoon Network, CNN, Discovery, Disney Channel, E!, ESPN, ESPN2, Food Network, Fox News Channel, Syfy, USA, and more! Plus, you can add individual premium channels to any package for an additional monthly cost.
PlayStation Vue also allows you to record live TV so you can watch it later, just like a DVR, and even has an explore mode to give you suggestions of what to watch when you can't decide.
Sling TV
The first thing that may excite you about Sling TV is its price of $20 per month, but there is more to life than just its price tag.
Sling TV is accessible through an app for Android, iOS, Roku, and Apple TV, so chances are you don't have to invest in a device to enjoy the service. Plus it comes with some great channels which include AMC, TNT, ESPN, CNN, History, HDTV and the Disney Channel, so you're bound to find something to keep you entertained.
Sling TV does have a few drawbacks. There is no DVR, so most channels don't let you control playback, and right now you can only stream to three screens at a time, so if you are a family with lots of TVs on all the time that could be problematic.
See at Sling TV (opens in new tab)
DirectTV NOW
DirectTV NOW certainly sounds like an impressive deal; you get 100 channels for $35 a month, which is the most channels for the lowest price currently on the market for service like this.
You can even get local shows depending on where you live. Certain regional sports programs, as well as regional divisions of networks like NBC, are available in the major cities plus you can add premium channel like HBO and Showtime for only an extra $5 per month.
See at Direct TV (opens in new tab)
Need more cord-cutting ideas?
With the holidays coming up we've found some of the best gifts for cord-cutters if you need some inspiration!
Get the Android Central Newsletter
Instant access to breaking news, the hottest reviews, great deals and helpful tips.
DirecTV now w/free Apple TV wins the lot, easily.

Pre pay 3 months you can get a free apple TV. Pre pay 1 month, get a free firestick.

How so? It has zero DRV/recording capability. They claim it's coming, but right now, that is a deal breaker for me.

It came out a week ago. I'm 100% certain features will be added. For $35 to have SEC Network, Sundance and Fox News (yeah, triggered) that's too good to pass up. It's smooth as butter 90% of the time. All I'm saying is it will become better over time and that price point is really good for what you get. HBO for five bucks? Yep, good deal.

Direct TV Now;
Pro's (It's only a week old):
Free Apple TV or Amazon FireStick
100 Channels
A lot of shows that you can catch up on and binge
Works great with ChromeCast
Very reasonable price for what you get even with the con's Cons:
No Android TV, X-Box or Samsung TV apps
No CBS or CW (owned by CBS)
No NBC
Very poor UI for Video control (no 10/30 second rewind, slidebar rewind for everything else)
Not part of T-Mobile's Binge On program
Free Apple TV or Amazon FireStick but no free Nvidia Shield My guess about CBS is that CBS is pushing their ridiculous CBS All Access program (which you have to pay $6-$10 for) and their almost as ridiculous CW TV (which forces you to watch the same commercials over and over) and doesn't want to play nice with others. As an aside please do not subscribe to CBS All Access. This is a bad precedent to set. Do you really want to pay $6-10 for every channel you get? We're back to high cable prices. I have Hulu, Netflix, Amazon Prime and now DirectTV. I refuse to pay anyone else. If it's not on any of those for free then I don't need it (or I'll watch the Asian feed of them)

It also does not have CBS or NBC yet, but they're in negotiations. It is only a week old and getting DirectTV for three months AND an Apple TV (or Amazon FireStick) for free is a no brainer. Did this the other day.

I tried it for a week. It's absolutely horrible. TV pauses at least 10 - 20 times per hour. There are practically no on demand shows. It's just not ready.

Totally your ISPs fault. I've been using it since it came out and I've only seen it buffer once on my 100 mbps fiber line. Shared cable connections are much less reliable.

Best Streaming TV Services For "AMERICAN" Cord-cutters

Direct TV Now just launched last week and it looks like they should've spent another three months ironing out the multitude of problems. The service is buggy at best and there's not a hint of customer service to be found anywhere. I'd suggest that anyone who's interested wait a few months to try it.

Aside from one of my TV hangs up sometimes (which I think is network related) , what other bugs have you experienced?

My biggest issue is Regional Sports being blacked out when they shouldn't be.

That's due to contract restrictions with the local affiliate

Blackouts that shouldn't be blacked out. Not loading stations. Loading stations but saying they don't have permission to play the content, inconsistent casting, audio sync issues, about 4 or 5 different error codes that I have no idea what they mean but nothing plays when I get them.
And that's just the bugs. Not to mention lack of support for Android TV, Smart TVs and Chromebooks.
And like I said, support is almost nonexistent, and when you actually can get in touch with support, they have no idea what's actually going on and give canned answers that don't at all address the issues. You have to go to the forums and hope that another customer had the same issue and was able to figure out how to fix it.
Hopefully they work all this out, but I would strongly advise anyone to wait a few months before signing up.

No Roku either, it's only the most popular streaming device out there. Why bother making an app for that, geez!

I'm sure one is on the way. I read there's various platforms for smart TVs they didn't mention that are supported.

Trying to find a channel list for Direct TV...

http://cdn.directv.com/content/dam/dtv/gmott/html/compare-packages-accou...

Is there a dvr option for direct?

Not yet. Allegedly next year

PS Vue is available for PlayStation 3 and PlayStation 4 consoles, Android, IOS, Windows and Mac (Web), Roku, and Fire TV.

Thanks. Don't know why they left those out.

Been a subscriber to Sling since it was launched and have not looked back since. Changed the service to the multi-stream option when in beta (gave up Disney/ESPN for Fox/Sports). Have seen some vast improvements over the 12+ months. Really excited about the announcement of cloud DVR service coming. For $20/mo I cannot complain one bit. BTW, I have 2 Roku 3's and 1 Roku Streaming Stick (2016) running on a 50-down/5-up Time Warner cable link.

I'm glad they've improved their service in the last year. I tried them for a few months when they were giving away Nexus Players and I didn't have a very good experience with it at all. The app itself was designed well, but there were just too many buffering and picture quality issues for me to enjoy it as a service. Maybe I'll give it another try for a month sometime and see how much they've improved, though.

It's much better on Roku with an ethernet connection.

Good to hear, thanks! I replaced my Nexus Player with a Shield TV when Amazon had those on sale for Prime Day, so my Android TV box has an ethernet connection now, thankfully.

When I signed up recently, it was pay 3 months, get a Roku - which filled a gap in one room too. And aside from the UI (navigation needs some serious work) it's been working really well for me over a wired connection and over wifi 2 rooms away from the router.

Sounds like we signed up for similar deals. Mine was get a Nexus Player when you pay up front for three months, though, so you got a much better device. :)

Buffering and picture quality....that's an issue on your end

Could be, but not necessarily. I had identical streaming/picture quality issues on the Nexus Player (connected via wifi to a network that averaged around 35Mbps down with reasonably low latency) and on my phone, both on wifi and mobile data. That points to the service being at least partially, if not largely, to blame.

Streaming on wifi is the issue.... especially if your using 2.4ghz.

Cloud DVR coming?? Nice! I might have to keep them.

There is a list somewhere for beta testing sling tv dvr in roku. I signed up but haven't heard more yet

I find it interesting that all I've ever had is Netflix and Hulu and feel like I haven't missed out on anything good, save for my seasonal use of HBO now literally only for game of thrones.

That works for most things except NFL (at least for me) so i got sling for 3 months

Nailed it! Add a $15 HD antenna for FOX/CBS and you've found a winner! Netflix and Amazon Prime both have offline downloads now too. The only other thing I have is a login from my Aunt for WatchESPN. Also, the no-Ad version of Hulu is underrated. Unfortunately, I'm noticing more and more programs not offered on Hulu, which is a bummer.

Pricing on Vue starts at $30/month, and can be use with pretty much any device, Chromecast, Roku, Android, iOS, etc.

If used on devices other than a Playstation, will you not get dvr then?

It's "cloud DVR" it isn't actually stored locally - unlimited storage.

I would rank PS Vue first (by a landslide), followed by DirecTV NOW and then SlingTV. Granted I only spent a week with SlingTV, but it was way too limited, even for $20. Edit - PS Vue starts at $29.99, not $39.99.

Why is vue so much better in your opinion?

The DVR functions. Biggest reason for these services for me is the live sports. Being able to pause, rewind, fast forward live sports is great.

Vue also has CBS live. Something I haven't seen from any other cord cutter service. But the cloud DVR is king right now. I won't do any other service without that.

Let's not forget 5 streams and profiles. Awesome in multi-viewer households.

Direct tv now also pauses live tv. Can you fwd or rwd I don't know. But I could pause my streams

Just started with Direct TV Now, so far so good. Got the $35 w/hbo for $40 promo and free firestick. I'm an AT&T customer so free streaming to my cell with no data overage,which is fantastic for listing to cnn, fox, & Bloomberg @ work. It hangs up on my upstairs firestick though sometimes, I have to look into what the issue is, but my downstairs one works fine. The picture quality is excellent, and the channel lineup is great. No DVR is not an issue for me, but my wife will have to get used to it. This combined with Kodi is an excellent alternative to traditional TV. I'll be canceling my Xfinity TV service very soon.

Do you only get HBO through DTVN or do you get access to HBO Go too?

I didn't try HBO Go with it yet. I still have that through Xfinity. I doubt you do, but I'll try and update later on.

You were supposed to be able to use HBO Go using your DTVN sign in. It wasn't available at launch but they have since "fixed" that problem. I'm able to sign in with my DTVN login but some are still reporting that they can't.

If your using Kodi, you better get a VPN....those DMCA notices are a *itch

You're not really 'cutting the cord' if you have internet service from the same company who was providing you TV service. They are just upping their prices to their internet service if you cut off the TV service. I completely cut them off. Only internet service I have is to my phone. I also got a digital TV antenna and have free TV.

The cost creep for home broadband is absurd. The only service I subscribe to from Comcast is cable internet, and despite not leasing any equipment from them (they're now charging $10/mo to lease their crappy wireless modem, by the way), and my bill is still $70mo. Of course, when I was still getting TV from them, my bill for their most basic digital cable service plus one premium channel and no DVR was almost $200/mo.

It's true. You're going to pay more comparatively for Internet when you choose the Internet-only service. But you save in aggregate if you jump on the $35/month for DirecTV Now offer. You will end up saving so much more on the cable part ($35/month + $70/month for 100Mbps). I would pay $190/month for Comcast's Triple Play (cable/phone/internet) and don't even need the phone btw.

Well cutting the cord is not realistically possible is it? You have to have internet from somewhere and in most cases in the U.S. these greedy ******** have divided up the country so that you can have only one (or two if you are lucky) internet choice(s). Brought to you buy the congress and senate that they have bought and paid for. I think what they mean by cutting the cord is ditching your cable or satellite tv connection, although satellite is cordless. Right now i have Spectrum in my area at $35 a month for 50mb internet, no tv and no landline. I have Netflix and Hulu and share with family. I pay for Hulu and they pay for Netflix, so far it's been working good. If you can avoid the landline then do so, don't be fooled by these bundles. The phone will go up when the intro rate is over ( as will everything else) and they will **** you over with taxes and fees. Honestly the bundled price of phone for $30 a month is a complete ripoff anyway now that most people have unlimited calling on their cell phones. Then you'll be stuck playing the cancel game and get bill credits for 6 months or a year. But that gets old and they eventually beat you down to point where you don't bother calling or you just forget. Now you're on the hook for $150 a month or more.

I have cut the cord. I don't pay anything for my internet from Google Fiber (5 down/1 up) its not the fastest connection but works good for streaming TV in my 1 person household. I have the direct TV for $35.00/month, and a HD Antenna which gives me about 35 local channels. So I get internet and over 100 channels for a mere $35.00 a month, not bad!

Are you wi fi ing off your phone ? I'm having the same problem. I cut the cord with Cox and kept the internet so I could wi fi my Roku .I use a Roku stick for my bedroom t.v. and my living room t.v. is Roku and internet ready. I also run a digital antenna ,1 per t.v....I receive about 60 channels with the digital antennas, I get all the local channels within 60 miles but the rest of the channels are crappy.I'm a fox news buff but don't get that channel anymore and I sure miss it. The thing is that I don't see much difference in price by just keeping cox cable Internet, do you have any suggestions on where I could get cheaper Internet or could I pull a rabbit out of the bag by using my Galaxie 5 to run my stuff ?

Failed to mention, though, that SlingTV IS going to have cloud DVR features. It's rolling out the beta to Roku users.

I was expecting reviews on services for full cord cutters who even cut off Internet too. I've been using Vudu and storing movies on my phone and tablets. I want to use my Xbox as a media box but I'll have to take it somewhere that I can hook up to the Internet

How do you cutoff Internet and use these services?

Do you mean internet such as your house? You can still stream from outside your home network and use your data on your mobile device or your laptop if you are at a place that has wifi/ your phones hotspot. At least you can w/ Vue and DriectTV NOW, not sure about Sling.

Maybe you meant offline features, if you did, than I have no idea, haven't personally tried.

I wanna cut the cord completely but Comcast is set up so that if you only get Internet service from them they boost the standalone price up so much that you're not really saving any money. There aren't really many options for Internet providers. Verizon FIOS is out of the question.

How much is it? You're saving on equipment rentals too remember.

Not quite. I get 50Mbps service from Comcast and nothing else, and that's $70/mo. Adding Hulu Plus (ad-free) for $12/mo and HBO Now for $15/mo, and I'm still under $100/mo. That's half what I was paying Comcast for internet and digital cable with HBO by the time all of their promotions had run out and factoring in equipment rental prices (which I don't think you can get out of if you have TV service).

Not always true, I moved this year and cut out cable TV, I pay $50/month for 150mbps Internet using my own modem.

Copying my previous comment:
It's true. You're going to pay more comparatively for Internet when you choose the Internet-only service. But you save in aggregate if you jump on the $35/month for DirecTV Now offer. You will end up saving so much more on the cable part ($35/month + $70/month for 100Mbps). I would pay $190/month for Comcast's Triple Play (cable/phone/internet) and don't even need the phone btw.

Take a look at ISPs around d your area. I have wave g gigabit internet for 80 a month. No contracts, no data caps. It's the best experience I've ever had and makes Comcast look like a joke.

Failed to mention that Vue allows you to use your credentials to log into "on the go" apps from the channels they carry.
For example, I can use my Vue log in to get on the Big Ten To Go app and still catch the games while I'm away from home.
Don't know if the others allow that or not.

That's very cool, although since Vue has an Android app, couldn't you just watch Big 10 games (or FX shows on FX Go, etc) on your mobile device even without the To Go app?

Unfortunately no. PS Vue is limited to one IP address so you can'tell use it outside the home. Thus the reason they allow 5 concurrent streams when everyone else only allows 1-3.

Do any of these services have LMN or Hallmark movies? Christmas and Valentine's Day, my wife takes over the TV with movies from those channels. I'm on the couch if we don't have those channels.

Jim, DirecTV Now has both of those channels.

I have Amazon Prime, Hulu, Netflix and SlingTV for ($5.00+$8.00+$10.00+$13.00) = $36.00 a month. I have Student Prime ($60/yr) and T-Mobile which gets me Sling Blue for $13/month. Even if I bump to Hulu (no commercials) that would still $40.00 monthly. DirectTV Now seems nice but only if you have AT&T as a mobile carrier. PS Vue is more versatile but more expensive that SlingTV for me. Mish-mosh w/OTA FTW!

At $35 Directv seems like a good deal, if they kept it that price it would be a winner. But of course they will shoot themselves in the foot and raise it to $60. At that point it's no different than cable or satellite. And all these services are still basically them same as before except they are streaming over the internet and costing less. Which are both good things ( when they can get the streaming part perfected) but not the holy grail where you can just buy the channels that you want or need. Apparently that is still too advanced a concept.

Cut the cord ? You still get your internet by a cord!

How important are DVR capabilities with these services. Are most things available on demand anyway?

Many channels on Sling TV don't have on-demand, and the content is usually only available for a limited time, making DVR useful. On another note, Sling TV looks like it will offer DVR next year.

Whats the point of cord cutting if your just going to pay as much

We dropped comcast triple play last year. Our total bill went from ~$275+/mo to $121/mo (that includes Internet, Netflix, Amazon Prime, Funimation, two phone lines and PS Vue Elite Slim). We still have 2 IP phone lines, DVR to every tv (did not have that with comcast), and every channel we watched before [including DIY and Cooking Channel (only on comcast's more expensive packages)]. We are saving about $1800/yr over what we were spending. So we certainly are not paying as much.

Sling is a waste of money, thought I was paying for something where I could watch live TV shows, which is only half right. The majority of streaming channels tell you to sign in with a TV provider. Their slogan should be "Take back TV! (with a cable subscription)"

I don't know what service you're talking about, but it's not Sling TV. You don't need other subscriptions to watch it, that's the whole point. There are add-ons like HBO and Showtime, but it's entirely contained within the Sling TV ecosystem.

Don't forget to consider the number of simultaneous streams that are supported. Sling Orange-1 stream, Sling Blue-3 streams, DirecTV Now-2 streams, PlayStation Vue-5 streams. I have 3 Rokus and a Nexus Player in my home and I travel a lot for work. I have Tivo OTAs for off-air DVR and only need an online service for a handful of channels (ESPN, CNN, etc.). Sling Orange is a decent fit, but only having one steam ID a non-starter. We tried DirecTV now, but the lack of a DVR and minimal on-demand content made it very difficult to watch TV when we wanted to. We found PlayStation Vue to be the best for us. It has virtually unlimited DVR for 4 weeks of programming and you can use your account login for access to more than 50 TV Anywhere apps. We haven't had any trouble finding everything we need. You can also setup 5 user profiles, each with their own favorite channels and DVR programs. The streaming has been near perfect with picture quality equivalent to satellite.

SlingTV is a rip-off. Playstation Vue is the way to go. I run it on a Sony smart TV using the Android TV app. The DVR function is really nice. Tons of soccer if you are a fan.