Best sprinkler to use with the Amazon Echo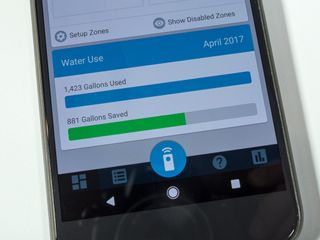 One of the cooler things I've had in my house the past few years is a connected sprinkler system. That's mostly because it's smart enough to tell when it's rained without a moisture sensor — but even more so because it's smart enough to know when it's going to rain, and thus it shouldn't bother watering.
But now that we've got Alexa running things, the Rachio sprinkler system (opens in new tab) (it retails for $199) is even better. And for that reason it's a top pick for the best sprinkler to use with the Amazon Echo. Because for as cool as Rachio is, it's still kind of a pain to have to whip out your phone and open the app and then turn the things off and one.
Way easier is to just bark orders at Alexa.
Like any thing else you want to hook into Alexa, you'll need to first enable the Skill. You can do so online here (opens in new tab), or through the Alexa app for Android (opens in new tab) or for iOS (opens in new tab). After that you'll log in with your Rachio credentials, then you're on your way.
Here's what all you can do with Rachio via an Echo device:
Turn Rachio on.
Turn Rachio off. (Duh.)
Set a rain delay, for a single day or for a given duration.
Cancel said rain delay. (Also duh.)
Run an individual zone.
Run ALL THE ZONES.
Run a zone (or ALL THE ZONES) for a given amount of time.
Stop a zone. (See how this works yet?)
You can see the full list of permutations here (opens in new tab), but it's pretty self-explanatory.
How to connect Rachio to Amazon Echo
I love my Rachio sand cannot wait to hook it up to Amazon Echo when I get home.

It's worth noting that some utilities offer refunds that will cover the cost of the device. Check with yours to see if this might be a free upgrade.

It works even better when connected to a Google Home!

I think the real question we need answered here is, can the prophetic water detection system of Rachio even do it's thing in crazy Florida rainy season patterns?

Heh ... Well, no. It can't tell at 5 a.m., just before I water, whether the 5 p.m. monsoon is gonna happen.

I find little need to integrate with Alexa or Google Home. I have a Hunter Hydrawise and it is so smart it runs by itself. Shuts off automatically according to weather forecast. If the forecast is wrong it adjusts automatically according to a past weather history. Rain sensor handles unexpected rainfall. Hydrawise UI is very capable and almost professional level. I have a water meter that reports to the system the amount of water use, can detect leaks or busted heads or solenoid problem. The app is easy to use and the web interface is identical. I never have to run a zone. I never have to set a rain delay. I never have to cancel watering. Everything is done automatically and executed perfectly. So no need to integrate with Alexa or Google Home. It takes care of itself. It truly is very smart and reliable. I live in Florida where rain can be unpredictable. The weather is hot and my grass is green rainy season or not. And I'm automatically saving water when possible.

Same. But it's a nice option to have, and takes just a minute to set up.

Honestly, the biggest use I have for the Alexa integration is when I get pipe hammering loud enough to wake me up and I just want to turn it all off. Before Rachio, that meant walking down two flights of stairs to the garage. With Alexa, it's a shout and I'm back to sleep.

Works great with Google home... Can set a schedule and never touch it, or you can bug off the door-to-door sales people..

They should really include that last bit in their marketing material, most compelling selling point I've heard yet!
Android Central Newsletter
Get the best of Android Central in in your inbox, every day!
Thank you for signing up to Android Central. You will receive a verification email shortly.
There was a problem. Please refresh the page and try again.