The best smart TV is a dumb display and a streaming stick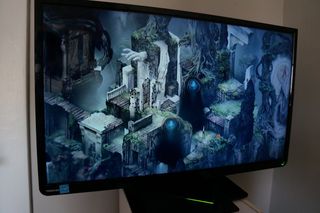 The greatest trend of technology over the last 10, 20, even 50 years is consolidation: the smartphone combines an MP3 player, a digital camera, the cell phone, GPS navigator, and more. We've seen this consolidation happen in other parts of the consumer electronics world as well: TV's that add smart functionality so consumers don't need a separate streaming stick.
But while this is great when you first buy a TV — there's nothing separate to plug in or route cables to — the experience can worsen over time.
Here are the upsides and downsides of smart TVs!
The good parts
Why you can trust Android Central Our expert reviewers spend hours testing and comparing products and services so you can choose the best for you. Find out more about how we test.
Less stuff
I believe that fewer gadgets are better. Having one less gadget on my network is good from a security perspective. Fewer gadgets mean I use less electricity, and less clutter is better for my mind. Any of these are good reasons on their own but put together, and combined they're a compelling reason to use the smart functionality on your TV.
It's darn near impossible to find a "dumb" TV
Unless you want to get a projector (cough) or just use a monitor, your options are limited — especially for 4K TVs. When a manufacturer spreads the cost of an operating system over millions of TVs — or gets Google or Roku to build that operating system — adding smart features doesn't really cost anything, and makes it a more valuable purchase for most consumers. The market of people that just want a dumb display is niche, and niche markets don't get served. If you have to buy a product with smart features, you may as well use them.
The bad parts
Overall longevity
This is the big one, and it's something I've been burned by. It sucks when your $200 phone stops getting updates, especially if the one update it did get introduced annoying bugs. It sucks 15 times worse when the same thing happens to your $3,000 TV. I had one of Sharp's earliest Android TVs, and it was awesome for the first few months. I could launch Netflix, Hulu or other services right from the home screen, or Cast something from my phone's screen.
Then an update broke my volume. Every few times I would turn the TV on, there would be no sound and the only solution would be to unplug the TV and plug it back in. Long story short, it didn't get better, and I had to get the TV exchanged. Things get dramatically worse when the company who built your TV goes out of business.
In the long run, the operating system on your TV probably won't get updates. This means the applications on the TV will likely stop working as the streaming service ends support for older operating systems. Which leads us to…
You'll probably need another streaming device anyway
In a perfect world, all software services would be on all hardware platforms. In reality, companies can and do choose where they release their content, and all it does is making things worse for the consumer. If you can't watch the shows you want to on your TVs operating system, you'll need another streaming box to fill the gap. You may also have a console to play games anyway, so the smart functionality is redundant.
So what's the answer?
Like I said above, it's hard to find an actual TV that doesn't have an operating system, but that's not the end of the story. You can get a projector or a monitor, but it's easier and cheaper to just get a smart TV, never connect it to the Internet, and use the other gadgets you want through the HDMI inputs. This lets you find the TV that's right for you, but doesn't force you into a gadget maker's ecosystem.
On the streaming stick side, the best answer for most of you will be a Chromecast: it's inexpensive, works with every streaming service except for Amazon Video, and it's dead simple to use. It's even better if you have a Google Home, since you'll be able to use your voice to control video playback on the Chromecast.
See at Best Buy (opens in new tab)
What say you?
How often do you actually use the smart features on your TV? Let us know down below!
Android Central Newsletter
Get instant access to breaking news, the hottest reviews, great deals and helpful tips
Considering the wirecutter's best TV pick on a budget, and overall best has been a Roku TV I think many will disagree with you.

Yea get a TCL Roku TV. They consistently get rated as very good for image quality and HDR support even though they are a "budget" brand. Add in that they use Roku bult in you will get support for years to come.

I'll never understand why people buy smart TVs, but then again, I'll never understand why people buy phones ever year as well. Even though I do the latter. FML BS to the side, I'm okay w not needing the latest and greatest TV. My LG screen quality has been outstanding for the last 3-4 years and between Chromecast, Smart Blu Ray, and PS4, streaming is never an issue. Hell, I'm still using Gen 1 Chromecast and still going strong today. I may be the nerd for phones, but I'll never buy a smart TV when there's smarter options to update it to a smart TV.

Good luck finding a "Dumb" TV today & you don't save any money since EVERY TV has some smart OS Built in. You can always add another Smart Stick option (Roku, Google, Fire TV, Android, etc.) if you need it. I think TCL has the best options at the low end with Roku TV built in.

That may be so, but I don't tend to buy TV until they die. I just never got hyped nor ever needed a smart TV. When it's time to buy another, even if it does have it, I'll probably prefer outside connections.

Still using my 60" Pioneer Elite with a Chromebox and Chromecast attached to it. Looks better than most TVs on the market.

TLDR: I actually really appreciate my smart TV.
I've always been a Chromecast champion...until I recently bought a 65" 4K curved Samsung smart TV (for less than $1K and I'm pleased with the picture). I don't subscribe to cable, just internet. The TV uses the Samsung app store and when I turn on the TV...voila...there is YouTube TV, Netflix, Amazon Prime video, HBO Now, Hulu, Google Play Movies, etc. One incredibly simple remote to control them all without my phone: navigating, playing, pausing, FF, RW, etc. The TV remote even turns on my Yamaha surround sound receiver because I have them connected via HDMI (ARC).

Some OEMs have really stepped their fame when it comes to Smart TVs. One of them is Samsung.
From 2015 most Samsung Smart TVs have Tizen OS so they are likely to receive more support than their legacy Smart TVs.
It shall only get better with time as Samsung's strategy has been to use Tizen as the platform of choice for their IoT lineup, as well as Smartwatches and even some phones.

That's good to know as I just bought a 40" Samsung smart TV, one of last year's models.

I'm still rocking my 7 year old 50" plasma TV and I'm not upgrading until it dies.

We've got our old Sony Bravia, which we got a free PS3 with, and it's still great.
A Chromecast in the side, and it does everything we need. It's best feature is that it manages plugged in gadgets well. It's easy to switch between
consoles and Chromecast and hide all the ports that aren't being used. That is really what matters most in it's firmware.

I wish TV manufacturers would realize customers just want an incredible screen with as little software to get in the way as possible. That way, the TV manufacturers can stop wasting money trying to keep up with the software in every dongle and video device and, instead, invest in developing even better screen technology. We'll buy the "smart box" we want to use on our TV separately.

I have a Samsung smart tv and an Apple TV connected to it. I rarely use the Smart features on my tv.

After buying a Sony Internet "Google" TV about seven years ago I have thought the same thing for a few years. I can still do some things on it but YouTube stopped working on it a few years ago as did many other things.

Makes sense but hard to beat a TCL with Roku built-in

I really used to work like our Samsung Smart TV, but then apps are now rallying unreliable and it's only three years old. So now stream all services via phone or tablet to Chromecast. The support for these TVs are dreadful and sering all the negative posts in forums about the same problems is a concern.

Yep all the apps on my Samsung Blu Ray are all out dated. When I seen how good the interface for Netflix was on my PS4, I stopped using it. The only thing I use it for is FXNow and even then it's falling behind so I've had to resort to Chromecast.

I have a dumb Vizio 32"TV connected to an Android TV Box as well as a 55" Samsung Smart TV which I purchased 4 years ago. The last one is still running strong and can use Netflix and YouTube mostly trouble free, but I haven't received any updates for the last12 months, so I know it may get dumb in no more than a year. No problem since I can go to the Chromecast or Android TV route instead of purchasing a new one.

To just glibly say "On the streaming stick side, the best answer for most of you will be a Chromecast:" is sloppy and lazy journalism. There are many other options which are seriously worth considering and may well be better for many. Personally I find Roku and NVIDIA Shield very good.

Exactly, although it does say "...for most of you..." but then doesn't even go into the alternatives that are available.

I have a 70 inch UHD 4K Television. I'd say I'd say I'm pretty Smart..hehe

I wish they sold dumb TV's yet. Bought my 4k Samsung TV 6 months ago. Plugged in my shield, set the picture and sound and haven't changed inputs since. Yes, I turned off the soap opera effect, lol.

I think it was samsung, for a while, that sold an "evolution" kit (for way too much) that allowed you to update the "smart" part of the TV without having to buy a whole new TV. Wished more companies did that. Most media sticks and tv boxes tend to become less and less useful over the years, and $100-150 upgrade would seem like an easy sell (compared to things like the 4K roku boxes, Fire TV boxes, etc) Also, a frustrating issue, A LOT of TVs support Miracast, something that is not available on many stock Android phones as of late, making a feature DOA if you end up with a phone that doesn't have it available and you don't want to root it. Stupid google, wanting to force everyone into casting using their method.

Totally agree. That would be a reasonably priced solution. And if it was a designed just to plug-in to the back cabinet of the TV seamlessly that would be perfect.

That's the exact reason why I refuse to buy a Chromecast, there was absolutely NO reason for Google to disable Miracast at the OS level. It was only done to force Android owners to buy their proprietary Chromecast, typical Apple style tactic of "Our way or no way!!!"

I was looking for a "dumb TV" a few months ago but I couldn't find one. I'm still using my old TV with a Chromecast.

I love the fact that my TV is smart. I could probably count the savings on power alone not having a billion things plugged in for different streaming services. I'm running out of power inputs already.
Don't even need to power on my PS4 now for Hulu, Netflix, although I use it enough for movies cause the Playstation store is a good source.

I, too, only by "dumb TVs" and change-out the streaming technology as I see fit. Ideally, I'd like to see automobiles become "dumb" again as well... don't embed all sorts of technology into the dashboard that will be obsolete before I'm done paying for the car. Just make the screen in the car a display for whatever is on my phone, because my phone will get updated more frequently and goes with me everywhere.

Totally agree, this can't possibly be very environmental friendly either😞
Android Central Newsletter
Get instant access to breaking news, the hottest reviews, great deals and helpful tips
Thank you for signing up to Android Central. You will receive a verification email shortly.
There was a problem. Please refresh the page and try again.