Best screen protectors for Samsung Galaxy S6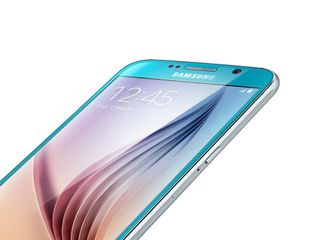 Not everyone is after cases for the Galaxy S6 to keep them protected, but a screen protector is something most of us can agree is a smart investment. Finding that perfect protector, however, is key to keeping the quality, feel and response that we're all after.
Luckily, there are some great screen protectors for the Galaxy S6 available that will keep your worries at bay and your display clear of imperfections. Check out some of our favorite picks after the break.
READ MORE: Best screen protectors for Galaxy S6
Spigen Clear HD PET Film Screen Protector
First up is Spigen's HD PET film protector (opens in new tab), which features a 3H screen hardness and comes with 2 front protectors and 1 for the back.
Each protector included has been perfectly cut for the Galaxy S6 and doesn't require any special application gel. You'll also get a squeegee for pushing out any bubbles that remain, a dust removal sticker, and wet cleaner.
Check out the Spigen HD Film (opens in new tab)
IQ Shield LiQuidSkin Full Body Protector
The next best solution to a case is a full-body protection film. The IQ Shield LiQuidSkin (opens in new tab) utilizes 4 layers of protection: UV protective coat, thermoplastic urethane, strong protective liner and an advanced adhesive.
Although this protector involves a wet-install, each layer bonds with moisture to force air pockets away from the surface. The ultra responsive pixel precision this protector provides ensures you won't be doubling up on your presses, either. Included with this full-body protector is an installation solution, squeegee, lint-free cloth and easy instructions for those who may need them.
Check out the IQ Shield LiQuidSkin (opens in new tab)
Skinomi MatteSkin Anti-Glare Screen Protector
If you're after an anti-glare screen protector for the Galaxy S6, Skinomi's MatteSkin (opens in new tab) is a great option. With edge to edge protection from scratches, this protector is formulated to significantly reduce glare and improve visibility in bright environments.
Made with military-grade elastic polymer, you'll be safe from scratches, punctures and UV rays at all times. Not to mention, it helps keep away annoying fingerprints and smudges. This screen protector also comes with a lifetime replacement warranty, which seems hard to beat.
Check out the Skinomi MatteSkin (opens in new tab)
JETech Premium Tempered Glass Screen Protector
Popular for their high transparency and responsiveness, tempered glass protectors are becoming a top choice for dealing with scratches. And, JETech's Premium Tempered Glass Protector (opens in new tab) seems to have quite a reputation in this category.
Their tempered glass protector is 0.33mm thick with rounded edges cut specifically for the Galaxy S6. It's designed with a 9H hardness and is dust/fingerprint-free. Included is a single tempered glass protector, cleaning cloth and installation instructions.
Check out the JETech Tempered Glass (opens in new tab)
amFilm Premium HD Screen Protector
Finally, we have amFilm's Premium HD Screen Protector (opens in new tab) that comes bundled with 3 protectors for the display and 2 for the back.
This 3-layer PET film attaches smoothly to your Galaxy S6's display with a self-adhering surface. And, when removed, it leaves no sticky residue behind. While maybe not as clear as the other options available, these screen protectors will certainly shield against scratches and scrapes. Also included is a microfiber cloth and plastic card for smoothing out bubbles.
Check out the amFilm HD Protector (opens in new tab)
The Spigen HD feels so good it feels and looks like I don't even have a protector on. Love it! Posted via the Android Central App

Couldn't agree more. I highly recommend it.

I have the Skinomi glass protector. It doesn't quite cover the entire screen, but otherwise it is pretty good for what I paid for it. I may have to get the IQ Shield for the back glass, since my S6 wants to soar across any smooth surface. I laid it on top of a fleece jacket in my car seat, turned into a parking lot, and my S6 flew into the passenger door. Lol

So has Zagg really been passed by? I haven't bought a screen protector in ages, I don't use them, so I haven't been paying attention. However, my wife needs one for her new S6 and in the past she had always just gone with a Zagg, partially because there is a kiosk in the mall and they would install it and guarantee it.

Zagg has an agreement with bestbuy so you can't buy them directly from amazon or other retailers yet. Posted via the Android Central App

Hmm, this link would say otherwise: http://www.amazon.com/s/ref=bl_sr_wireless?ie=UTF8&field-brandtextbin=ZA...

Show me the galaxy s6 zagg shipped and sold by Amazon... Posted via the Android Central App

Actually, i found it here
http://www.amazon.com/InvisibleShield-HDX-Samsung-Galaxy-S6/dp/B00VBGRZV...

I love ZAGG. Luckily I live down the street from their headquarters so it's easy for me to buy new ones or get a free warranty replacement.

I have the Zagg HDX full body one T-Mobile sold. Are these really better, especially considering Zagg's warranty? Posted via the Android Central App

Do people really care about screen protection? I have seen some people go as far as to leave the plastic on the front of the device that comes with the phone in the box. I have dozens of devices here in the office as well as personal ones and the screens just need to be cleaned every once in a while. They don't break or scratch much that you would notice anything.

Agreed but it's an industry that has the consumer believing that they need it. Screen protectors are like undercoating for cars. Not needed. Posted via the Android Central App

This. Stopped applying screen protectors a few years ago. I'm cautious but not overly gentle with my phones and can't remember the last time I had a scratch. Posted via the Android Central App

That's actually not entirely the case. Tempered glass protects the display from shattering every time. Im not using anything right now personally but there's no doubting how protective it is Posted via the Note 4 or Tab S 10.5

The am film screen protector is cut wrong, it goes over on both sides of my screen Posted via the Android Central App

I got the tech armor ballistic glass on amazon, pure garbage, because it leaves a white halo around the edge. Next I tried Zagg Glass ($22 at at&t), and it's much better but a pain to line up, which the guy at the store didn't. So, I got my Ringke Fusion (clear) case that came with a film screen protector for the front and a matte protector for the back....PERFECT!! I'll be waiting until all the glass ones get revised.

You can buy a Chinese tempered glass screen protector from Amazon for a fraction of the cost of those name brands, and it will do the same job. Posted via the Android Central App

I need to see these on the device so I'll be waiting and praying for no scratches.

Why does it needs a screen protector when it's already built with corning gorilla glass 4? Whats the point? You only going to have the phone for a minimum of 2-3 years and then its a hand me down or dump it off or lay in that junk drawer of it. Leave that beautiful screen alone and just use it as it is. It's fine. Wear and tear is part of life unless you really endlessly trying to scratch the living hell out of that screen. A light slim case i understand and a fullly double layer case because you have toddlers who cant wait to get an opportunity to grab that phone and slamming it or throwing it. But really? Posted via Android Central App with LG Google Nexus 4

I am a student and definitely cannot afford to "dump if off" - I have to sell my used devices if I want to buy new ones. Screen protector is pretty much used as a proof of non-scratched screen, and allows me to sell the phone for up to 50 bucks more than without screen protector. In addition, tempered glass does not lower the quality of the screen in any noticeable way. I just bought Fosmon Touch Tempered Glass for my new S6, we'll see how well it performs!

Ok, DO NOT BUY Fosmon Touch Tempered Glass. It is a complete junk. I could accept the fact that it is narrower than the actual screen (after all, the S6 screen is a bit curved at the edges), but the fact that it leaves 3mm thick bubble around the circumference of the display is unacceptable.

Gorilla Glass is "scratch resistant" not scratch proof.
Those of us who spend a lot of time in dusty environments know a protector is a necessary evil.
I'm still looking for a full coverage screen protector. For the back though dBrand is my pick it may not be clear but it covers the entire glass right up to the aluminum frame. The perfect fit makes it easy to install and you can choose your desired colour.
Wish they would make screen protectors too.

I've been using the Get-Z all glass screen protector for two months now. It's cut nicely so my cover doesn't interfere with it. The edges don't have any "halo" and it feels good. Probably not a well known brand but I've been happy with it. It was also nice to get a quality glass screen protector without having to pay forty large. Dan I work at a mine, they are an absolute necessity. Just my $.02
Android Central Newsletter
Get the best of Android Central in in your inbox, every day!
Thank you for signing up to Android Central. You will receive a verification email shortly.
There was a problem. Please refresh the page and try again.