Best Replacement Keyboard for Your Kano Computer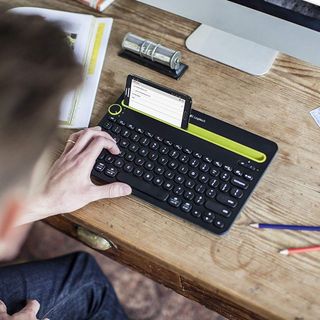 Sometimes your keyboard breaks, which is also known as the worst thing in the entire universe. Well, no need to worry. These are some great replacement keyboards that'll help your Kano Computer to shine in the way it deserves. These keyboards will be compact and slim, wireless and completely easy to set up. They also won't be lacking in quality, so you'll definitely not have to worry about that.
Keyboards with touchpads
Why you can trust Android Central Our expert reviewers spend hours testing and comparing products and services so you can choose the best for you. Find out more about how we test.
Small but reliable
Riii Miniature Wireless USB Keyboard with Touchpad
Perfect for those out there who would rather just sit with their keyboard on their lap, no fuss involved. It comes with an auto sleep and wake feature, meaning that battery life and power consumption won't be strained when you leave the keyboard alone for a few hours. What it lacks in size, it makes up for with quality.
Compact and slim
This is an easy-to-use and comfortable keyboard, with large keys and a USB dongle included to set up the keyboard to your Kano Computer as quick as a flash. Touchpad included, in case of faulty or broken mouse.
Fashionable and supportive
Victsing Ultra-Slim Wireless Keyboard
An incredible range that'll allow you to use your keyboard from up to 10 meters away. It's designed with frosted keycap and rubber support, allowing you to feel that little more fashionable while comfortable.
Keyboards without touchpads
Okay, so you've got your keyboards with touchpads. But what about if you don't want a touchpad included, and just want a regular wireless keyboard for your monitor?
Curved and stylish
Logitech K350 2.4Ghz Wireless Keyboard
Do you like your keyboard with curves? This wireless keyboard from Logitech boasts a curved layout that guides hands into just the right position. What's more, you can add a compatible mouse to the keyboard, if you so choose.
Long-lasting and robust
Plug and play, with a tiny receiver included, so you can add a number of compatible devices to this keyboard. It also boasts a long-lasting battery life of three years, with three AAA batteries included when you buy.
Portable and ULTRA slim
TeckNet Ultra Slim 2.4G USB Wireless Keyboard
This one has an ultra-slim design, making portability no issue. The keys are also very quiet, so noise irritation won't be a problem. It's also incredibly easy to set up with a Nano USB receiver.
So now, not only do you have a range of quality keyboards with a touchpad, but those without a touchpad too. It's up to you now whether you'd like the best of both worlds or not. The one keyboard that stands out for me, however, is the Logitech Wireless K400 with its smooth interface and a built-in touchpad. All of the keyboards included here have their own fantastic qualities: silent keys, portability, slim and stylish, as well as putting comfort first. No matter what, you'll find something here that will appeal to you.
Get the Android Central Newsletter
Instant access to breaking news, the hottest reviews, great deals and helpful tips.