Best Paramount Plus shows available now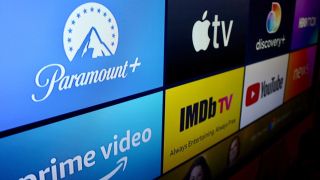 (Image credit: Keegan Prosser / Android Central)
CBS All Access recently relaunched as Paramount Plus, a refreshed streaming service boasting a massive catalog of movies and series from networks including CBS, BET, Comedy Central, MTV, Nickelodeon, and Smithsonian Channel. Whether you choose Paramount+'s basic plan with limited commercials or take things to the next level with the ad-free subscription, we've rounded up the best Paramount+ shows available now.
Peak entertainment
New and classic shows for you
Paramount+ offers new original series, shows, and films from networks like Nickelodeon, MTV, BET, and more.
Paramount+ originals
Paramount+ launched in early 2021 with a handful of brand new series, along with a roster of holdovers that initially debuted on CBS All Access. Here are some of the best original series currently streaming on the platform.
Evil
Evil stars Katja Herbers as Dr. Kristen Bouchard, hired by the Catholic Church to determine if a serial killer is really possessed by a demon.
iCarly
A revival of the hit Nickelodeon series, iCarly follows Carly Shay (Miranda Cosgrove) as she navigates life as a young adult and reinvents her popular web series. The show also sees the return of Jerry Trainor as Carly's older brother Spencer Shay and Nathan Kress as Carly's best friend, Freddie Benson.
Rugrats
A reboot of the popular Nickelodeon animated series, the new Rugrats features CGI animation and follows Tommy Pickles and his baby friends as they seek out adventures and face-off with Tommy's bully of an older cousin Angelica. The series features a handful of voice actors from the original series with some new additions.
Star Trek: Discovery
Set 10 years before the events of Star Trek: The Original Series, Star Trek: Discovery follows the crew of the USS Discovery. The series stars Sonequa Martin-Green, Doug Jones, Anthony Rapp, Jason Isaacs, and Wilson Cruz.
Best drama series on Paramount+
When you subscribe to Paramount+, you'll also have access to a wide range of drama series from CBS and its affiliate brands. Here's a collection of drama series among the best Paramount+ shows that you won't want to miss.
American Soul (BET)
Created by Jonathan Prince and Devon Greggory, American Soul combines fictional and real-life characters to tell the story of Don Cornelius, an ambitious and troubled entrepreneur who created the hit series Soul Train.
Bull (CBS)
Based loosely on the early life of Dr. Phil McGraw, Bull stars Michael Weatherly as Dr. Jason Bull, who uses psychology and his intuition to create strategies to help clients of his trial consulting firm win cases. Season 1-5 are streaming now.
The Good Fight (Paramount+ Original)
Set one year after the final episode of The Good Wife, The Good Fight finds disgraced lawyers Maia Rindell and Diane Lockhart joining forces with Lucca Quinn at one of Chicago's pre-eminent law firms.
NCIS: New Orleans (CBS)
NCIS: New Orleans follows Agent Dwayne "King" Pride (Steve Bakula) and his team as they investigate crimes that affect military personnel near the Big Easy. While the spinoff was recently canceled, all seven seasons are streaming now.
Best reality series on Paramount+
Paramount+ is also the hub for tons of reality series, from travel adventure shows to drag competitions and everything in between. With that in mind, here's a selection of some of the best reality series available now on the streaming service.
Bar Rescue (Paramount Network)
Bar Rescue follows Jon Taffer, known as the Gordon Ramsay of the bar and nightclub scene, as he helps transform a different struggling bar into a go-to establishment in each episode. Seasons 1-6 are streaming now.
The Challenge (MTV)
Catch up on all 34 seasons of MTV's Challenge, which finds previous stars of MTV's The Real World and Road Rules franchises — as well as newcomers — as they face off in a series of grueling challenges.
Ink Master (Paramount Network)
Ink Master follows 10 of the best tattoo artists on the planet as they battle it out in a series of artistic and technical challenges. Their work is ultimately judged by musician Dave Navarro and tattoo artists Chris Núñez and Oliver Peck.
Love Island (CBS)
Based on the international hit series of the same name, CBS' version of Love Island features Arielle Vandenberg as the host and Matthew Hoffman as the narrator. The reality experiment finds singles coming together in a tropical location in hopes of finding love.
Best docuseries on Paramount+
Subscribing to Paramount+ will also give you access to the best-of-the-best in docuseries from Smithsonian Channel and other networks. Here's a rundown of some of the real-life stories you should add to your binge list.
Air Disasters (Smithsonian)
In Air Disasters, catastrophic incidents in aviation history are meticulously re-enacted to explore what went wrong and discuss whether the disasters could have been prevented. Seasons 2-15 are streaming now.
Secrets Unlocked (Smithsonian)
Hosted by Adam Mastrelli, Secrets Unlocked takes a look at some of the most important relics, landmarks, and documents in history and further dissects the mysteries behind them.
True Life (MTV)
True Life explores the struggles and triumphs of a new person in each episode through the lens of topics such as drug use, financial challenges, and sexuality. The final three seasons of the series, filmed from 2015 to 2017, are streaming now.
Behind The Music (Paramount+ Original)
A revival of VH1's hit documentary television series, the new season of Behind The Music features brand new episodes about Ricky Martin, Busta Rhymes, New Kids on the Block, and more.
Classic shows on Paramount+
Paramount+ also stands out for its collection of classic television programming. So whether you're looking to laugh, cry, or just want to feel nostalgic, the Paramount+ content library has options. Here are some of the best classic shows streaming now.
Beverly Hills, 90210 (FOX)
The teen drama that started it all, Beverly Hills, 90210, follows the ups and downs of twins Brandon and Brend Walsh as they deal with culture shock and attempt to fit in after moving from Minnesota to the posh California suburb. The series stars Jason Priestley, Shannen Doherty, Jennie Garth, Luke Perry, Tori Spelling, Brian Austin Green, and Ian Ziering.
CSI: Miami (CBS)
CSI: Miami follows former homicide detective Horatio Caine (David Caruso) as he leads a team of forensics investigators on a mission to solve various murders in Florida. All 10 seasons are streaming now.
Sabrina The Teenage Witch (The WB)
Sabrina, The Teenage Witch, follows the misadventures of Sabrina Spellman (Melissa Joan Hart), a teenager who learns she comes from a long line of witches and has magical powers. With help from her aunts and her magical cat Salem, Sabrina learns to harness her powers and use them for good.
Star Trek: The Next Generation (UPN)
The follow-up to Star Trek: The Original Series, Star Trek: The Next Generation follows Captain Jean-Luc Picard (Patrick Stewart) and his crew aboard the USS Enterprise as they explore the Milky Way galaxy. The series also stars Brent Spiner as Data, Levar Burton as Geordi La Forge, Wil Wheaton as Wesley Crusher, and Gates McFadden as Dr. Beverly Crusher.
New series on Paramount+
In addition to all the series currently streaming on Paramount+, the platform plans to debut a ton of new programming soon. This includes the highly-anticipated Yellowstone spinoffs, 1883 and 6666, the Jeremy Renner-led Mayor of Kingstown, and Season 2 of Star Trek: Picard.
ViacomCBS also teased the return of Kelsey Grammer in a planned Frasier reboot and the upcoming original series Grease: The Rise of the Pink Ladies.
As far as kid-friendly programming is concerned, Paramount+ is also the streaming hub for SpongeBob SquarePants, and the new SpongeBob prequel series Kamp Koral, streaming now.
The Paramount upgrade
So many shows
Paramount+ is the new home for new and classic content from networks including CBS, BET, Comedy Central, MTV.
Be an expert in 5 minutes
Get the latest news from Android Central, your trusted companion in the world of Android
Keegan Prosser is a freelance contributor based in the PNW. When she's not writing about her favorite streaming apps and devices for Android Central, she's listening to a true-crime podcast, creating the perfect playlist for her next road trip, and trying to figure out which fitness tracker she should try next. You can follow her on Twitter @keeganprosser.