Best new Android apps and games of the week: Swing Copters, Fragment, and more!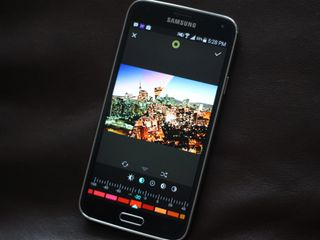 We've got another week chock-full of excellent Android apps and games hitting the Google Play Store. Flappy Bird creator Dong Nguyen is back to test the outer limits of patience with his latest game, Swing Copters. The folks from Pixite have ported over their first photo app, and the results are really impressive.
We've dug up plenty more Android games and apps that have just been released, though. Dive in and get downloading!
They Need To Be Fed 3
They Need to be Fed 3 is an imaginative platforming game that plays around with your sense of gravity. You'll jump between various mini-planets, slingshot around them, and avoid obstacles floating in between. There are 50 stages or so, each with plenty of diamonds and hidden objectives to collect, a bunch of achievements to earn, and separate adventure and epic game modes to chew on if you still need more.
They Need To Be Fed 3 has a distinct Mario vibe which will tickle the nostalgia bone of many long-time gamers.
Max Gentlemen
Max Gentlemen is a ridiculous game about stacking hats atop muscular, mustachioed men. Though the context of doing so is randomized, the core mechanic stays the same: drag your finger up and down to select a hat on your ever-expading stack, and release to cause it to split and jump at that point in order to avoid incoming obstacles and gather more hats. There's also head-to-head cross platform multiplayer if you're feeling confident about your hat-stacking skills. As you play, you unlock new characters and hats to stack.
Max Gentlemen is a unique mix of the absurd and old-timey charm.
Swing Copters
Swing Copters is the latest game from Flappy Bird creator Dong Nguyen. Your goal is to guide a little orange dude with a propellor hat through gaps in girder that, for some reason, have hammers swinging through them. You do this by tapping the screen to make him switch directions before he careens wildly and crashes to the ground. Like Flappy Birds, Swing Copters is obscenely difficult, but not impossible.
Even seasoned gluttons of punishment will have to stop themselves from chucking their phone into a lake after playing this for five minutes.
Pac-Man Friends
In Pac-Man Friends, you'll find the familiar yellow chomping dude, ghosts, mazes and fruit, but there's a lot that's new. Players use tilt controls to move Pac-Man around a range of puzzle stages. Pac-Man Friends features 95 levels across 6 worlds, and and you've got 9 new Pac-friends to unlock to help you through the lot of them. There are social tie-ins so you can see how your friends are faring along the way, daily rewards for playing, plus in-app purchases if you need some help getting through specific levels.
Rock Bandits - Adventure Time
Rock Bandits is another solid title from the Adventure Time gang. Help Finn and Jake get Marceline's fans back in this gesture-based platforming game. There are 20 levels to work through, plus an included comic to flip through. Upgrade your sword as you progress in order to take down baddies with extra ease. This has been out for awhile on Amazon, but the Google Play release will likely be attractive considering there's a big $0.99 sale going on for all Cartoon Network titles right now.
Adventure Time fans, especially kids, will will want to grab Rock Bandits.
WeTransfer
WeTransfer allows you to send and receive files up to 10 GB in size. WeTransfer prides itself on presentation, and provides a slick user interface and flashy wallpapers when making your transfers. A premium subscription account allows you to password protect your files, remove file expiration, and more.
If you'e more interested in shooting off big files to your contacts rather than, say, storing everything in a cloud locker like Dropbox, WeTransfer is an interesting alternative.
Blur Launcher
Blur is a promising new launcher that takes a lot of good cues from the Google Now Launcher, but opens up the doors for developers to tie into it. This provides a handful of additional home screens that effectively act like apps. Unread number badge notification are baked in, but still a work in progress. Standard options like gesture control, icon padding, icon pack support,
If you've been shopping around for a launcher with the same look and feel as the Google Now Launcher, but with a bit more customizability, Blur is worth a shot.
SuperBetter
SuperBetter is part task management, part game. Users plop in their personal goals, be it kicking bad habits, getting in shape, or otherwise getting stuff done. Those tasks are then framed as quests which you must complete in order to gain rewards like mental resilience and physical resilience points. Identify Bad Guys that are slowing down your progress and team up with other friends using the game for some social reinforcement. 25 expert-designed Power Packs can help you work on certain parts of your life, or you can go ahead and design your own challenges.
SuperBetter was made by Jane McGonigal, a game designer that has long advocated for using gamification to improve everyday life. If you're having trouble meeting your goals, this may be a fun way to tackling them.
Calc+
Calc+ is a polished, advanced calculator app. Users can alter previously-made equations, share out equations to interested colleagues, and store your own for future reference. You'll find all of the advanced operators here that you could need, including trig functions. There are even multiple skins available if you want to change up the look and feel of your mathtimes.
If you need more than what the basic included calculator offers, Calc+ is a great choice.
Fragment
Fragment is a fresh photo editor with a particularly neat trick. A wide range of shaped filters distort your photo along clean, sharp lines, lending a kaleidoscopic skew to your shots. You can move and resize the fragment filter, change how it tweaks your image (such as by adding a hue, changing brightness, cranking saturation, or inverting colors). Once that's done, export the final product out to any major destination or feed it back into the app to apply another fragment on top. If you're in the market for a new twist to your photos, Fragment will deliver.
Your favorite new Android apps and games?
Lots of new stuff is hitting the Google Play Store every week. Hit us up in the comments with your favorite new apps and games for Android!
Simon has been covering mobile since before the first iPhone came out. After producing news articles, podcasts, review videos, and everything in between, he's now helping industry partners get the word about their latest products. Get in touch with him at simon@futurenet.com.
SuperBetter sounds pretty interesting. MaxGentlemen looks hilarious.

Why why why would you write about Swing Copters??!?! I honestly think it's the worst game in the play store. I've tried every technique and was only able to get to the second tier. I don't know why Dong would make a game like this. Flappy Bird was at least playable.

It's playable, it's just unforgiving.

Is this on the iPhone?? The controls seem tighter. The controls on Android are all over the place.

Because AC loves Dong. Wait... That came out wrong Posted via Android Central App

I lol'd Posted via the OnePlus One

It rhymed though. Posted via Android Central App

Ha! Posted via Android Central App

The trick to this game is to concentrate on the character's eyes and use your peripheral vision for the swinging hammers. Use your thumbs to tap. Use your right thumb to start the game then the left one to go left once airborne, this way you will know which way it will sway. If you concentrate on the eyes you will be able to control the copter without swinging wildly. I'm up to 6 so far after a few minutes of realizing the eyes thing. Posted via Android Central App

I uninstalled it. I'll install it and give that a try. Thanks for the tip. Posted via Android Central App

I just did 16, its definitly playable. Moreover, I saw someone reach 41 on youtube! Posted via Android Central App

Seconded. It's pants. Why would androidcentral write about it? Who knows? Do they make money from linking to it? Either way, it does nothing for the credibility of this site.

WeTransfer looks great! Needed to find a way to send videos of my 13 month old to family.

Swing Copters. Uninstalled. Posted via Android Central App

WeTransfer looks really useful! Posted via Android Central App

Flappy Pong is hands down my new favorite "free" pick up & play for a few minutes game! Loving it
Android Central Newsletter
Get the best of Android Central in in your inbox, every day!
Thank you for signing up to Android Central. You will receive a verification email shortly.
There was a problem. Please refresh the page and try again.