Best Minimalist Cases for Galaxy S7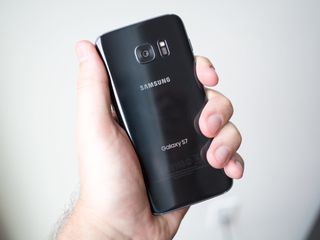 Aside from the edge, the Galaxy S7 is Samsung's thinnest offer right now. Sure, you want to protect it, but you definitely don't want any of the bulk that comes along with some of the heavy duty cases.
We've rounded up some of the best minimalist cases for your S7; just remember that toning down the thickness of the case may make your phone a little more vulnerable when dropped from on high.
Spigen Thin Fit
Why you can trust Android Central Our expert reviewers spend hours testing and comparing products and services so you can choose the best for you. Find out more about how we test.
Spigen's Thin Fit cases are slim and somewhat plain, so if you're looking for a minimalist case for your Galaxy S7, this is a great place to start. Buttons and ports are all cut out instead of covered up, so tactile feedback remains true and oh-so-satisfying.
Thin Fit is made from hard polycarbonate, adding minimal bulk to your phone, so it seems like it's wearing nothin' at all. There are also raised bezels around the camera cut out and the screen to protect the glass from scratches You have your choice of black, mint, or white.
See at Amazon (opens in new tab)
Cimo Premium Slim Fit
This is the little black dress of phone cases, offering sleek protection in the form of soft TPU. The benefit of having a case made out of black TPU as opposed to clear TPU is that the black stuff won't yellow over time due to sunlight.
Though this one is quite form-fitting, there is still a touch of a lip (0.8 mm) on the front, so when you place your phone face-down, it's not sitting on the screen. The non-slip TPU feels grippy in your hand and it's dust-resistance helps with an all-black case. If you couldn't care less about goofy designs or bling, then pick up a slim, black case and be done with it.
See at Amazon (opens in new tab)
Maxboost Vibrance Series Protective Slider
If you're looking something with a little more pizzazz, but don't want any bulk, then the Maxboost Protective Slider is a solid choice, combining just enough protection with some cool colors to give you just what you want: slim sexiness.
This line isn't called the "Vibrance Series" for nothing; these cases come in two color combinations: turquoise and "Champagne Gold" or "Italian Rose" and "Champagne gold." It comes in black, too, but I don't see how that's very "vibrant."
It's got a soft interior to protect from scratches and a grippy exterior, so you're styling and protected with minimal bulk.
See at Amazon (opens in new tab)
Caseology Skyfall Series
You just know that a case with a James Bond-related name is going to be sleek, sexy, and slim. The Caseology Skyfall Series case is a two-piece with a rubberized cover and harder wraparound edge piece. This case is best for those of you who chose the gold S7, since that outer edging is gold. So, you'll have a seemingly 100 percent clear case.
There are air pockets in each corner of the Caseology Skyfall, so if you drop your S7 from a reasonable height, you probably won't shatter the entire outer layer of your phone.
That harder polycarbonate edging won't impede buttons, since it wraps around your phone behind the buttons.
See at Amazon (opens in new tab)
Bear Motion
Looking for customizable minimalism? Then get going with Bear Motion. These cases come in nine colors, with a matte finish, which give them an excellently grippy feel, so you know your phone is protected and won't be slip-sliding out of your hands.
At only 0.3 ounces, these Bear Motion cases add no real bulk to your phone but protect it from drops while leaving the necessary ports, buttons, and sensors open for easy use.
Starting around $6, there's no reason not to give Bear Motion a try, especially if you're after a very thin case that feels great in your hand, looks great on your phone, and adds a splash of color to your S7.
See at Amazon (opens in new tab)
Sick of cases altogether?
If you just plain hate cases but still feel like your phone is naked and vulnerable, you may want to consider a skin, like the ones Dbrand makes (opens in new tab).
Updated April, 2017: Added Spigen Thin Fit at the behest of our readers and removed discontinued cases and those that don't cut the mustard anymore. What remains are still our favorites!
Android Central Newsletter
Get instant access to breaking news, the hottest reviews, great deals and helpful tips
Mick is a writer and duty editor for Android Central. When he's not on the job, he can usually be found vacuuming up pet hair or trying to convince his wife that he needs more guitars.
I have the bamboo skin for my S7 I love it! Posted via the Android Central App

Natural series (by slickwraps)? https://www.androidcentral.com/e?link=https2F2... or the faux 3M wood ones by slickwraps / dbrand? I'm curious to know how the natural series feels from a first hand review. I want to get one but not sure if I should pull the trigger.

Gotta add the Ringke Slim as well - great feel to it: http://www.amazon.com/Ringke-Snug-Fit-Tailored-Ultra-Thin-Coverage/dp/B0...

Have had those before and they are great! I am rocking a Lear VERY thin spigen case right now and its awesome

Yup, best slim plastic case. Better than Spigen thin fit

I just have the Samsung branded genuine leather case for the GS7 edge. Model EF-VG935 Posted via the Android Central App

How did you find that? I was really happy with the fit of mine but I really didn't like the finish at all. I ended up having to use a ton of leather polish to get it feeling OK. Posted via the Android Central App

I like spigen thin fit lines. I have it for my current device as well as few previous devices and they are awesome. But that cimo brand looks good too. Posted via the Android Central App

Got mine on eBay for three bucks and change shipped from China. Posted via the Android Central App

Spigen Thin Fit and Nillkin Frosted Shield are my favorite minimalist cases. If you just want a good clear case, go for Pleson or YooTech.

Spigen Liquid Crystal all day every day

I've also got the Ringke slim for the S7 edge and am very happy with it. P Posted via the Android Central App

Yesss thank you!! I been looking for cases for my S7 Edge that have cut outs for the buttons. Thats the main reason I don't uses cases because they ruin the button fumctionality. I think all these you showed except 1 had button cut outs. The only case i could find before was from spigen and it does not have much protection on the sides because cut outs for the buttons on spigen just go under the buttons and not all the way around. That maxboost has the EXACT cut outs I wanted and same cut outs for the edge according to pictures on Amazon. Finally! Thanks! Posted via the Android Central App

Spigen thin fit should be on this list -- it's more minimal than some of the ones shown here.

Spigen for me to . Man there clear thin Cases is the way to go . For showing off the gold are silver gs7edge Posted via the Android Central App

It hasn't yellowed at all yet? I had one for the s6 that did that and left a permanent ring around camera and heart rate sensor. Although the s7e doesn't get hot like the s6 does.

They will all yellow over time but I get my spigen cases for $10 on ebay so every 5 months are so I get another
My last two case I paid $3 on amazon Posted via the Android Central App

I have the spigen thin fit. Nice black matte finish and good grip. Posted via the Android Central App

I'd like to try a skin at some point but they are kind of expensive. How do they treat the phone when you take them off?
And the clear cases I'm kind of hesitant. The one I had for the s6 yellowed pretty fast. Although the s7e doesn't get nearly as hot.

I was told some skins are hard to peel especially for skins for camera lens. I saw on you tube trying to pull skin off but ended pry opening the lens glasses few timea, even crack. Yeah, so I guess you need to commit to it. Posted via the Android Central App

Cimo Premium Slim Fit is my choice and also the slim & thin rose gold & black case i am using for my galaxy S7

I had it for the Note 5 and got it as soon as I knew I was getting the edge, but the Incipio Octane cases are fantastic! What I really love about these is the frost look and feel on the back so it doesn't feel rubbery or plasticy like some cases. They also come in some different colors such as black, Grey and my favorite neon blue/teal? I got it for $12 on Amazon so give it a try! Posted via the Android Central App

Maxboost Vibrance is elegant. also recommend the R-JUST Amira Shockproof Dustproof Case, http://www.ipromarket.com/r-just-amira-gorilla-glass-front-panel-aluminu...

I use this cheap one from Best Buy ($15). It is grippy and keeps my phone in my hand. https://www.androidcentral.com/e?link=https2F2Flink...

Huge fan of bear motion here. Have used their thin cases in all phones since my Nexus 6p. They nail it every time.

I am the big fan of spigen.

Love the skins! I recently came across this site who also sells skins and I'm amazed by their great quality! This is a must have! https://fabuwrap[.]com

Really love these skins! I recently came across this new website who has started selling skins. Fabuwrap is a must have!
Android Central Newsletter
Get instant access to breaking news, the hottest reviews, great deals and helpful tips
Thank you for signing up to Android Central. You will receive a verification email shortly.
There was a problem. Please refresh the page and try again.