The best microSD cards for the HTC 10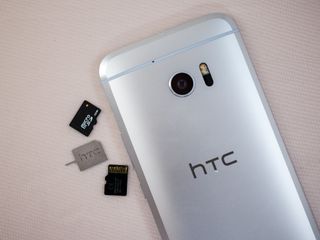 One of the best features of any Android phone that's lucky enough to have it is expandable storage. The launch of Marshmallow saw Adoptable Storage come into play, wherein your microSD cards become a part of your system to seamlessly expand your storage rather than act as a separate partition.
Adoptable storage can bring some headaches if you don't have the right microSD card. You need something blazing fast and of course reliable; otherwise, the card could go and take your whole system with it.
That's why we've rounded up some of the best fast microSD cards out there, so that when you bring home your HTC 10, you're not wondering where to turn for extra storage.
The best microSD cards for the HTC 10
SanDisk Extreme 64 GB
SanDisk long has been the go-to for expandable storage cards and there's a very good reason for that: they're great.
The SanDisk Extreme line is where it's at if you're looking for an SD card to use in your HTC 10. It's lightning-quick, with read speeds up to 90MB/s and write speeds around 48MB/s, and has no trouble with 4K video, so anything you shoot on your HTC 10 won't be an issue.
This is an excellent card for performance and it's relatively easy on the wallet, starting around $30.
See at Amazon (opens in new tab)
Netac Pro 128 GB
Netac isn't a huge brand, but it does offer some great microSD cards. Their Pro line is just what you need if you're considering expanding your HTC 10's storage the adoptable way.
It's got read speeds of up to 80MB/s and write speeds of up to 40. Again, it's relatively easy on your wallet, starting around $40.
See at Amazon (opens in new tab)
Samsung EVO Plus 128GB
Octuple your HTC 10's memory with a 128GB microSD from Samsung. The Plus line almost doubles the transfer rate of regular EVOs at 80MB/s. Even if you hate Samsung phones and are an HTC die-hard, don't discount their peripherals. These are solid cards that pack a performance punch.
If you're looking for an SD card that's super quick and is super-compatible with just about everything, then this is the one for you. Worry-free and quick like a bunny.
See at Amazon (opens in new tab)
PNY U3 Turbo Performance 64 GB
Turbo by name. Turbo by reputation. The PNY Turbo Performance brings speed and reliability into the fold with a 90MB/s transfer rate and a lifetime warranty. Like all the cards mentioned so far, the Turbo is waterproof, magnet-proof, shock-proof, and temperature-proof. It won't let you down on a frigid winter day and it won't let you down if you drop it in the dog's water dish when you're trying to install it.
The PNY Turbo Performance is a stellar card that'll only cost you around $20.
See at Amazon (opens in new tab)
SanDisk Ultra 200 GB
Your HTC 10 can support up to 2 TB of external storage, so we may as well get as close as we can with a microSD card. The SanDisk Ultra is one of the quickest and most reliable cards around and 200 GB helps take up a nice big chunk of that 2 TB, so if you're going to use it as adoptable storage, you'll be incredibly hard-pressed to fill it up (depending on your habits, of course).
These suckers are pricey, so if you can get them on sale, jump on it; they can run up to $250.
See at Amazon (opens in new tab)
Mick is a writer and duty editor for Android Central. When he's not on the job, he can usually be found vacuuming up pet hair or trying to convince his wife that he needs more guitars.
Got the Samsung pro+ for my dslr and phone. Works great on both! Posted via the Android Central App

Best micro SD on the market today

I don't understand these articles. Is there something unique about the HTC 10 that would make one SD card preferable to another as opposed to, say, the Galaxy S7?

The HTC supports adoptable storage, which the Galaxy S7 doesn't. However, what the article doesn't mention is that the real important factor in the performance of adoptable storage is random write speed, not the sequential write speeds listed here. Cards optimized for cameras and video that advertise very high write speeds often tend to do worse when it comes to random write. If you look at reviews aimed towards the Raspberry Pi community (where random write is also crucial), there seems to be a pretty good consensus that the Samsung Evo+ is the best you can get (better even than the Pro+).

no chance the pro is twice as fast as the evo. the only plus side with the evo+ and pro+ is a 5% increase to the read and write speeds compared to the evo amd pro and it can be submerged in sea water for a lot longer ie 72 hrs now i dont take my devices anywhere near a beach as thats just stupidity, the only advantage that the evo+ currently has over the pro+ is that it comes with 128gb where as the pro+ is capped at 64gb...

Pro+ IS twice as fast as the Evo+ for SUSTAINED WRITES, which is important for something like recording HD video. For random writes, such as running apps and operating systems with adoptable storage, the Evo+ is about 50% better.

No there isn't just whether a phone supports adaptable storage Also we are in the silly season news wise Posted via the Android Central App

It's very simple. Someone who doesn't read AC buys a HTC 10, gets home and searches "best SD card for my HTC 10" and boom there is android central catering to their specific demand. They possibly become a regular reader and gives more ad revenue for AC so they can become bigger and better. It's a really simple concept, I don't get how people miss it. Posted via the Android Central App

right on the spot Posted via the Android Central App

I did that except that instead of reading the article, I came straight to the comments. Now I know that removable storage is the better setup option as well as the Evo+ card (though it's not clear if the Evo+ is better choice if you aren't using it as adoptable storage.)

These articles are for people who don't know any better. I wouldn't get anything from this list myself. Maybe the PNY if money was tight. SanDisk has extreme pro and plus that I'd get over the extreme in this article. Samsung has the newer pro+. And then there's the 1000x by Lexar. Those are the 3 cards I swear by personally. Also pretty sure this article is sponsored. Posted via Galaxy S7 edge

Not everyone likes Samsung. stop ********. research before you post nonsense. Posted via the Android Central App

I have a SanDisk Ultra 64Gb... Somebody tell me if that's good enough and won't slow anything down?

Let's hope so, cause I got that same one on the way in the mail Posted via the Android Central App

I have the sandisk extreme pro 64gb in my HTC 10. Incredibly fast and still under $50 at amazon. Pretty much the fastest UHS-1 you can get I think.

$32 at BB yesterday. Picking mine up today. Posted via Galaxy S7 edge

You got a great deal! Posted via the Android Central App

Have you formatted your card as internal storage without problems? I'm asking as my current card was too slow, and the message the phone gave me was I should try a UHS 3 card. Therefore I'm wondering if your UHS-1 is fast enough to be formatted as internal storage. The phone message makes me believe HTC recommend a card with a minimum 30MB/s write speed.

The sandisk extreme pro is uhs-3 and works perfectly. Posted via the Android Central App

I only have the 32gb HTC 10, so I'm considering picking up an SD card and loading it as adoptable storage. Nice article.

Or you can wait until you actually need one.

Can anyone confirm for a fact that the HTC 10 (or even the Galaxy 7/edge) is compatible with UHS-3?

No problem using the U3 cards in HTC 10 as external storage. The U3 is just a speed rating, not a different card communication protocol. I can confirm that the HTC 10 will accept a U3 card as external storage, but not necessarily as adoptable storage (depends on speed).

DON'T TRUST THIS ARTICLE FOR ADOPTABLE STORAGE.
I just purchased the exact Sandisk Extreme 64gb card shown for my HTC 10. I wanted to use it as adoptable storage. The 10 says it's not fast enough and won't allow me to adopt it. I think I'm going to try Samsung Pro+ (seems to be the fastest tested that I can find). It's unfortunate that there is no resource to tell us which card will work.

I have that exact card in mine and no problems whatsoever. Posted via the Android Central App

You're using it adopted? Maybe there are manufacturing variances enough to cause a detectable difference.

Yes adopted and seems to be working like a dream. No problems with saying not fast enough etc.
Might be worth checking your card is genuine. Posted via the Android Central App

The Evo+ will actually work better for adoptable storage than the Pro+ since the Pro line is optimized more for high data rate cameras that store data linearly rather than Adoptable Storeage which stores data randomly. See http://www.jeffgeerling.com/blogs/jeff-geerling/raspberry-pi-microsd-card - the Evo+ was more than 25% faster in the 4k random write test.

Thanks for the tip. Wouldn't have thought that because the Pro+ is a more expensive U3 card!

The Pro+ has something like 3x the sustained write speeds in devices that support it, but just isn't optimized for random access.

I had that happen the first time I tried turning my 128gb Sandisk card into adoptable storage. Here's a tip: When allowing your HTC 10 phone to scan whether or not your SD card is adoptable storage capable, make sure the screen stays on until the scan is complete. If it stalls for 10+ minutes, cancel the scan and start again. It can be kind of finicky, but this method worked for me.

I got the faster card i could afford, faster than all of these reviewed, the Lexar 1000x 32gb, from Amazon now $19.95. My Moto X Pure STILL said it was too slow, but i formatted it as adoptable anyway. It works perfectly. I swear even faster than the previous card used as transportable. Just ignore the warning and proceed. At worst, if you don't like the performance you can reformat and reinstall your apps, assuming your data is backed up elsewhere.

The Moto X and HTC 10 must be setup differently. The 10 won't allow you to proceed if it doesn't like the speed of the card. It just won't let you adopt. I think I may have found a work around/solution. I got a 64gb Samsung Pro+ (which I had already purchased despite zhecht's better suggestion). It wouldn't accept that either! On a whim, I did a format of the card in the phone (formatting as external storage), then tried the 'Format as Internal storage' again. It worked and adopted without any objections! It's quite possible that my first card would have worked this way too. For anyone still choosing, give this a shot if you run into trouble. Also, zhecht's recommendation of the Evo+ is probably the best choice based on random write speed, regardless of ratings or price.

I went with the SanDisk Extreme for my S7. It works great. Super fast for music, photos and most importantly 4k video recording. Samsung's beast S7

My sandisk extreme USB drive is recognized as hard drive, which shows up in the Hard Disk Drives section instead of Removable Storage section.

Then format it to FAT32 Posted with ❤Love❤

The day that we can buy 2TB micro sd cards for a reasonable price will be a glorious day indeed. Posted via Xperia Z5

It's funny how my phone is almost a year old and can use up to 2 terabytes card yet there still is nothing more than 256gb available. Posted via the Android Central App

256GB cards are available? I thought the max was the Sandisk 200GB.

Probably should buy bigger SD card, Im currently using 2GB which came with old nokia phone:D I don't remember the model but it had touch screen and normal buttons. "Smartphone" :D Posted via the Android Central App
for LG G3

Yeah, you need to update your card if I were you. The days of sluggish card are over..use the tech that's out now and you won't regret looking back, I guarantee it! Posted via the Android Central App

Yes, going to do that soon. :D Posted via the Android Central App
for LG G3

Octuple. I didn't know that was a word, thank you.
I have a SanDisk Extreme U3 64gb as well, but I wouldn't use a card as adoptable storage.

What we need is for manufacturers to give us a decent amount of built in storage then there will be no need to have to use hacky 20th century solutions. Posted from my Nokia 3310

I completely agree! Posted via the Android Central App

Personally, if smartphones stay with a 32GB 64GB built-in storage by default for the next couple years, that should be fine for most people. What's more important is having a microSD slot so that people can buy storage cards at capacities of their liking. Also, high-capacity microSD cards are relatively inexpensive nowadays, and it's more worth it to purchase microSD cards separate from the smartphone purchase. Speaking of which, the article states - in reference to the 200GB microSD - "These suckers are pricey, so if you can get them on sale, jump on it; they can run up to $250." http://Amazon.com?tag=hawk-future-20&ascsubtag=UUacUdUcU1639067 has that card somewhat regularly at $79.99, and was $59.99 in March 2016.

My 10 didn't like the 128GB Silicon Power card. It said it was too slow and needed a UHS-3. The 64GB Sandisk Ultra works perfectly. Posted via the Android Central App

I have only had my HTC 10 about a week. I purchased a Micro SD card for it 128 GB. I got the same exact message. That it was too slow and I got the same recommendation.
So I'm thinking I will do as you did, and try a 64 GB Sandisk Ultra and see what happens.

I used love sd cards but the staff here at Android Central have me paranoid that sd cards will burn out after a year. Esp with adoptive storage always writing on the sd card. I don't know what to think now. Posted via the Android Central App

SD card for me have lasted 2-3 years, occasionally even more. Just depends on what you do with them. If you're using it as part of adoptable storage, it's obviously gonna die faster but if just for media, it'll be fine. Posted via an LG V10

I wouldn't use one for internal storage. Only media. I haven't had one in three years no big deal anymore. I do not keep every picture on my phone forever or my whole music catalog. If Nexus ever came with a card again that would be a bonus but do not care either way. I do not game or download movies, 32gb is plenty. Posted from Nexus 6 running Android N

I want this phone now. I'm ready to turn in my s7e. Tired of the s7e already. Horrible keyboard, and lags. Maybe I got a lemon. Not sure.

You might have to kill some bloatware and change your keyboard but the S7 Edge isn't a bad phone tbh. Still not my first choice though. Posted via an LG V10

How is the v10 on marshmallow?

With 4gigs af RAM should run very good.
:) Posted via Android Central App

If the phone already has 32GB of space in it I wouldn't use an SD card for internal storage anyway.. The built-in storage is already enough for apps. Use the SD card for pics and media only. Your life will be better. Posted via the Android Central App

I see you were able to log back on as well. Awesome Living In An Android World

On the issue of SD Cards I still haven't got a super clear answer where they slow a phone down or not. I had an S3 S5 and a Note 4 all with sd cards and they all ran a lot better (from what I think) without the sd cards in them. I would just like a cut and clear answer. Living In An Android World

Why didn't they mention the insanely fast and insanely expensive sandisk extreme pro UHS-II cards? Posted via the Android Central App

OK so here's a question.......My ZTE ZMAX2 supports only microSDHC cards, not microSDXC.....I've tried them....no luck. Anyone know of a 128GB microSDHC card I can get ahold of?

I am afraid you are limited by the card reader hardware of your phone. I had the ZMax2, great phone, but it is limited to MicroSDHC cards which are 4-32GB. MicroSDXC is 32GB+ but are not compatible with your hardware.